Frozen Chocolate Pie
I hate pudding. I hate the word, I hate the texture, I hate the way it makes my mouth feel for days afterwards. But. But but but. Lemme tell you: I love this pudding pie. In fact, I love it so much that I decided not to even put pudding in the freaking name in case it turned you off the way it does me. So, let me explain.
First, you make pudding, which was inspired by this viral recipe from the New York Times. You mix in white and dark chocolate, which both adds a really interesting flavor dynamic and makes for some beautiful, swirly stirring. Then you cool the pud while you make the crust for this pie from ice cream cones. FROM ICE CREAM CONES. Hot dammmmn what an idea. Summer may be ending, but there's no reason to let those ice cream cones go stale all winter, right? Make 'em into a pie crust, and direct all fan mail to my agent. Oh, and also? This pie is part of a collaboration with the one and only Oatly, with whom I'm hosting a giveaway over on my Instagram! GOOOOOOOO enter now!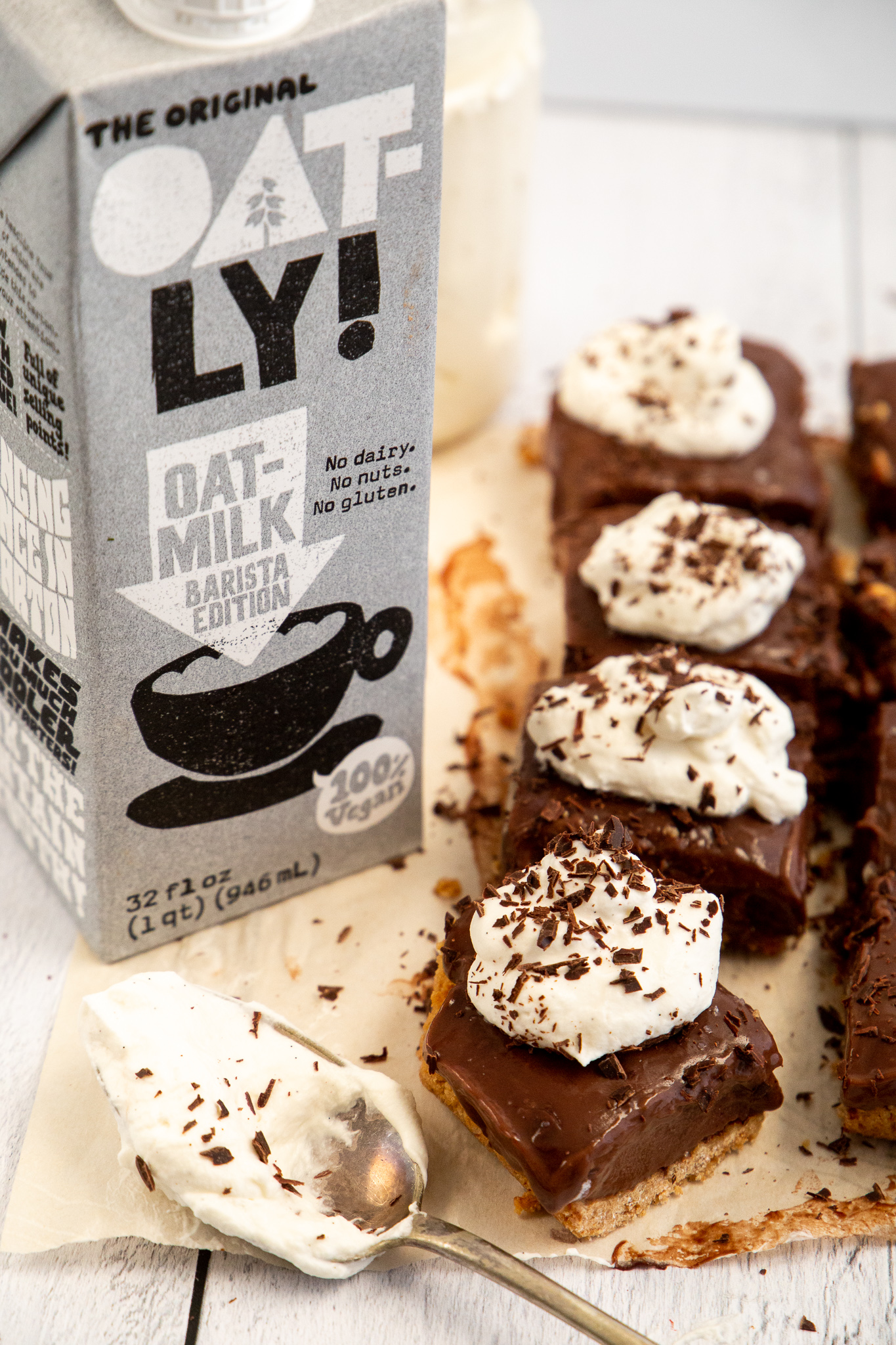 Frozen Chocolate Pie
By
Page & Plate
,  September 9, 2019 
Make this vegan-friendly frozen chocolate pie for literally any ocassion in which chocolate is needed. Sub the butter for vegan butter and the ice cream cones for their vegan equivalents to make a pie for everyeone. Pro-tip: let everything cool in between assembly steps so you get nice, crisp layers.
Makes: 16 bars
Prep time:
Cook time:
Ingredients:
1/2 cup of unsalted butter, melted
12 oz of ice cream cones, broken into large pieces
1 tsp of kosher salt
1/3 cup of granulated sugar
1/3 cup of cocoa powder
2 TBSP of corn starch
2 cups of oat milk, such as Oatly!
4 oz of dark chocolate, chopped roughly
4 oz of white chocolate, chopped roughly
1 tsp of vanilla extract
whipped cream, for garnish (optional)
Instructions:
Preheat your oven to 350 and grease and line an 8x8" pan. Set aside. If you much prefer a pie tin, you can go that route as well. I'm just very into pie squares at the moment.
Pulse the melted butter, ice cream cones, and salt in a food processor or a blender until smoooooooooth, then press into the pan. Bake for 6-8 minutes, or until golden brown around the edges. Remove, and let cool completely.
In a medium saucepan, mix together the sugar, cocoa powder, and corn starch. When evenly mixed, add the oat milk. Set saucepan over a medium heat, and stir to evenly combine.
When the mixture is smooth, turn the heat down to low and stir for about five to 10 minutes, until it's nice and thick. I usually go the whole 10 minutes for this pie, because it's better to have a nice thick pudding pie and than a gloppy one.
When thickened, remove from heat and stir in the two chocolates and the vanilla extract. When evenly combined, cool pudding slightly, about five minutes.
Dump the pud into the crust, and freeze for at least four hours or overnight.
Do the fancy thing and garnish with whipped cream or don't and live with yourself. Either is fine, really!
PST! I created this recipe for Oatly as a part of a contracted agreement. If you like what you see and are interested in working together to create some awesome recipes, snap some beautiful photos, or learn more about social media for food brands, hit me up at laura [at] pageandplate.com!