Chocospresso Cookie Sandwiches
Do you like coffee, caramel, and chocolate? (Is there any human on earth who would answer no to that question?) Well then boy do I have the cookie for you! I present: the chocospresso cookie sandwich. Espresso shortbread cookies sandwich salted caramel sauce from cooking genius and all-around best woman ever Samin Nosrat and get a nice drizzle of chocolate sauce on top. The result is a coffee-chocolate-cookie-sandwich for the ages. Pro-tip: make the caramel sauce using my recipe from the newsletter first so it can cool to the perfect temperature to make into a cookie sandwich. You'll thank me later. But also if you want to use caramel sauce you buy at the store, I won't hold it against you. It's your life. I'm just recipe directing it.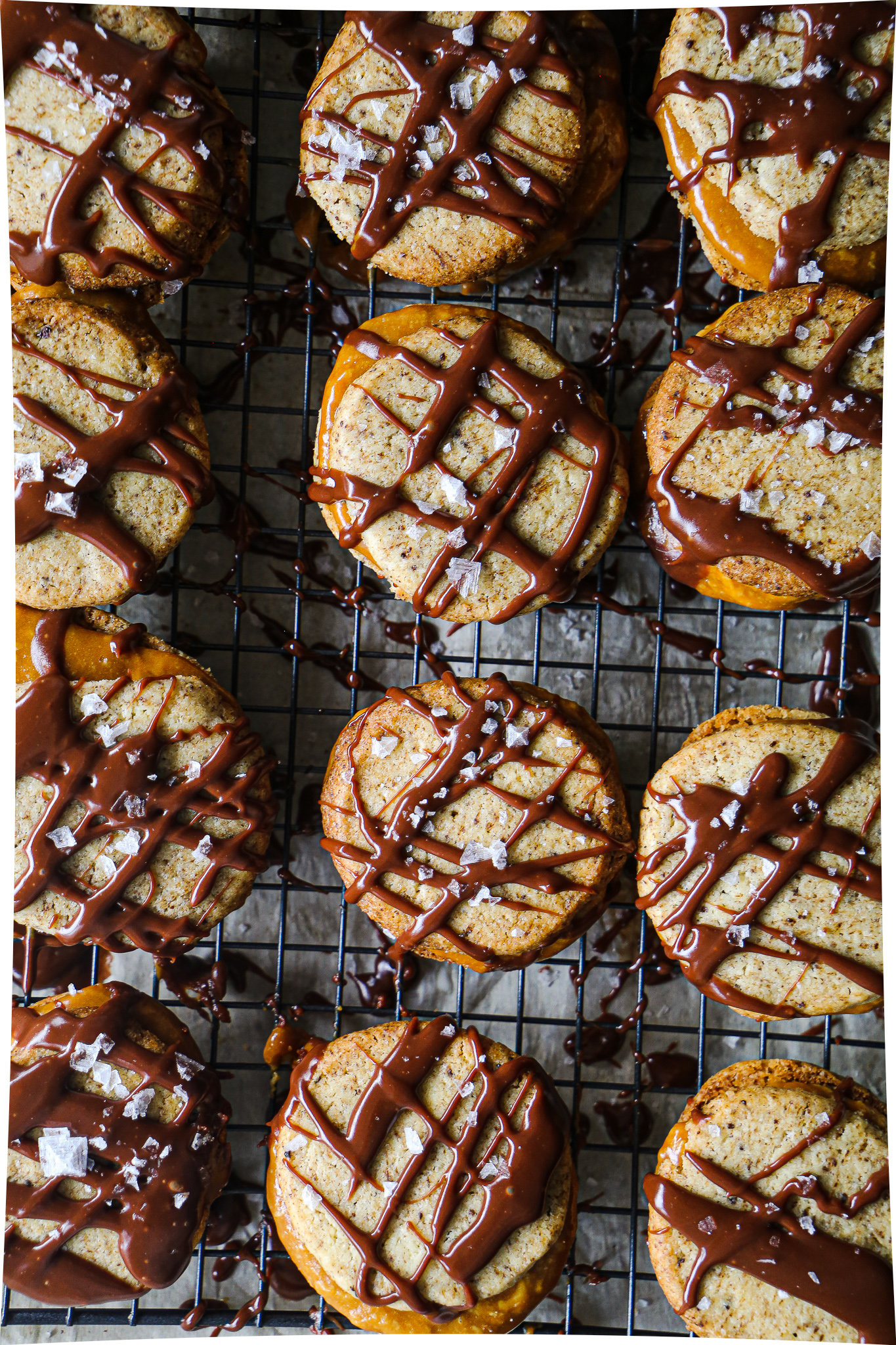 Chocospresso Cookie Sandwiches
Espresso, caramel, chocolate. Sold.
Chocospresso Cookie Sandwiches
By
Page & Plate
,  September 8, 2019 
Espresso shortbread sandwiches caramel sauce and gets doused in chocolate. It's a good day.
Makes: 16 sandwiches
Prep time:
Cook time:
Ingredients:
1 1/2 cups of whole wheat pastry flour (you can use regular, but I much, much prefer the nuttiness of the whole wheat)
1/4 cup of instant espresso
1 tsp of sea salt
1 cup of unsalted butter (say it with me: that's two sticks, people!)
1/2 cup of granulated sugar
1 TBSP of vanilla paste (note here: you can use vanilla extract instead, but if you do that, only add about a teaspoon)
1 cup of salted caramel sauce
8 oz of milk chocolate, melted
flaky sea salt, for garnish
Instructions:
Preheat your oven to 350 and throw some parchment paper on a cookie sheet.
In a medium bowl, mix the flour, instant espresso, and sea salt together. Set aside for juuuuust a bit.
Grab your stand mixer and paddle attachment or find a nice bowl and a hand mixer. Cut the butter into cubes of a smallish nature, and add them to the bowl. Toss the sugar in there, too, and beat until creamy and smooth. This'll probs take about five minutes.
When that's done, add the vanilla paste, then slowly add the flour mixture and beat slowly until just combined.
When you've got a thing that looks like dough on your hands, grab a sprinkle of flour and dust up the countertop. Dump the dough on there and form it into a disc. Flour the top, then use a rolling pin to roll it out into until it's about 1/8" thick. Hell no, I don't measure this.
Now find something in your kitchen that's the right size for a cookie. For me, that's a small jar. Use the circle-shaped-item-of-choice to cut cookies out of the dough. I usually get about 32, but how many you get will depend on the size of your circle shaped item. However many you get, just make sure there are an even number.
Lay the cookies out evenly on the sheet tray, then pop those babies in the freezer for just as long as it takes you to clean off your counter.
Bake for 12-15 minutes, or until golden brown and deliciously crisp.
Cool the cookies completely, then spoon about a teaspoon of caramel sauce on top of half. Pop the remaining cookies on top of their caramel buddies, then drizzle with the melted chocolate. HELLLOOOOOOOO beautiful.
Sprinkle with sea salt, then store in the fridge to firm up the chocolate.