Nutella Meringues
Way back when I posted this recipe for a hazelnut pavalova, it was the first time I had ever really made a meringue outside of the context of unsuccessfully attempting to make macarons like Flora does in Great British Baking Show. Then, I went to Monteverde a couple of times (less than 10 but more than three, okay?) and had their forgotten cookies. Uhm, hello. Why are meringues not a thing we make all the time anymore? As of today, we're changing that. First of all, easiest thing ever. Second of all, nobody's makin' 'em! So be the first of your friends. Third of all, Nutella (or your favorite, non-branded hazelnut spread, I guess) swirled in? Hot damn.
I hopped on over to The Wooden Skillet for a reference point for this recipe and adapted it to feature more chocolate (DUH) and a little less sugar. You can add a tiiiiiiny bit more if you insist, but really. Try it my way. They're very sweet.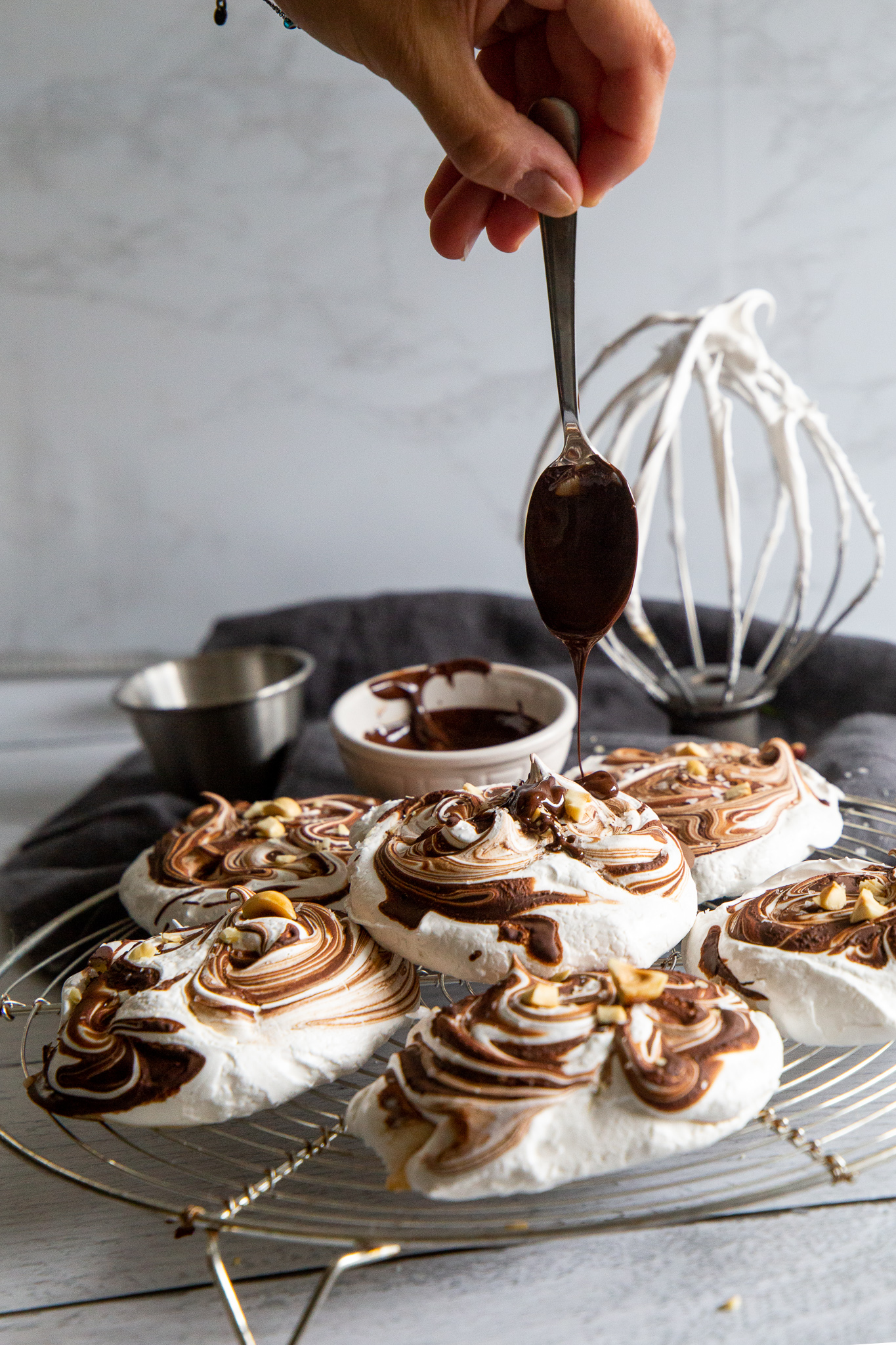 Nutella Meringues
By
Page & Plate
, September 6, 2019
Swirl melted Nutella into delicate meringues for an easy, elegant dessert.
Makes: 10 merinuges
Prep time:
Cook time:
Ingredients:
4 egg whites (save the yolks for chocolate chip cookies!)
1 tsp of cream of tartar
1/3 cup of granulated sugar
1/2 tsp of kosher salt
1/3 cup of Nutella (or your favorite hazelnut spread), melted
toasted hazelnuts, for garnish
Instructions:
Preheat your oven to 250 and line a cookie sheet with parchment paper.
Grab your trusty stand mixer and whisk attachment (or a giant bowl and a hand mixer), and add the egg whites to the bowl. You know what's coming, don't you?
Whisk the egg whites and cream of tartar together. When evenly combined, crank the mixer to a high speed and whisk, slowly adding sugar (about a spoonful at a time!) and the salt. You're going to end up whisking this for about 10 minutes, or until a stiff meringue has formed. See the whisk attachment in the photo? That's what yours should look like.
Grab that sheet tray of yours and get a nice big spoon ready. You may as well also have that Nutella near by.
Scoop spoonfuls of the meringue onto the sheet tray, using the spoon to form a nice little circle(ish) shape. You'll get anywhere from eight to 10 depending on how generous your spoonfuls are.
Now, using a tinier spoon, add a tiny dollop of Nutella to each meringue. Use a butter knife to swirl it in, but don't go so crazy with your swirling that you deflate the meringues.
Put those babies in the oven and immediately lower the temperature to 200. Bake for anywhere from 60-70 minutes, or until Nutella darkens and meringues have set. WITHOUT OPENING THE DOOR, turn the oven off.
Wait at least 30 minutes before taking the meringues out of the oven and garnishing with toasted hazelnuts and more Nutella if you're like me and some is never enough.