Horchata Brownies
Chocolate Week Part II [Fall Edition] has arrived! Welcome to heaven, dripping in chocolate and days just cold enough that you can turn on your oven without having to crank your AC down to 60. We're starting off strong here with a fan favorite: horchata brownies! (If you didn't vote in this contest, you obvi don't follow me on the 'gram. Fix that here.)
Horchata is one of my favorite beverages ever. EVER. It's great in the summer, sure, but fall horchata? I'm about it. The way the rice milk and the cinnamon pair is — read my lips — perfection in a glass for a crisp fall night. But hey. Sometimes I also want chocolate. So I made a horchata brownie. This my life now that I'm full time Page & Plate. It's a great life. Make these brownies when regular ol' brownies aren't enough, and you need a lil horchata brownie in your life.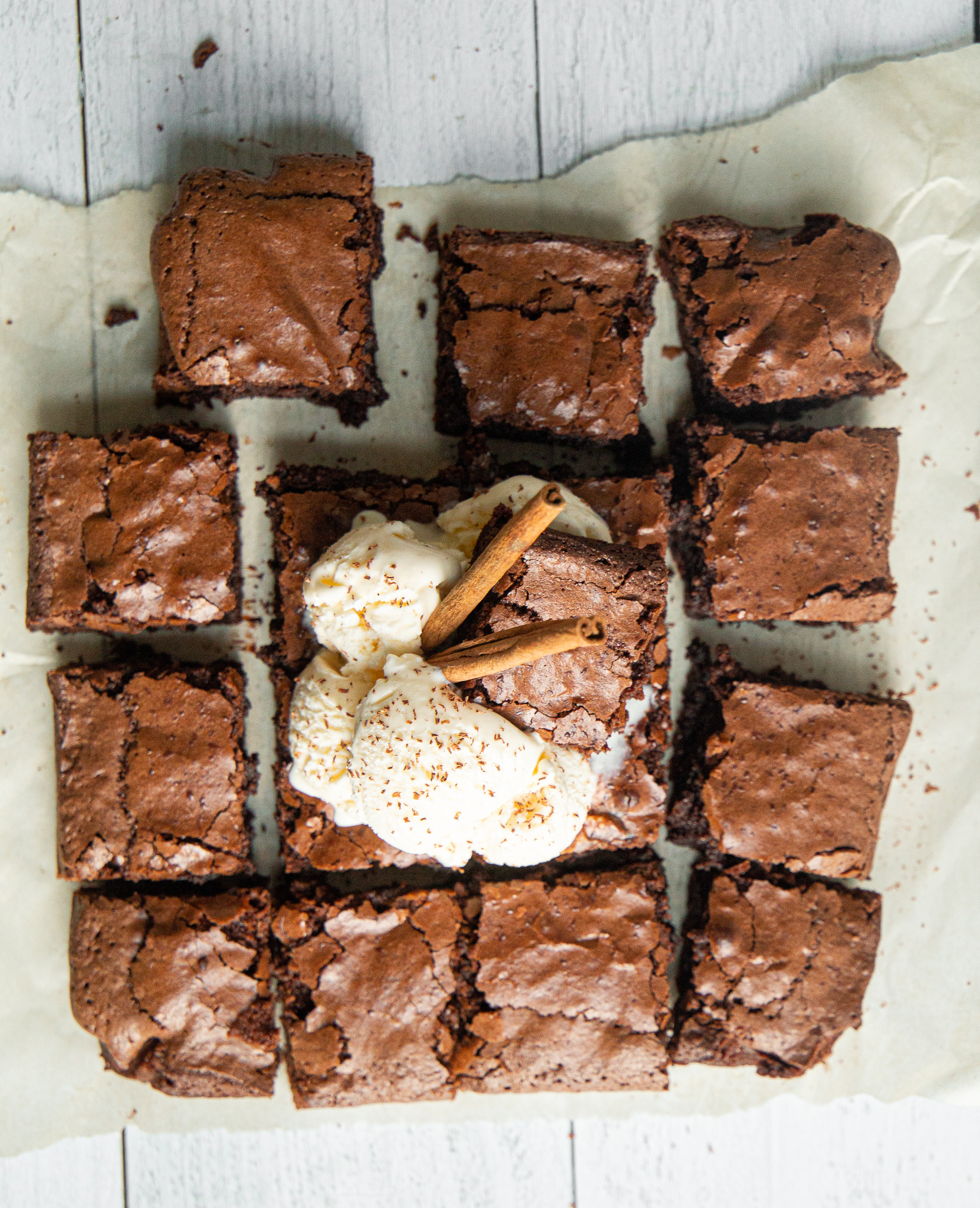 Like reg brownies, but better!
Horchata Brownies
By
Page & Plate
, September 5, 2019
If Mexican hot chocolate and horchata had a baby and baked that baby (stay with me here), this is how you'd make it.
Makes: 16 bars
Prep time:
Cook time:
Ingredients:
3/4 cup of unsalted butter (aka 1 1/2 sticks)
2 cups of sugar
5 oz of dark chocolate
3 eggs
2 tsp of almond extract
1 cup of all-purpose flour
3 TBSP of ground cinnamon
2 tsp of ground chili pepper
Instructions:
Preheat your oven to 350 and grease and line an 8x8" pan. Set aside.
Add the butter, sugar, and dark chocolate to a medium saucepan, and put it on the stove over low to medium heat until the sugar has dissolved and the butter and chocolate have melted. This step will get you a niiiiiiice shiny brownie top!
Remove saucepan from heat, and set aside to cool. If you're me, this is also when you can't wait any longer, dip your finger in to taste, burn your finger, frantically lick the burning hot chocolate off of your finger, and burn your tongue. #justmethings
When reasonably cool, add the eggs to the batter, and mix in until smooth.
Add the almond extract and stir until smooth. Pro-tip: adding this when you add the egg helps the almond flavor stick to everything.
Add the flour, cinnamon, and chili pepper, and whisk until no lumps remain.
Pour the batter into the prepared pan and toss 'er into the oven.
Bake for 20ish minutes, or until a knife stuck into the middle of the pan comes out moooostly clean. You don't want to over-bake, though, so trust your gut.
Serve with ice cream if you know what's good for you.