Zucchini Pizza Tart
I'm not the only one panicking about the fact that it's almost October, right? I mean, I'm still going to farmers' markets over here! And even though my nesting / baking instinct has been in overdrive since the first sign of a slightly-cooler-than-average breeze blew through, I'm still accumulating produce like it's my job. (I mean…it kind of is, though.)
To make the most of the veritable mountain of fresh vegetables I keep finding on my counter, I threw this recipe together a couple of times last week. Though this version is filed under a zucchini and summer squash recipe, you can modify this as the weather changes and substitute potatoes, sweet potatoes, or even pears for a fruity twist. More on that later. I must admit, though, that in my eyes, ricotta, zucchini, and lemon make a pretty ideal (not to mention impressive) match. Plus, something about using zucchini basically turns this into eating zucchini pizza for dinner, and that's always a party I'm down to have.
Using a puff pastry tart base, this recipe cheats in all sorts of ways without tasting like it. Use a high quality ricotta (or make your own!) and olive oil for the best possible outcome. If you ignore this advice, that's totally cool too — you'll just have something even less like a tart and more like a zucchini pizza on your hands.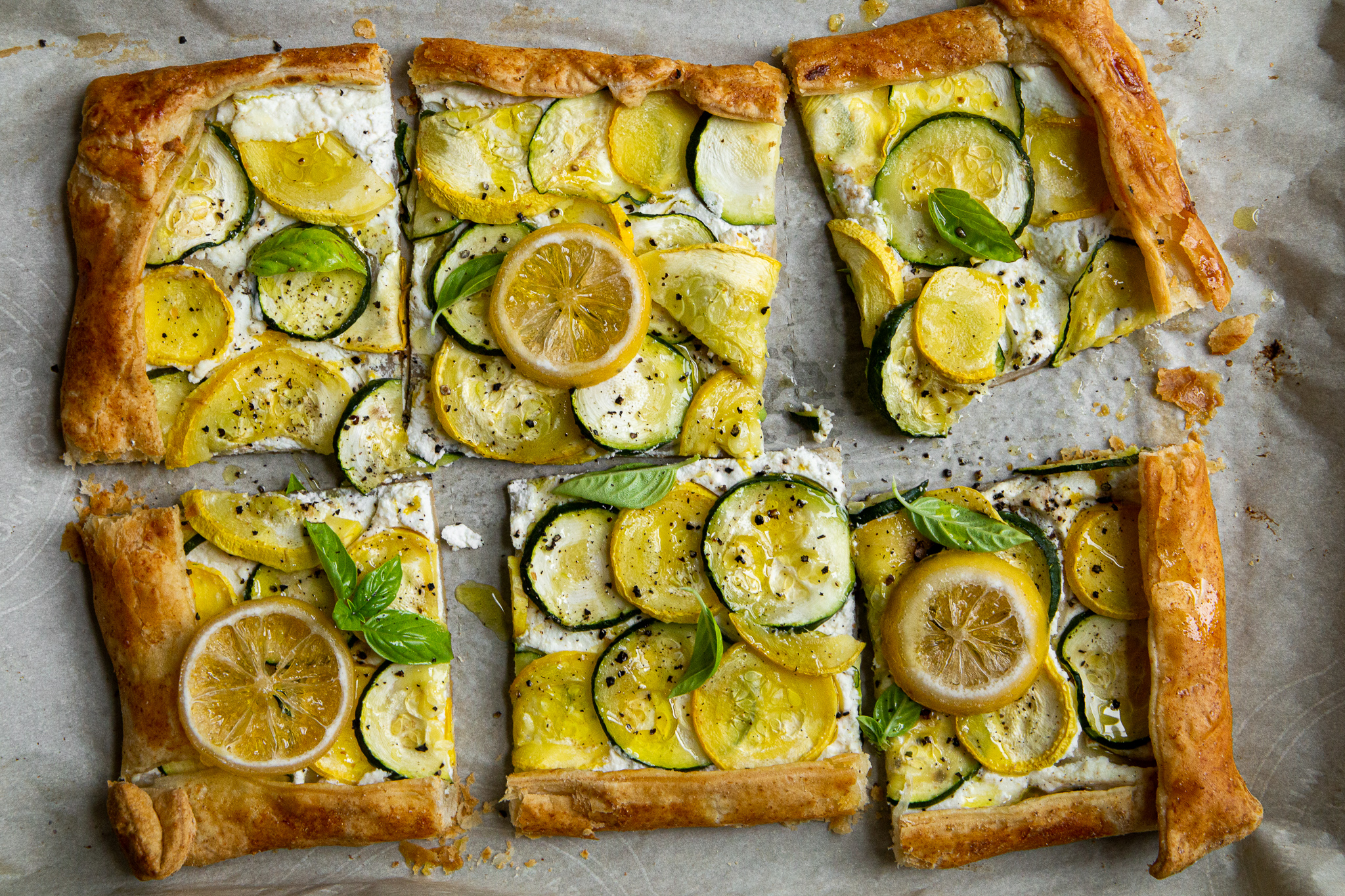 Best way to use up summer veggies? Eat them in a cheater's pizza.
Zucchini Pizza Tart
  By
Page & Plate
,  September 30, 2019 
If you have puff pastry on hand, you're most of the way to finishing this recipe. The rest of the work is chopping zucchini and summer squash and figuring out how to fill 20 minutes while you wait to dig in.
Makes: 12 servings
Prep time:
Cook time:
Ingredients:
1 sheet of puff pastry
8 oz of full-fat ricotta cheese
salt and pepper
1 lemon, juiced
3 TBSP of olive oil, divided
3 squash, sliced thinly (use zucchini, yellow squash, summer squash, or whatever weird hybrid your market is selling)
basil, for garnish (optional)
Instructions:
Preheat your oven to 400, and line your favorite sheet tray that's roughly 11x17 inches with parchment paper.
Roll out the puff pastry until it's stretched into a nice rectangle that's just slightly bigger than your sheet tray. Using a rolling pin, transfer the pastry to your sheet tray, set that aside, and prepare yourself for the most brutall cooking you've ever done.
In a small bowl, mix the ricotta, a generous pinch of salt and freshly cracked black pepper (ground will work if you must), the lemon juice, and 1 TBSP of olive oil together until smooth. Taste and adjust the seasoning, then spread it evenly over the puff pastry, leaving what seems like about an inch on each end naked.
Layer the sliced squash overtop of the ricotta, then drizzle it with the remaining olive oil and salt and pepper. Fold up the naked edges to create a nice handle for your hand pizza / tart.
TA-DAH. You're done. Bake that tray for about 20 minutes, until the crust is golden and the ricotta has set. Cool slightly, then slice and garnish with basil if you fancy like that.