Pumpkin Snickerdoodles
I have never been a pumpkin spice latte girl. First of all, and we can all thank god for this, this is not a pumpkin flavored beverage. This is a cinnamon, nutmeg, ginger, cloves, and sometimes allspice flavored beverage. I cannot condone this reckless use of the word pumpkin. Second of all, there is one way I like my coffee and that is black unless it's after 10 pm and I've just had a huge Italian dinner, in which case I love a good cappuccino. End of story.
So here's the rub: I was fiddling around with a fall snickerdoodle recipe last week using both the ever lovely Stella Parks' and Chicago cookie celebrity Mindy Segal's recipes as a baseline, and I ended up making a pumpkin spice latte cookie. Remember last winter when I went on a kick replicating everyone's favorite holiday drinks from a certain coffee empire, like these peppermint mocha cookies and these gingerbread latte cookies? What can I say; I'm talented in the rip-off in cookie form arena.
These beauts are the encapsulation of everything that screams snickerdoodles: soft and chewy on the inside with a nice PUMPKIN (yes, pumpkin is an ingredient) flavor and crispy on the outside from a cinnamon, nutmeg, ginger, clove, and allspice sugar coating. If you're looking for a pumpkin cookie recipe, stop looking and make these instead. No, I don't care if you don't like snickerdoodles. You'll like these.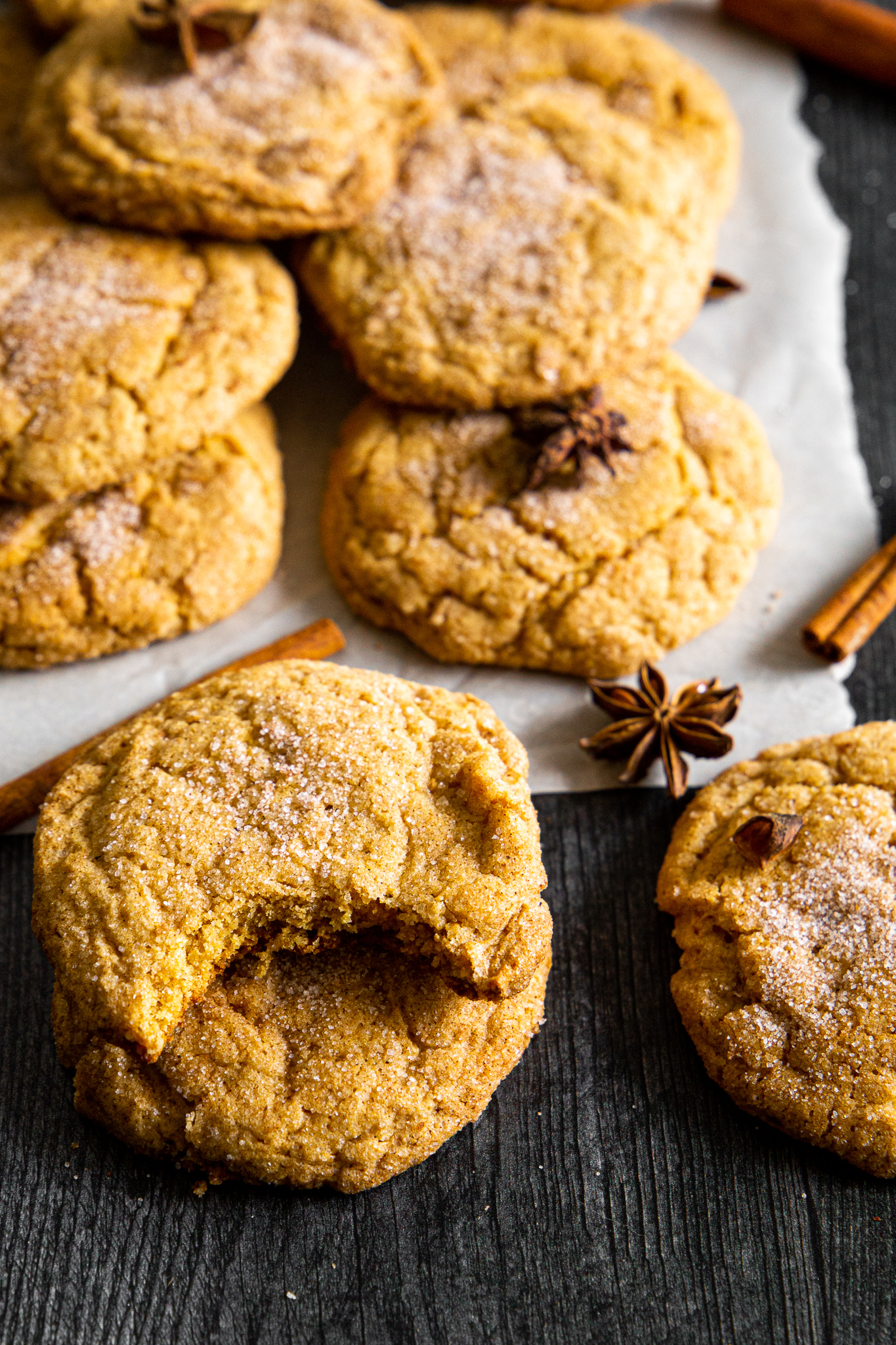 Fall has arrived, and these cookies are proof!
Pumpkin Snickerdoodles
  By
Page & Plate
,  October 3, 2019 
Pumpkin snickerdoodles: what would happen if a pumpkin spice latte escaped and had a baby with the crispiest-on-the-outside and chewiest-on-the-inside snickerdoodle cookie.
Makes: 16 cookies
Prep time:
Cook time:
Ingredients:
1 cup of unsalted butter, room temperature (say it with me: two sticks, people!)
2 cups of white sugar, divided
1 TBSP of brown sugar
1/3 cup of canned pumpkin
1 tsp of vanilla extract (use maple here if you're really goin' for it)
2 3/4 cups of all-purpose flour
2 tsp of cream of tartar (very important!)
1 tsp of kosher salt
3 tsp of ground cinnamon, divided
2 tsp of ground ginger, divided
2 tsp of ground nutmeg, divided
1 tsp of ground allspice, divided
Instructions:
Preheat your oven to 375 and get some sheet trays ready for some cookie-age.
In the bowl of a stand mixer fitted with a beater attachment (or using a large bowl and a hand mixer), beat the butter, 1 1/2 cups of white sugar, and brown sugar until smooth and creamy.
Add the pumpkin and extract of choice, and keep beating. The mixture might look a little bit curdled here, but keep going until the pumpkin starts to take on the sugar and butter mixture.
While you're waiting for that to happen, combine the flour, cream of tartar, salt, and HALF of all of the spices in a large bowl. Whisk to combine, then set aside.
Scrape down the sides of the bowl (bet you never thought I'd ask you to do that, huh?). Add the dry ingredients all at once, and beat slowly until just combined.
In that same bowl you had the other dry ingredients in, combine the remaining sugar and spices. Mix until evenly combined.
Using a spoon (or an ice cream scoop if you fancy), scoop out the batter, then roll with your palms to make it an even sphere. Mine are never even.
Roll your cookie balls in the sugar spice mixture, then pop them on the tray. Flatten them just slightly with your palm, then sprinkle a pinch of the sugar spice mixture on top. As you finish the trays, pop them in the fridge while you doll out the next tray's worth. Ideally, you'll chill all of your cookies for about 10 minutes before they bake off.
Bake the cookies for five to six minutes at 375, then lower your oven temp to 350 for the remaining six to eight minutes. They're done when you can't stand it anymore and really, really need a nice, golden cookie.
Let cool on tray, then on cooling rack.