Blueberry Mojito
Since we've had relentless heat and humidity over the past week, I've given up on fall and am briefly retreating to all things summer, starting with day drinking and, more specifically, day drinking this blueberry mojito. I love a good mojito, but I can't take the intensity of the simple syrup in most recipes. My solution: cut it out completely and let the sweetened blueberry juice here do the hard work for you. Oh, and add a pinch of salt. Trust me, it works.
A mojito is traditionally made with rum, but I go back and forth between rum and gin. I love the sharpness of the gin against the berries and mint, and if we're being totally honest, gin doesn't harken me back to the overindulgences of collegiate life. (Sorry, Mom.)
Speak of my mom, she loves a mojito more than most people, so when she's around, I triple this recipe and add some extra ice for a nice mojito pitcher. And that, my friends, is the life.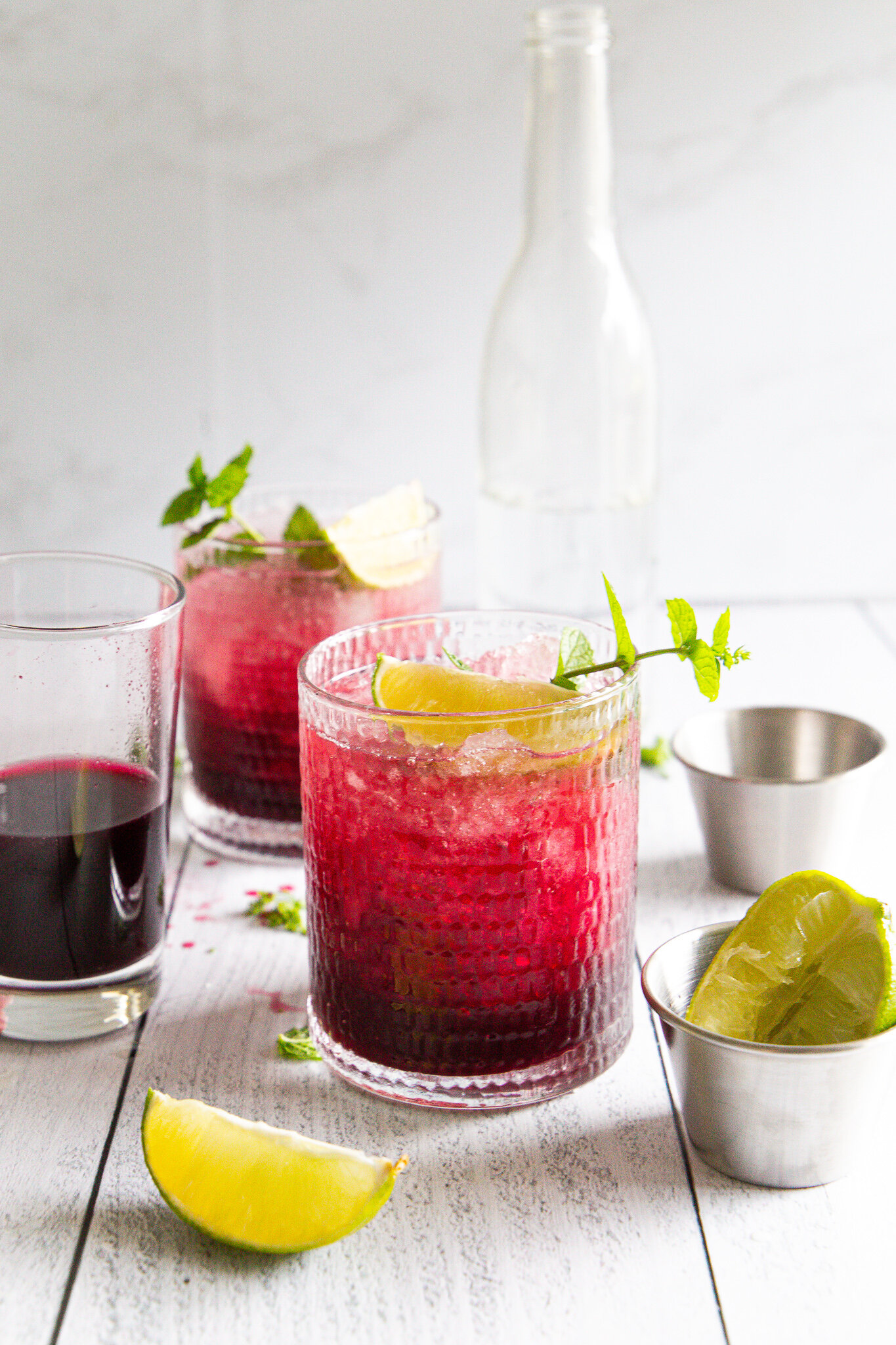 A final ode to day drinking in the summer.
Blueberry Mojito
By
Page & Plate
,  September 25, 2019 
This drink riffs on the traditional mojito by using gin in place of rum and blueberry juice instead of simple syrup.
Makes: 2 servings
Prep time:
Cook time:
Ingredients:
2 cups of crushed ice
4 oz of gin (here's where you use white rum if you're a traditionalist)
6 oz of blueberry juice (my favorite to use is the blueberry juice that Naked Juice makes)
1 lime, cut in half
pinch of salt (trust me on this one)
4 oz of sparkling water
2 sprigs of mint
Instructions:
Add the crushed ice to two cocktail glasses.
Pour your alcohol of choice over top of the crushed ice (or skip the alcohol and make a delicious blueberry mojito mocktail!), then add the blueberry juice.
Squeeze the lime over top of each drink, then add a pinch of salt to each glass.
Top off each glass with the sparkling water, then garnish with mint. Ta-freaking-dah.