Roasted Cod Tacos
If there are two things I know, one is that I worship the ground that Alison Roman walks upon and the other is that I am very, very wary of cooking fish. However, ever since reading her gorgeous first cookbook, Dining In, I have realized that those two things are often in direct contradiction with each other. I can't tell you why I'm so mortified by the idea of assuming I know how to cook fish (I really kind of do — I promise). And, as previously discussed, I'm also petrified by the idea of giving anyone, including myself, the slightest bit of food poisoning. This leads me to the natural conclusion that if I am unwilling to admit I know how to cook fish, I may in fact not know how to cook fish, and I may give everyone I know and love food poisoning in one fell swoop as a result. Whew. That felt good to get off my chest.
ANYWAY, if there's anyone to give me the confidence I need in my skills of fish cookery, it's Alison, and that's exactly what she did in one of her latest triumphs for The New York Times's cooking section. This recipe for tomato poached cod was beautiful and perfect, but, honestly, I was in a rush. So, I riffed on her recipe, threw in some Tomato Bliss, and grabbed some taco shells to make it the perfect dinner. Voila.
On another side note that you may or may not care about, this is a rare recipe on Page & Plate that is not vegetarian. We're rolling deep in veggies around here because I'm convinced that if fewer people ate meat, we'd have fewer problems. And if you don't agree with that, that's okay, but also I gave up caring about what you think a while ago.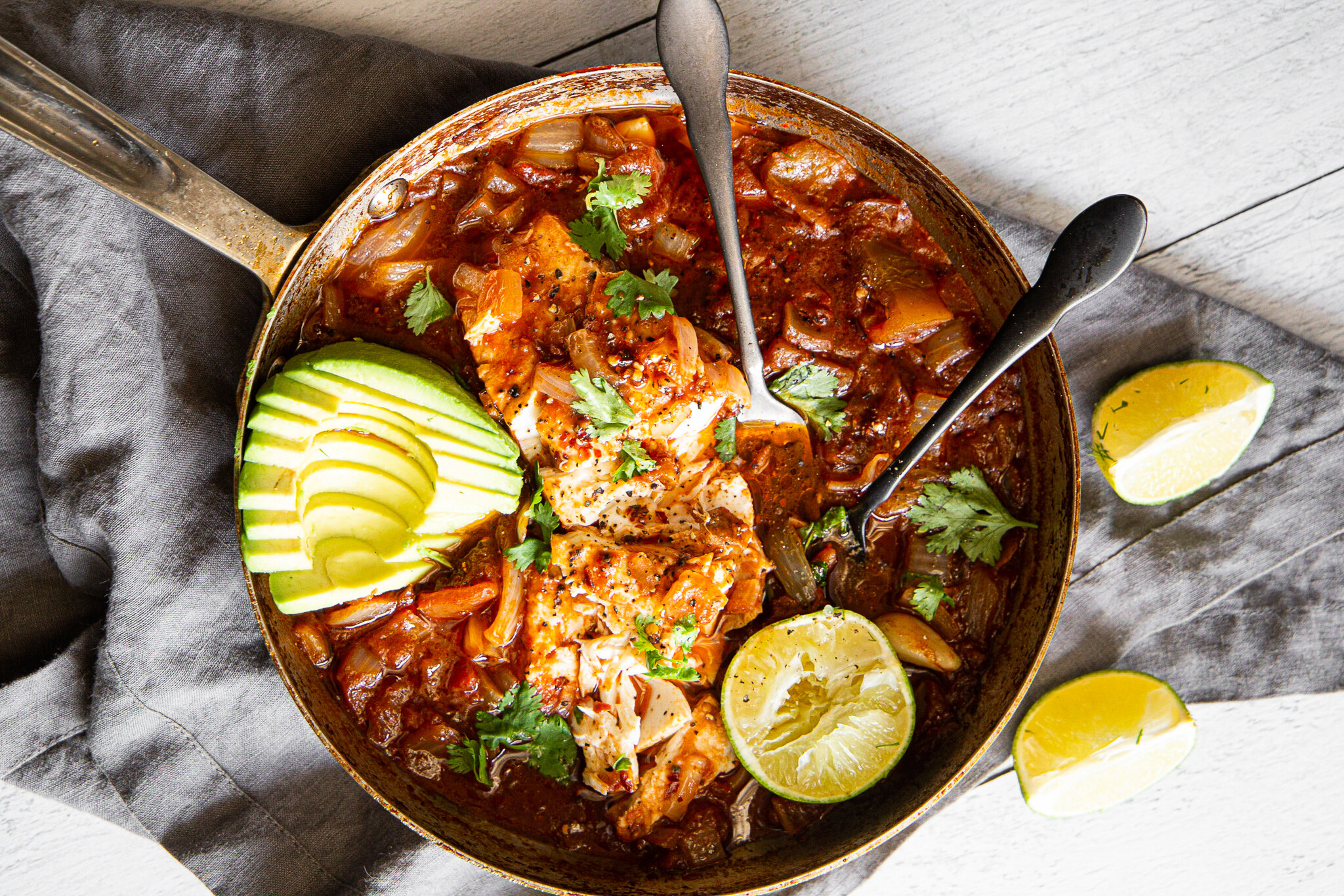 Helloooooo beautiful fish lady.
Roasted Cod Tacos
  By
Page & Plate
, September 19, 2019
A nice hunk of fish takes a ten-minute bath in flavorful tomatoes, onions, and a hint of spice. It's not a joke; it's your new favorite dinner.
Makes: 2 servings
Prep time:
Cook time:
Ingredients:
4 TBSP of extra virgin olive oil
1 yellow onion, sliced thinly
4 cloves of garlic, thinly sliced
1 tsp of red pepper flakes
2 tsp of smoked paprika
salt and pepper
1 16 oz jar of Tomato Bliss Roasted Heirloom Tomatoes
1 lb of cod
1 avocado, pitted and sliced thinly
2 limes
1/4 cup of cilantro leaves, loosely packed (OMG don't measure this, weirdo! Use your eyeballs and common sense!)
Instructions:
In a medium skillet, heat the olive oil over a medium heat until it's shimmering.
Add the onions and saute until just starting to wilt. Add the garlic, and saute both for about five to seven minutes, until beginning to caramelize around the edges.
Season with red pepper flakes, smoked paprika, and salt and pepper.
Add the roasted tomatoes to the skillet, and scrape the bottom of the pan to deglaze. Taste and adjust seasoning if necessary. (It's necessary! You just added a bunch of really sweet red stuff. You're gonna want salt with that.)
Let that gorgeous mixture bubble for a bit (around five more minutes) or until sliiiiiightly thickened.
HERE COMES THE COD! Take a look at the fish you have in front of you. Now, put on your thinking cap and figure out if it's small enough to fit in that pan or if she needs to be split into two pieces. Do that if you gotta, then salt and pepper both sides of the fish.
Nestle the cod in her beautiful tomato broth bed, and cover her up. Set a timer for six minutes, and busy yourself with finding some taco shells and shredding some lettuce for a slaw.
After six minutes, or when the fish is white and tender (like, tear apart with a fork tender, bc that's what you're about to do).
Tear your tender fish apart with a fork, garnish with avo, lime, and cilantro, and stuff yourself or your tacos.
PST! I created this recipe for Tomato Bliss as a part of my ongoing relationship with their company. If you like what you see and are interested in working together to create some awesome recipes, snap some beautiful photos, or learn more about social media for food brands, hit me up at laura [at] pageandplate.com!