Herby Corn Risotto and The Lost City of Z
In case anyone's been doubting things, The Actual Best Time to Eat All Year is here. I'm talking heirloom tomatoes, squash athawazoo, and, most importantly, fresh corn. I LOVE corn. Like, I LOOOOOVE corn. I can't pick favorites out of all my children (i.e. vegetables), but if you twisted my arm, I might have to pick corn.
I also love my carbs, though, so when I saw a FeedFeed video suggesting corn risotto, I kind of died. This recipe is my interpretation of the ultimate summer dinner dish: a slow-cooked risotto with fresh corn, kale, and all sorts of herbs. *happy sigh* (And if you find that you love risotto, make this one next, k?)
The book featured happens to talk about exploration in the Amazon, which has been on the minds of most people who care about the Earth lately due to the forest fires that have gained international attention. Reading it in the midst of that conversation certainly added another element to a story starring the storied forest.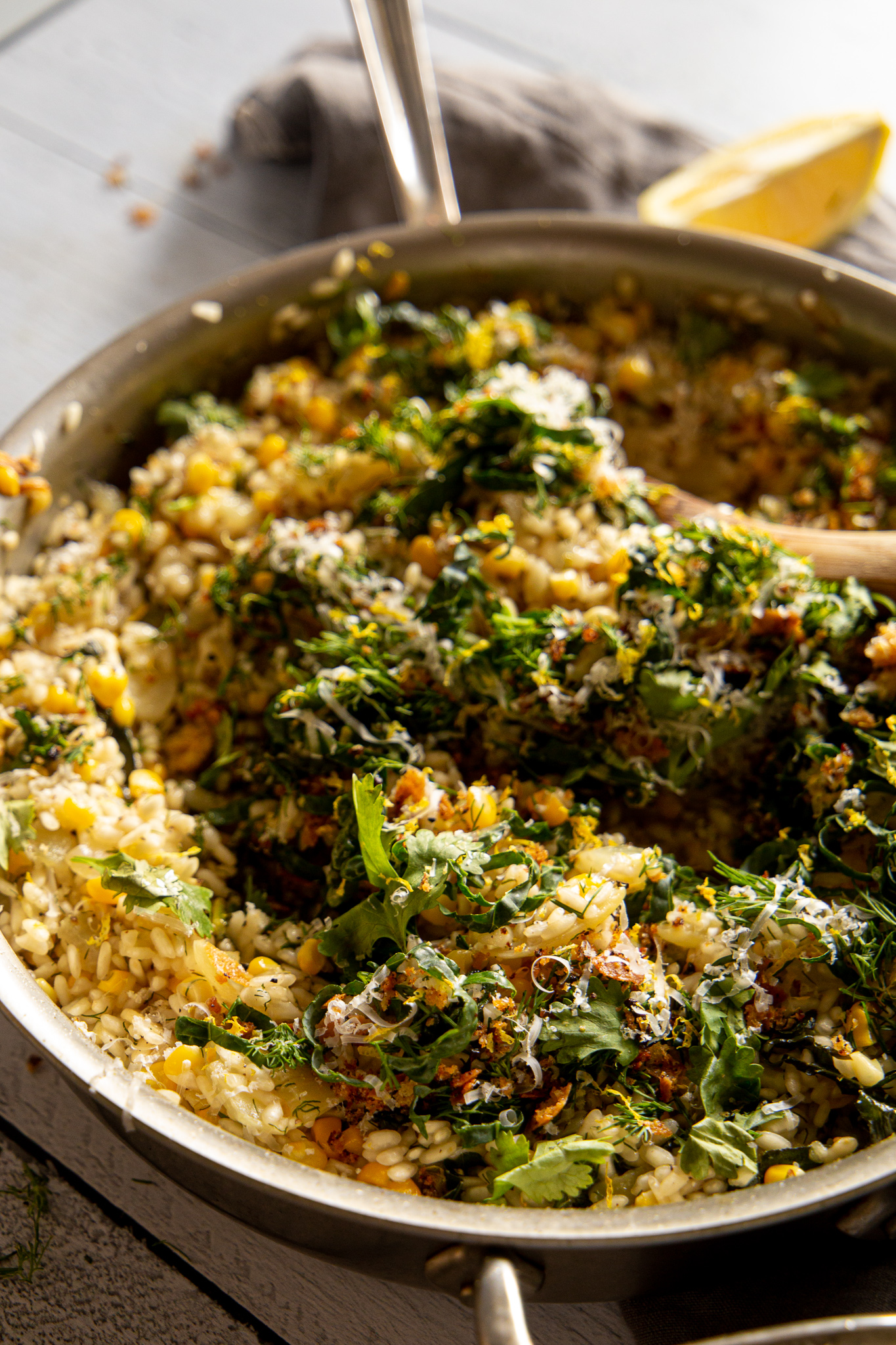 Summer sings in a skillet.
Herby Corn Risotto
By
Page & Plate
, August 29, 2019
Fresh corn, kale, and dill add a beautiful, fresh taste to risotto that is gluten-free and easily made vegan.
Makes: 4 servings
Prep time:
Cook time:
Ingredients:
6 cups of vegetable broth
3 TBSP of olive oil
1 white onion, finely diced
3 cloves of garlic, thinly sliced
3 cups of fresh corn kernels
1 1/2 cups of arborio rice
1/4 cup of white wine (you don't have to include this! It just adds good flavor.)
salt and pepper to taste
1 lemon, zested and juiced
1 cup of dino kale, julienned
1/2 cup of fresh dill, roughly chopped
Parmesan cheese, for garnish, optional
Instructions:
Let's get our set-up done. Find a medium saucepan and a medium saute pan and put them on two burners side-by-side. Add the broth to the saucepan, and put that burner on a low to medium heat. Then, add the olive oil to the saute pan and put that burner on a medium to high heat. Set-up = done.
Here's the deal: to make risotto, you slowly cook rice by adding simmering broth a little bit at a time until it's absorbed. So while we're actually making the risotto in the saute pan, keeping the broth at an almost simmer is really important. Cool? Cool.
While the broth is heating up, saute the onions, garlic, and corn in the saute pan until beginning to caramelize.
Add the rice, and stir to toast for just about a minute, then deglaze the pan with some white wine (feel free to skip this and just go straight to broth). PS, deglaze = scrape up all the delicious but kind of burned tastes off of the pan with liquid.
Okay, here comes the part where you need to commit to standing at or near the stove: once the wine has mostly disappeared, add a ladleful of broth to the saute pan. Stir to mix it all up, then let absorb, stirring occasionally until you can run a spoon through the rice and have it not rush back in to fill the space you created.
Repeat, reapeat, repeat. Once you've used up about half of the broth, season with salt and pepper, then taste it to see 1) how you're doing with seasoning and 2) how cooked the rice is. I usually prefer to keep my rice a little bit al dente, but that's my thing. You do you!
When you're happy with the texture of the rice, stop adding broth! It'll get soft and weird if you overload it with liquid.
Turn the heat off and stir in the lemon zest, lemon juice, kale, and dill.
Serve immediately (topping with Parm if you're not on vegan street).
Plot: Way back when, an explorer named Percy Fawcett became obsessed with risking life, limb, and countless lives of fellow explorers to brave the Amazon rainforest and uncover an ancient city that he named Z. My man David Grann, who also wrote one of my favorite reads so far this year, Killers of the Flower Moon, becomes obsessed with Fawcett's story from afar and decides to undertake his own journey.
Thoughts: It took a while for me to get into this book, which I immediately purchased the second I finished The Lost City of the Monkey God (I know. Lots of lost cities. I grew up watching Indiana Jones, okay?) Grann splits the narrative between Fawcett's story and the lead-up to his final (and fatal, spoiler alert) expedition and his own decision to pursue Z. The book feels off-kilter for a while as you the reader (and Grann, it seems) get comfortable with that format, but once you do, it becomes more natural.
While I didn't enjoy it quite as much as I did Monkey God or Grann's other book, the historical fiction lover in me found it compelling. Though it's a non-fiction book, the reconstruction of Fawcett's life feels fictitious at times. It reaches a rushed conclusion, but not before treating you to a fantastic history of Amazon exploration and colonization.
Verdict: Stick with it through the Downtown Abbey parts, and it's a worthy read. Oh, and apparently there's a movie. Made by Amazon. How…fitting.