Cauliflower Poppers
Apparently it is once again time for football. You might guess that I don't really care that passionately about football. You would be ever so correct. BUT, if there's one thing I've learned from listening and re-listening to the Super Bowl episodes of the Bon Appétit Foodcast, it's that football is a beautiful thing because it brings people together over food.
So yay football! Now go make some delicious cauliflower poppers for all of your sportsball fiends. Best part? They're gluten-free and easy to make vegan if you have football peeps in your life that swing that way. If you don't, then you may as well throw caution into the wind and crumble some bacon on top for all I care. Go forth and cauliflower popper!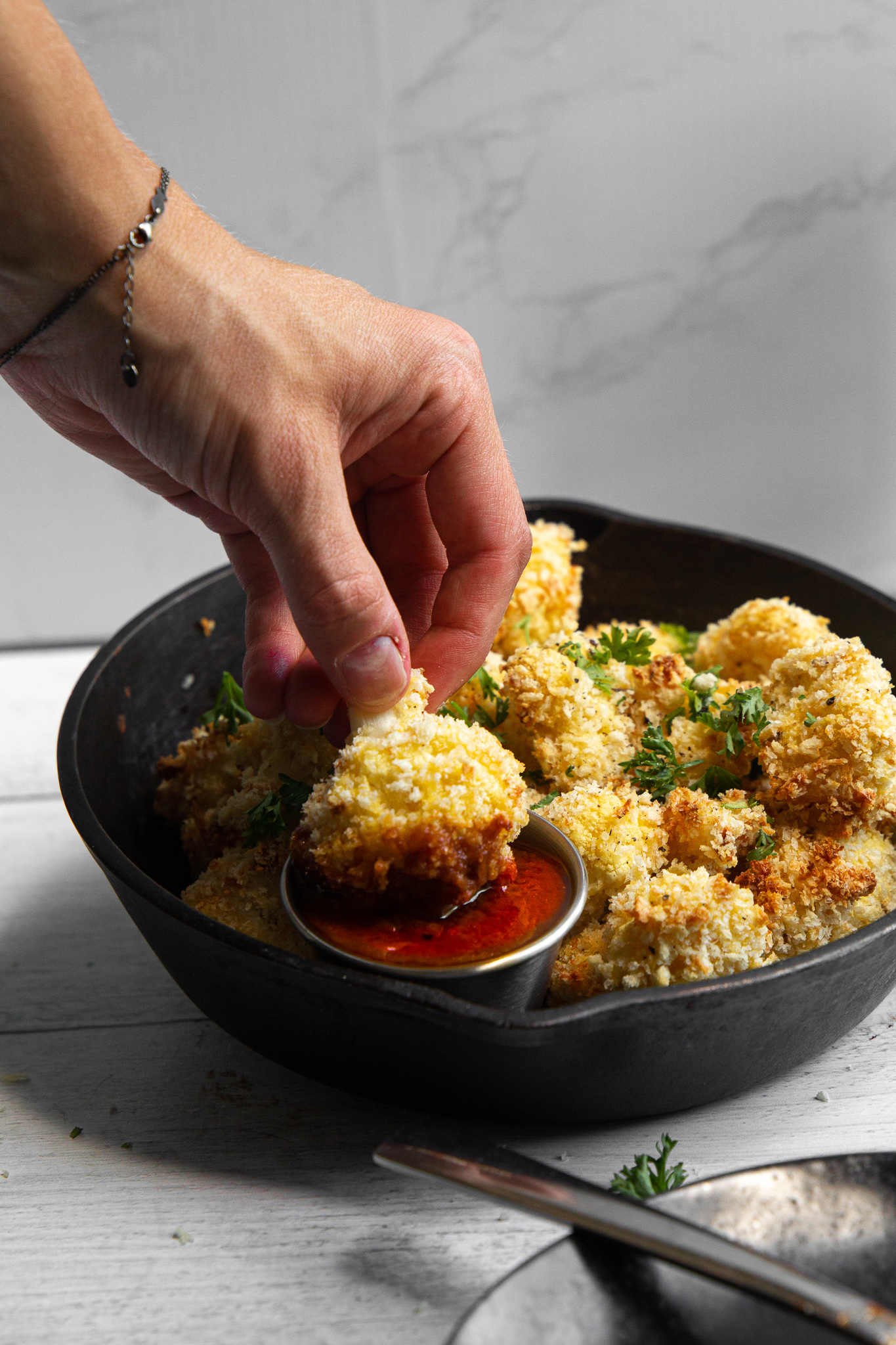 Cauliflower Poppers
By
Page & Plate
, August 26, 2019
Panko and Parm breaded cauliflower is crisped up in the oven and served with a spicy, no-cook marinara for the perfect snack!
Makes: 4 servings
Prep time:
Cook time:
Ingredients:
1 head of cauliflower, cut into florets
1 egg, whisked
1 cup of panko breadcrumbs
1/4 cup of Parmesan cheese, grated (optional for vegans!)
salt and pepper to taste
1 cup of Tomato Bliss Roasted Heirloom Tomatoes (or your favorite roasted tomatoes!)
1 clove of garlic
4 TBSP of harissa paste
Instructions:
Preheat oven to 425 and pop a cooling rack inside of a sheet tray. This allows the cauli to reach optimal crisp! Set aside.
Set up your dipping stations: pour the whisked egg into a bowl. Then, in another bowl, mix the panko, Parm, if using, and salt and pepper. Consider your dipping stations assembled.
Dip the cauliflower into the egg, then into the panko mixture. Once properly breaded, place florets onto the cooling rack / sheet tray situation with plenty of space in between, then bake for 15 minutes, or until golden brown.
Meanwhile, pulse the Tomato Bliss Roasted Heirloom Tomatoes, garlic, and harissa paste together in a blender until roughly chopped. Taste and adjust seasoning (that's S+P, folks!). Pour into a serving bowl.
Once cauliflower has cooled just slightly, serve with an extra dusting of Parm (again, only if you're usin' it!), and dipping sauce. Game on!
PST! I created this recipe for Tomato Bliss as a part of my ongoing relationship with their company. If you like what you see and are interested in working together to create some awesome recipes, snap some beautiful photos, or learn more about social media for food brands, hit me up at laura [at] pageandplate.com!