Tomato Confit with Burrata
HEY READER HEY. I promise, I'm still here. I still love you. I've just been busy. In lieu of an apology, please accept this cheese.
This cheese, by the way, is lovingly encased with a tomato confit. Sounds like a fancy menu item that you'd never be able to replicate at home, right? [Insert buzzer sound here] WRONG! That fancy word, confit, is not something to be intimidated by, okay? Traditionally, confit is duck (or another meat) slowly roasted in its own fat. Non-traditionally, we're going to just slow roast some tomatoes in olive oil and get it so that the olive oil becomes all tomato-ey and delicious before we pour it over (what else?) burrata. What a time to be alive!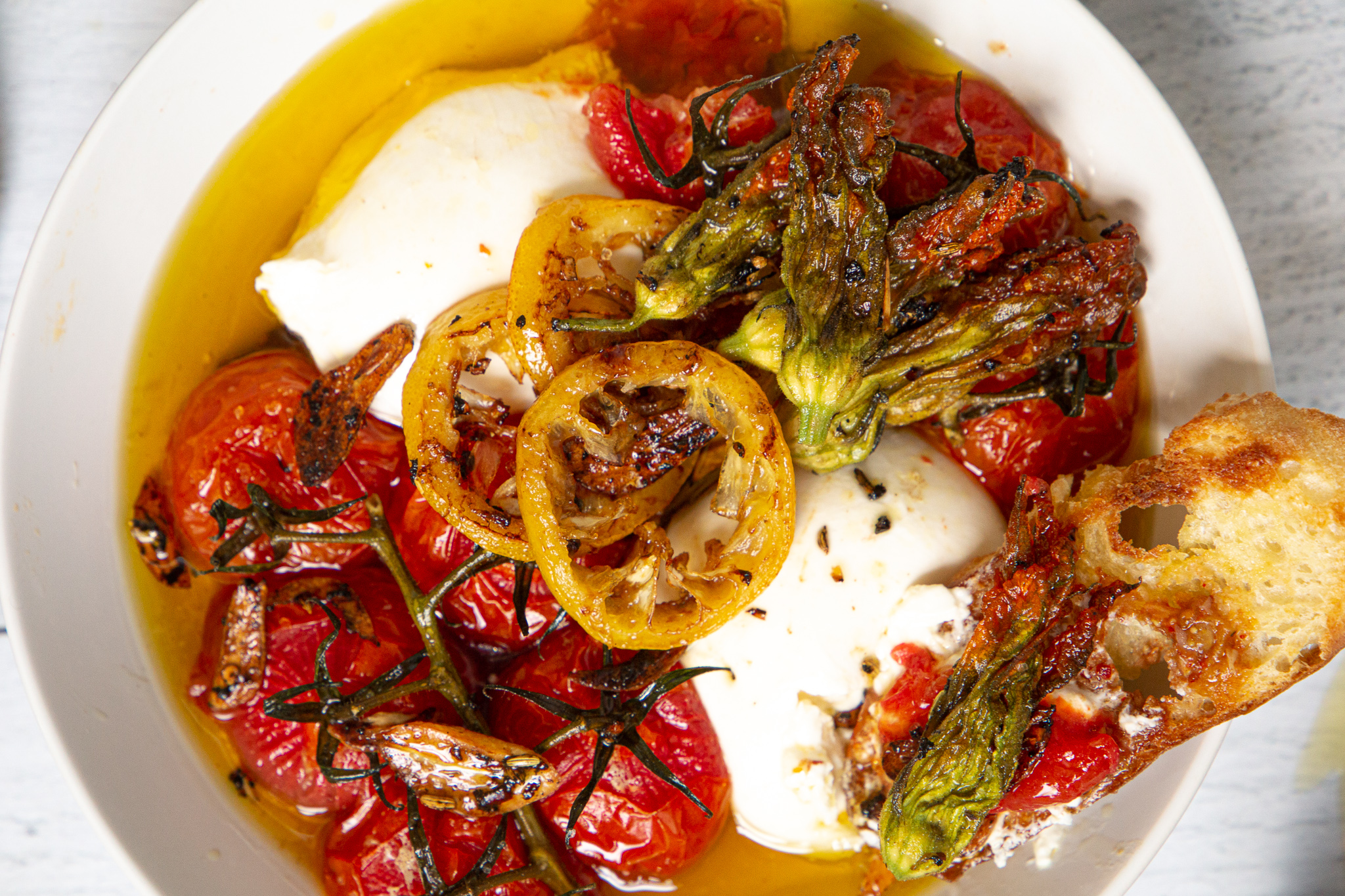 Tomato Confit with Burrata
Or, a dish meant to be an appetizer for a group that I can eat in one sitting.
Tomato Confit with Burrata
By
Page & Plate
, August 20, 2019
Slow roast tomatoes in olive oil with lemon and garlic, then pour all of that goodness over some burrata cheese for the perfect summer appetizer.
Makes: 6 servings
Prep time:
Cook time:
Ingredients:
16 oz of cherry tomatoes on the vine
3 cloves of garlic, peeled
1 lemon, sliced thinly
1 cup plus 2 TBSP of Village Batch Extra Virgin Olive Oil
salt and pepper
4 oz of zucchini blossoms
8 oz of burrata cheese
Instructions:
Preheat your oven to 300 and find a casserole dish deep enough to hold the tomatoes you've selected.
Add the tomatoes, garlic, and lemon slices to the dish, then pour 1 cup of Village Batch Extra Virgin Olive Oil on top. Season with salt and pepper, then bake for approximately 45 minutes, or until tomato skins have wilted.
Meanwhile, in a small saute pan, heat the remaining Village Batch Extra Virgin Olive Oil until shimmering. Saute the zucchini blossoms until browned, then remove from heat.
When the tomatoes are all roasty and your kitchen smells like what Julia Child probably smelled like all of the time (not that I have, like, extensively thought about that or anything), take 'em on out and set aside briefly to cool.
Grab a beautiful serving bowl and pop that burrata inside.
Add the zuke blossoms, then gently transfer the tomatoes from the roasting dish to the bowl. Pour the tomato-ey olive oil over top, and dip to your heart's content.
PST! I created this recipe for Village Batch as a part of my ongoing relationship with the company. If you like what you see and are interested in working together to create some awesome recipes, snap some beautiful photos, or learn more about social media for food brands, hit me up at laura [at] pageandplate.com!