Roasted Corn and Pesto Salad and Modern Romance
BOOK CLUB IS BACK, and it's better than ever. Why is it better than ever? Great question. I'm going to go with the book we chose. Sometimes, it's best not to have a crowd-pleaser in a book club environment. You want a book that some people love, some people hate, and everyone has something to say about it regardless. We really, REALLY found that in Aziz Ansari's Modern Romance.
This is not the case for this salad, by the way. Hearty greens, the best of all summer produce, and a pesto dressing make this a sure thing.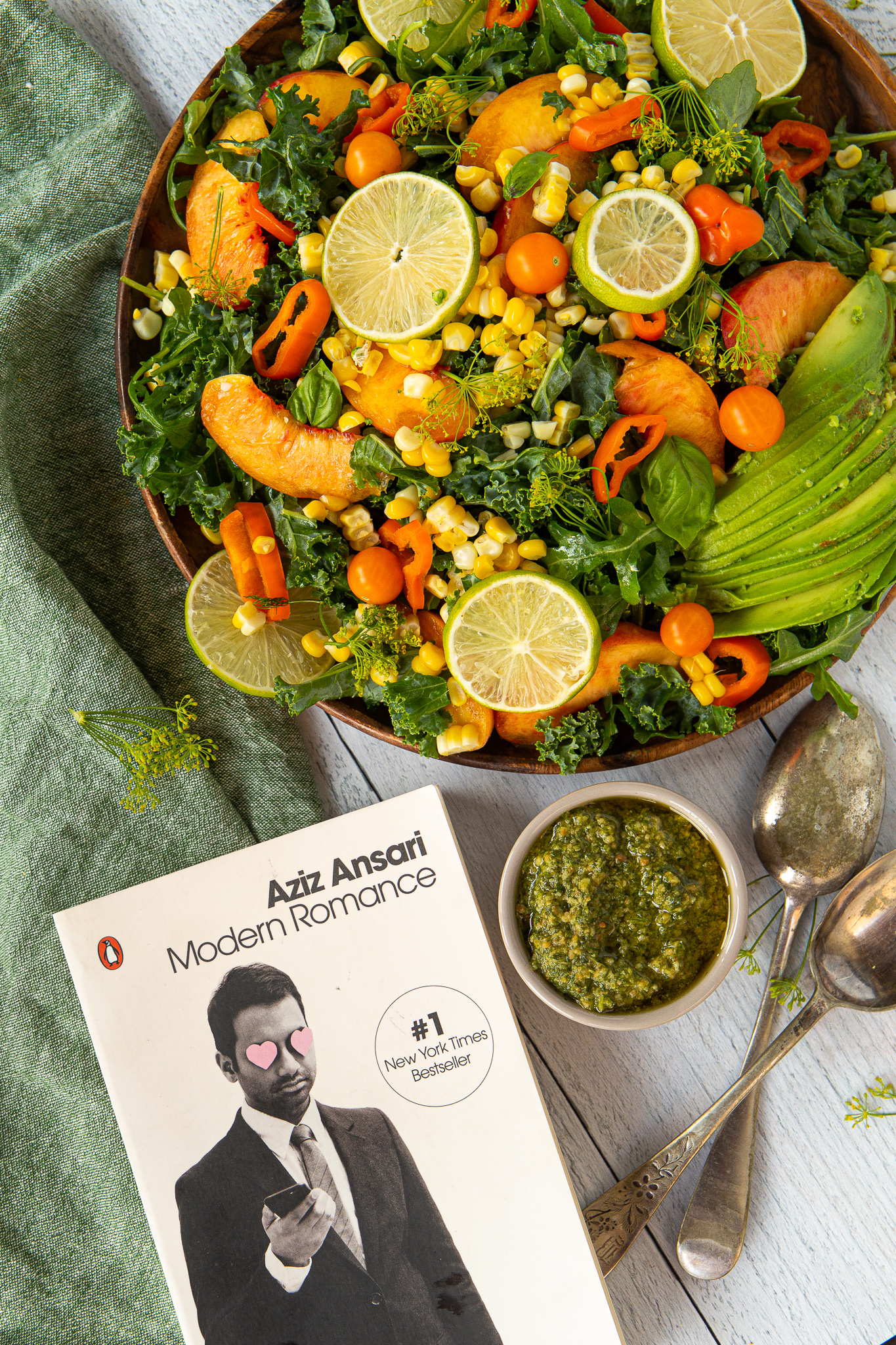 Roasted Corn and Pesto Salad
Everything good about summer in one salad.
Roasted Corn and Pesto Salad
By
Page & Plate
, August 12, 2019
Fresh roasted corn, peaches, and flowering dill dress this easy salad up to be the centerpiece and the main dish.
Makes: 4 as a main, 6 as a side
Prep time:
Cook time:
Ingredients:
3 cups of kale, chopped finely
2 cups of baby arugula
4 ears of corn, cooked and cut off the cob
2 peaches, cored and sliced thinly
3 red bell peppers, cored and seeded, sliced thinly
1 cup of grape tomatoes, cut in half
1 cup of carrot top pesto (recipe here!)
1 lime, juiced
dill flowers, for garnish
Instructions:
This is a salad recipe, kids. The concept is pretty easy. In a large bowl, mix the kale and arugula.
Mix in the corn, peaches, red bell pepper slices, and grape tomatoes.
In a small bowl, mix the carrot top pesto with the juice from the lime. Pour over the salad mixture, and toss to combine.
Garnish with dill flowers and eeeeeeaaaaaaat.
Plot: Aziz Ansari (yes, that Aziz Ansari) teamed up with sociologist Eric Klinenberg to analyze love in the modern age.
Thoughts: I read this book back when it first came out in 2015, but recently re-read it as the inaugural book in my new book club. Honestly, I was a lot less impressed this time around. There's a lot to this.
Having watched his new stand up, Right Now, I felt like this book was very much a project of the Tom Haverford version of Aziz Ansari: a little bit too self-obsessed, immature, and unwilling to discuss hard issues. It's hard to ignore that between the publishing of this book and my second reading, Ansari was one of the men implicated in the Me Too movement. This makes a 2019 reading of Modern Romance uncomfortable and insightful, no matter whether you think he's innocent or guilty.
I have a lot of thoughts on this book (we discussed it for four hours). Long story short, don't use this book as a handbook for relationships: take it with a grain of salt and think of it as a benchmark for where society was in a moment that very, very quickly passed.
Verdict: Great book club pick. Not so great handbook.