Balsamic and Honey Glazed Peaches
I designed this recipe in partnership with Village Batch, a company run by three brothers that specializes in raw, organic products grown on their family farm in Greece. Read that sentence again just to make sure you got the full impact of how amazing that is. Yeah. I know. Check them out, show them some love, and enjoy this uber-gourmet, dairy-free, gluten-free dessert.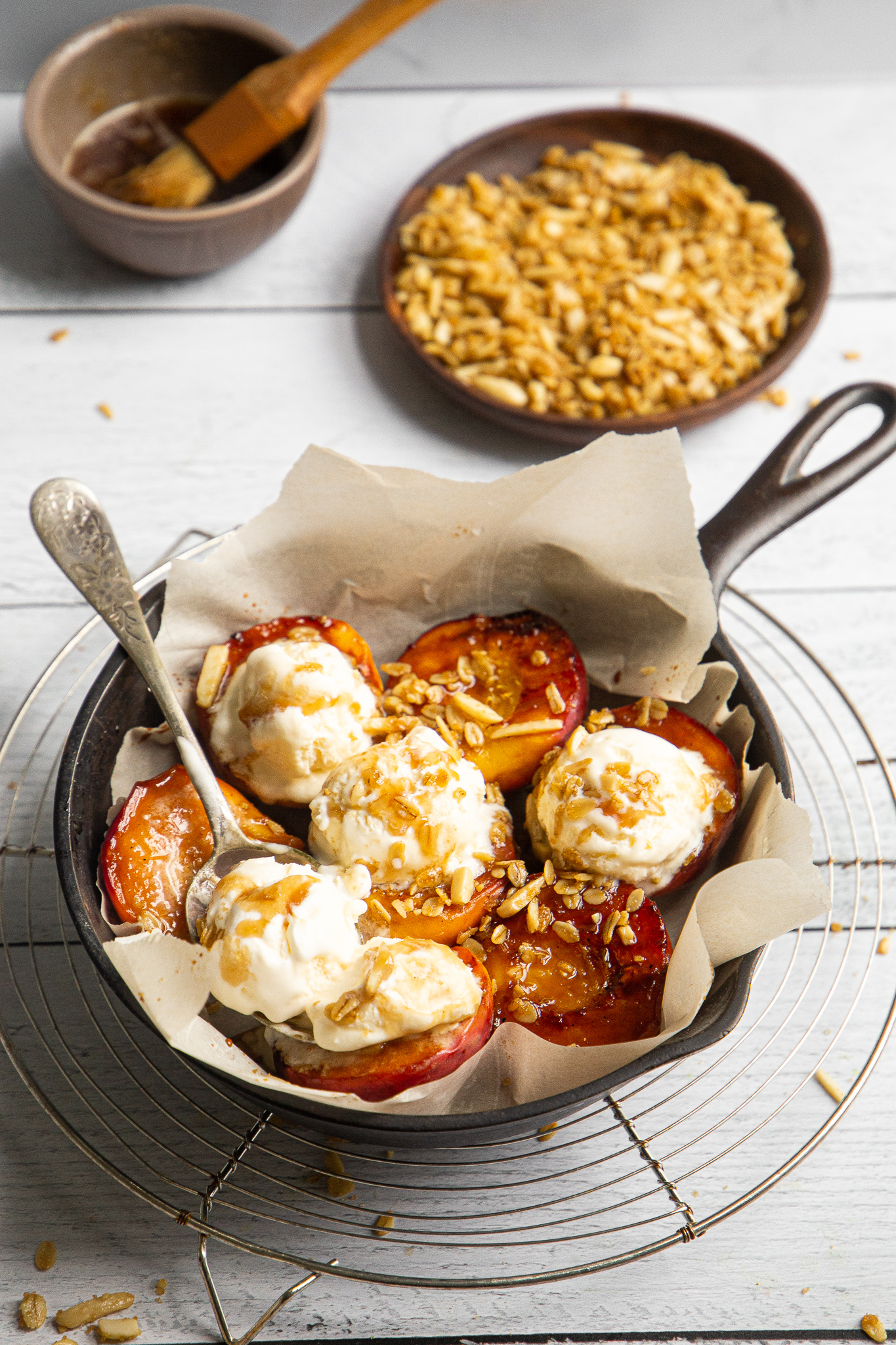 Balsamic and Honey Glazed Peaches
A grown-up, gourmet peach cobbler emerges.
Balsamic and Honey Glazed Peaches
By
Page & Plate
, July 31, 2019
This is possibly the easiest, most gourmet dessert you can make this summer. The way that the balsamic and honey compliment the peaches is *Italian chef kisses fingers*.
Makes: 16 bars
Prep time:
Cook time:
Ingredients:
2 TBSP of Village Batch Olive Oil
1 cup of slivered almonds
2 cups of oatmeal
1/2 cup of brown sugar
3 TBSP of Village Batch Raw Organic Wildflower Honey
1 TBSP of Village Batch Balsamic Vinegar
4 peaches, halved and pitted
ice cream, for serving, optional
Instructions:
Make the topping: in a small saucepan, heat the olive oil over medium heat. Add the almonds, oatmeal, and brown sugar, then toast until slightly browned and fragrant, about five minutes. Set aside to cool. You should, like, probably eat some too, right?
Heat grill (or grill pan on your stove at home like me, womp) to medium. Meanwhile, in a small bowl, mix the honey and balsamic until smooth. Set aside.
Using a basting brush (or just by going peach dunking), brush the insides of the peaches with the honey and balsamic mixture. Set peaches facedown on the grill, and grill for three to five minutes, until honey has caramelized. Reserve extra honey and balsamic mixture for serving.
To serve, top peaches with ice cream, extra honey and balsamic mixture, and almond topping. Summer is here, babes.
PST! I created this recipe for Village Batch as a part of my ongoing relationship with the company. If you like what you see and are interested in working together to create some awesome recipes, snap some beautiful photos, or learn more about social media for food brands, hit me up at laura [at] pageandplate.com!