Heirloom Tomato Dip
A few weeks ago, I met Marie and Sasha of Tomato Bliss at the Green City Market. Artists-turned-tomato farmers, Marie and Sasha roast batches of delicious heirloom tomatoes with balsamic vinegar, a hint of salt, and some olive oil to create one of the most versatile, beautiful products I've ever seen. Since we started working together, I've tested over ten recipes for them using their roasted heirlooms and not a single one has turned out badly. What does that say, eh? Lots of good stuff for sure. Today, I'm sharing my favorite of the recipes I've tested so far, a creamy, tangy dip that goes perfectly with toast, chips, or raw vegetables. For more of the recipes I've tested for them, check out their gorgeous recipe blog.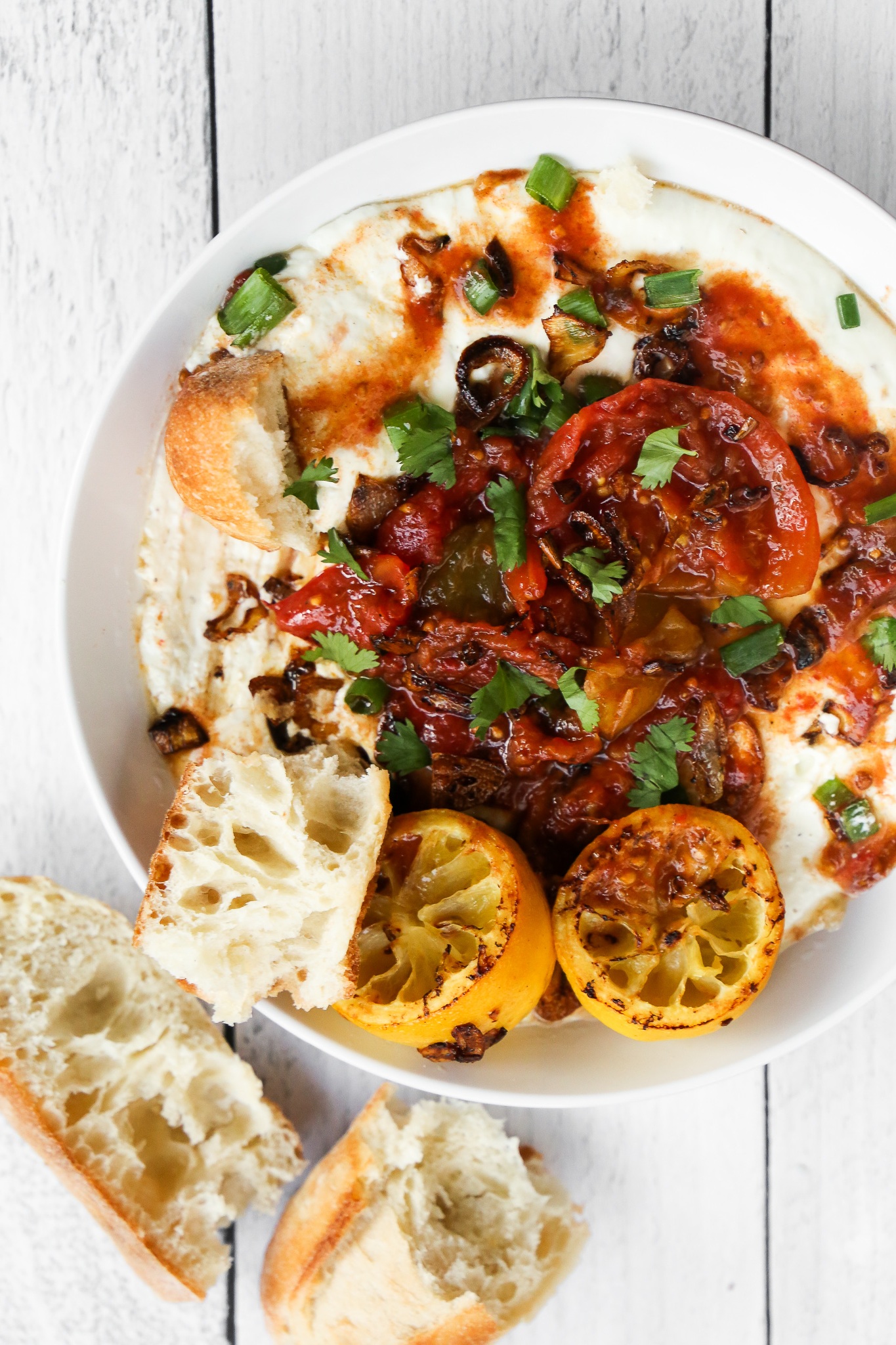 Featuring Tomato Bliss Roasted Heirloom Tomatoes.
Heirloom Tomato Dip
By
Page & Plate
, July 3, 2019
A tangy swirl of Greek yogurt and cream cheese is topped with crispy shallots and garlic and roasted heirloom tomatoes to make the perfect summer dip.
Makes: 10 servings, as an appetizer
Prep time:
Cook time:
Ingredients:
3 TBSP of olive oil
2 cloves of garlic, thinly sliced
1 shallot, finely sliced
8 oz of cream cheese
2 cups of full-fat Greek yogurt
2 scallions, thinly sliced
juice from one lemon
1 tsp of crushed red pepper flakes
salt, to taste
1/4 cup of Tomato Bliss Roasted Tomatoes
1/2 cup of parsley, roughly chopped
Instructions:
In a small saucepan, heat the oil until shimmering. Add the garlic and shallots, and cook until browned. Remove from oil and pat dry. Set aside.
In a high powered blender or food processor, blend the cream cheese, yogurt, scallions, lemon juice, crushed red pepper flakes, and salt together. When smooth and salted appropriately (oh, twist my arm, and I'll try it again, I guess), add to serving bowl. Do a lot of fancy schwooping.
Top with Tomato Bliss Roasted Tomatoes, reserved garlic and shallots, and parsley. Stir, then serve with crusy bread, chips, spoons, or fresh veggies if you're one of thoooooose people.
PST! I created this recipe for Tomato Bliss as a part of my ongoing relationship with their company. If you like what you see and are interested in working together to create some awesome recipes, snap some beautiful photos, or learn more about social media for food brands, hit me up at laura [at] pageandplate.com!