Tomato Tart and Furious Hours
We are truly in the depths of summer, and I couldn't be happier. Sure, I'm drenched in sweat about 90% of the time and have spent a small fortune at the farmers' market over the past three weeks, but damn, if I'm not happy about it.
SO, here is a happy post filled with good books in which you can lose yourself (thanks, Col!) and a tomato tart with a crust inspired by the one in Samin Nosrat's Salt, Fat, Acid, Heat cookbook, tomatoes I drove home from Tay's Microfarm (located in my OG hometown, Murrysville, PA), and the hands featured in the photo belong to the lovely Haley.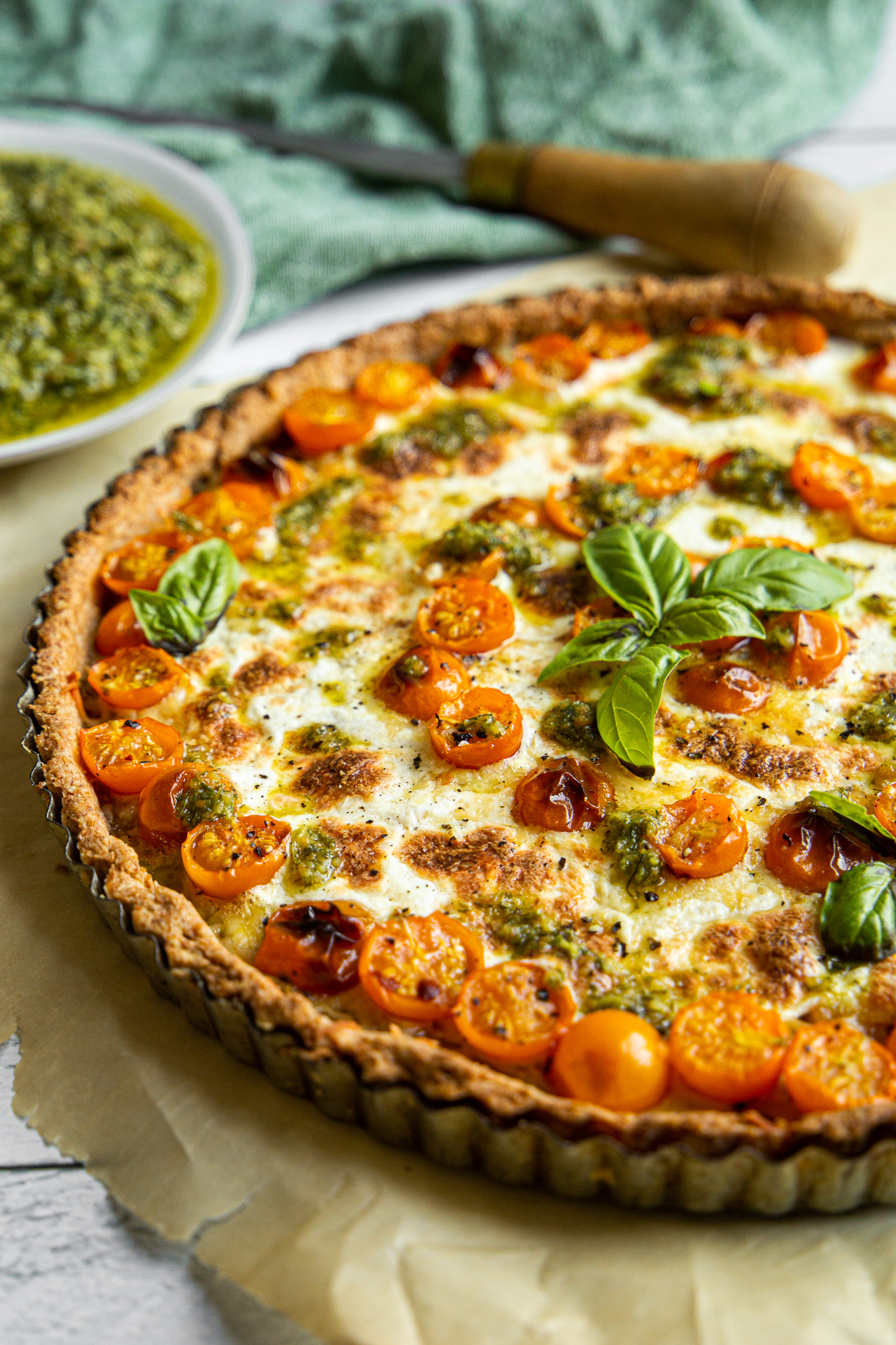 Bascially pizza, but with more butter.
Tomato Tart
By
Page & Plate
, July 29, 2019
A buttery, whole wheat tart shell holds fresh tomatoes, mozzarella cheese, and pesto. Quick note on the blind baking: some recipes call for poking the crust with a fork. This is a great option, however, I get irritated when I have bubbles in my tart, and thus, I blind bake. You do you, hon.
Makes: 8 servings
Prep time:
Cook time:
Ingredients:
1 2/3 cups of whole wheat flour
1/4 tsp of baking powder
1 tsp of sea salt
1/2 cup of unsalted butter (that's one stick, peeps), cut into roughly 8 pieces
1/4 cup of whole fat Greek yogurt
2 TBSP of cream
4 cups of raw rice or beans, for blind baking (you can use pie weights if you have them, but I do not)
2 cups of grape tomatoes, halved
8 oz of fresh mozzarella cheese, torn into pieces
1/2 cup of fresh pesto (recipe here!)
Instructions:
First (yes, before you preheat the oven), make the tart shell: whisk together the flour, baking powder, and sea salt in the bowl of a stand mixer. If you don't have a stand mixer, you can use a large bowl and go the way of making pie crust (aka elbow grease).
Fit the mixer with a beater attachment (or roll up your sleeves), and mix in the butter until only small, shaggy pieces remain. This will take about five minutes.
Add the yogurt and the cream, and mix until evenly combined. At this point, the dough should stick together when you pinch it.
Dump the dough onto your favorite reusable plastic wrap, then tightly wrap and toss it in the fridge for AT LEAST 30 minutes or overnight.
Hello and welcome to the future. NOW you may preheat your oven to 425 and grab your favorite tart pan. Mine was a gift from my mom, who gave it to me after finding it in her new old house. Thanks, Mom!
Roll out the tart dough to about 1/8" thickness, then drape it over the tart pan. Press it into the pan, then trim the sides if needed. Pour four cups of rice, beans, or regular old pie weights onto the crust to weight it down.
Now we're going to pull a Mary Berry and blind bake the crust for about 15 minutes, or until golden brown.
When the crust is baked, line it with the halved tomatoes and mozzarella cheese. Bake for 10 more minutes or until the cheese has browned.
Drizzle with pesto and serve warm with a salad.
Plot: Back in the 60s and 70s, big companies were still trying to figure out how life insurance worked. Unfortunately for them, a lot of sketchy characters had already figured it out and were killing off their relatives to get rich quick. One of these sketchy characters, Reverend Willie Maxwell, inspired a court case so complex that it caught the attention of an author desperate for her next book: Harper Lee.
Thoughts: If you're anything like me, the above plot summary hits on most of the things you're looking for in a book: some light murder, the intrigue of a well-written court case, and insights into the life of one of the most famous authors ever. Talk about a hit!
I was impressed by the scope of this book for sure (I mean, did you read that plot summary?). It was obvious, as well, that author Casey Cep had done so much research for this book that she might be the leading expert on Harper Lee's post-Mockingbird life. And man, do I love a well-researched book. My only issue with Furious Hours was that the parts of the story were so disparate that, at times, I felt like I was reading three books that had been stitched together (albeit by a very talented sewer).
Verdict: Your friend who knows more about literary history than most of your college professors will eat this one up, and so will your friend obsessed with true crime podcasts. They just might have to tag team it.