Sacred Serve Milkshakes
Guys. I love a lot of things, but the two things I love the more than most other things are 1) food and 2) supporting other women. When I get the chance to do both of these things at once, my heart and stomach are full. And this week, reader, they are full AF.
Last week, I got the chance to shoot at The Plant (new obsession) with Kailey, the founder of Sacred Serve. Kailey works harder than almost anyone I know to craft raw, vegan gelato made from young coconut meat. She has four flavors right now, and they're all handcrafted (like, seriously, she's there all of the time making gelato) from the best sustainable ingredients she can find. Yeah, she's a big deal. Leading up to the shoot, I was playing around with a few recipes for Kailey, and landed on this super simple milkshake. It's raw, vegan, gluten-free, and 100%, totally delish. Grab some Sacred Serve (now on SALE at Whole Foods!), and get milkshaking.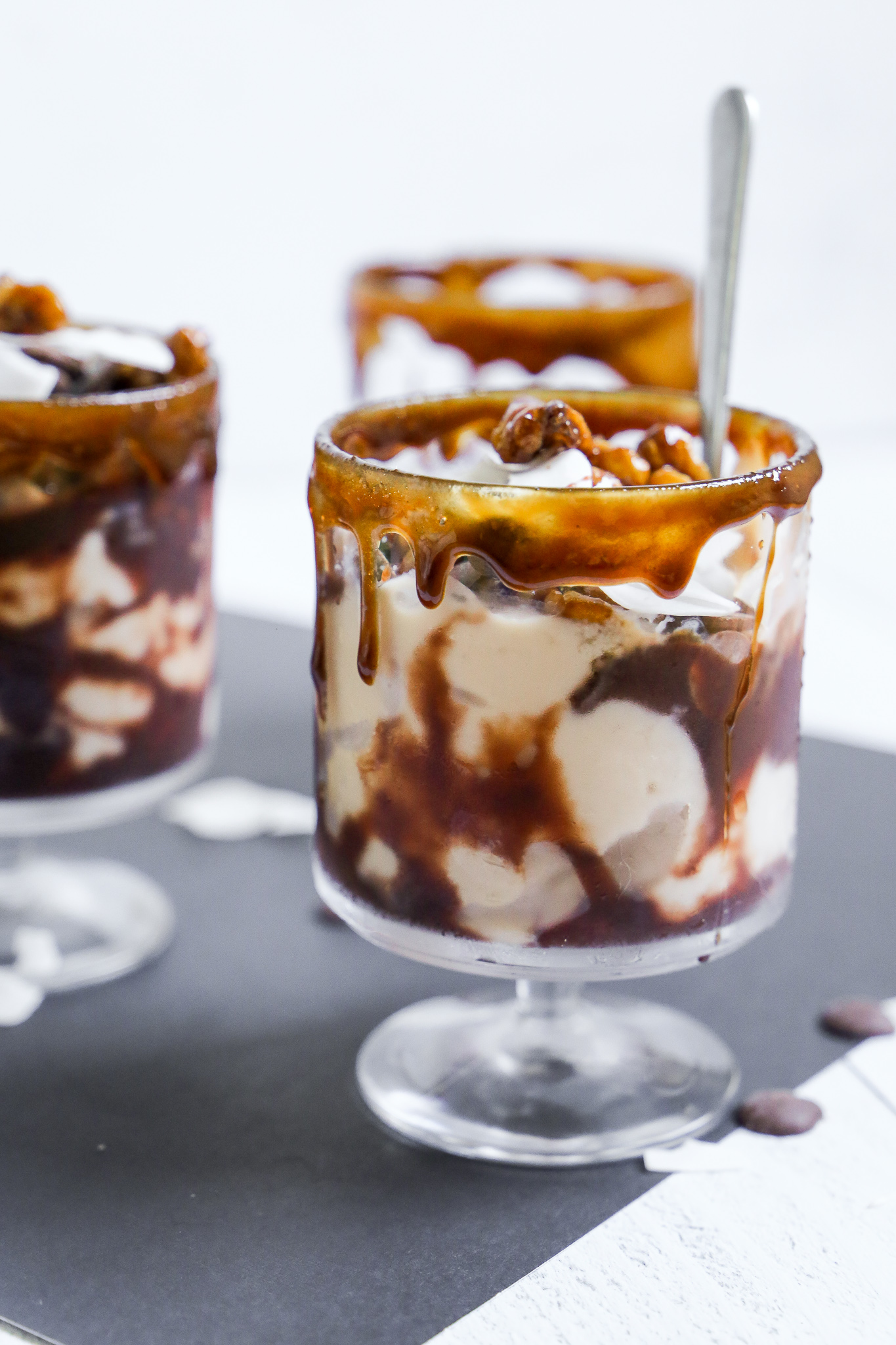 Raw, vegan, and totally delicious.
Sacred Serve Milkshakes
By
Page & Plate
, July 18, 2019
Vegan gelato is the perfect base for a raw milkshake!
Makes: 4 shakes (if you share...)
Prep time:
Cook time:
Ingredients:
1 cup of raw coconut sugar
1 tsp of vanilla
1 carton of Sacred Serve Coconut Salted Caramel
1 cup of almond milk
1/2 cup of ice
1 tsp of sea salt
pecans, for garnish, optional
coconut flakes, for garnish, optional
Instructions:
First, make some coconut caramel: combine the coconut sugar, vanilla, and three TBSPs of water in a saucepan, and put over a medium heat. Let melt without stirring.
When everything in the saucepan is liquified, stir briefly, then remove from heat. Dip the serving cups into the caramel sauce, add one TBSP (at least) of caramel to the bottom of each cup, then freeze immediately.
While that's doing it's freezy thing, let's make the actual milkshake: in a high powered blender, combine the Sacred Serve, almond milk, ice, and sea salt. Blend until smooth.
Remove cups from the freezer and divide the shake between them. Or lie and say there was only enough for one shake and eat it all yourself...
Garnish with pecans and coconut, if using, then slurp down and rejoice in the name of milkshakes.
PST! I created this recipe for Sacred Serve as a part of my ongoing relationship with the company. If you like what you see and are interested in working together to create some awesome recipes, snap some beautiful photos, or learn more about social media for food brands, hit me up at laura [at] pageandplate.com!