Vegan Pad Thai and Cherry Bombe Magazine
ALERT, ALERT: this is not a post about a book and a meal. Instead, it's a post about a magazine and a meal. I think you'll live. In fact, I'm pretty certain of that. Especially because this magazine is basically just as long as a book, contains all of the gorgeous photos you never knew you needed, and features a bunch of amazing women. So, in a way, it's just as good as IF NOT BETTER than a book.
Speaking of, I have the same argument about this pad thai. I love takeout as much as any other girl, but it's a bummer when it's 1) made with fish sauce and therefore not really cool for most vegetarians and vegans and 2) enclosed with so much plastic that you feel like you're singlehandedly causing global warming. My solution is this dinner: a vegan, make-it-at-home option that's big on taste and small on waste. OMG, that rhymes.
A note, as well, about the authenticity of this recipe. It's, um, not authentic. It's a quick and easy way to mimic the flavors of pad thai. I do not pretend to be an expert on this. I just know I've eaten a lot of pad thai in my day. If you're angry about this, send me a note at laura [at] pageandplate.com. Yeah, that's right. I have a domain specific email now. BAM.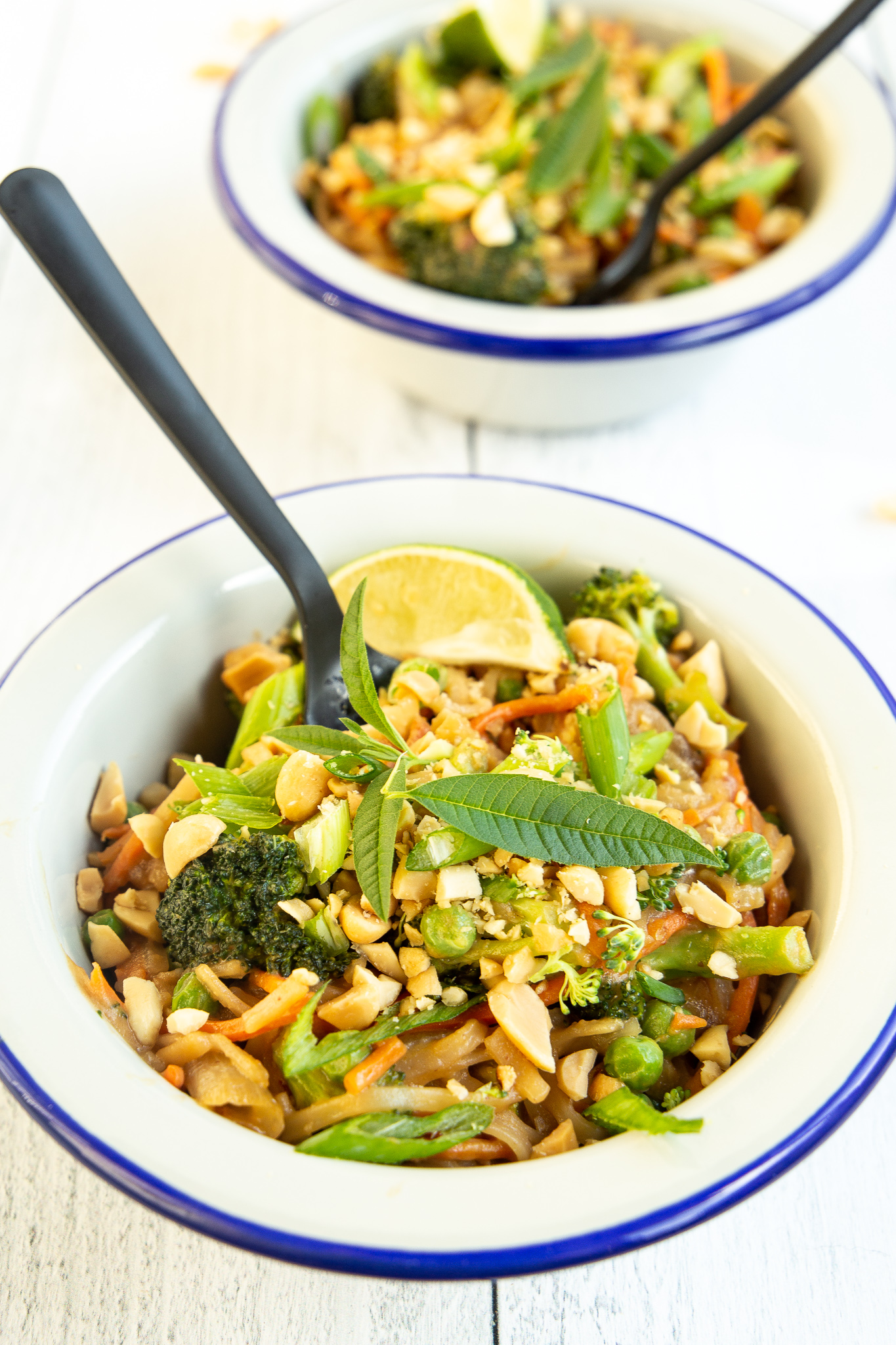 Skip the takeout (and the plastic waste!) with this gem.
Vegan Pad Thai
By
Page & Plate
, July 15, 2019
All of the goodness of takeout at a fraction of the price and a fraction of the waste.
Makes: 4 servings
Prep time:
Cook time:
Ingredients:
1 8 oz package of pad Thai rice noodles
1/4 cup plus 2 TBSP of sesame oil, divided
1 medium white onion, thinly sliced
1 cup of shredded carrots
1 cup of broccoli florets
1 cup of peas
3 TBSP of brown sugar
1 cup of soy sauce
3 TBSP of rice wine vinegar
3 TBSP of lime juice
1/2 cup of smooth peanut butter
peanuts, for garnish
chopped scallions, for garnish
lime slices, for garnish
lemon verbena leaves, for garnish
Instructions:
Bring four cups of water to a rapid boil. Add the noodles to a large bowl, then pour the boiling water over them. Let sit for 15 minutes, then drain, reserving water.
While all of that is going on, grab your wok or your large skillet (no judgment here), and add two TBSP of sesame oil. Set over a medium heat.
When the oil is getting all shimmery, add the onion and carrots, and cook until lightly browned and starting to caramelize. At this point, add the broccoli and peas, then the brown sugar. Stir to coat, and turn the heat down.
Meanwhile MEANWHILE, make the sauce: combine the remaining sesame oil, soy sauce, rice wine vinegar, lime juice, and peanut butter. Whisk until smooth, which, I'm warning you, will take some elbow grease. Thin with the reserved noodle water until your sauce is however thick you like your sauce to be. Me, I like it pretty thick.
Add the noodles and the sauce to the pan, and cook until the sauce is sticking to everything and smelling delish. This, by the way, is about five minutes, so don't get carried away.
Add to serving bowls and top with allllll of the toppings or none at all if you don't like my suggestions. It's your dinner, not mine.
Plot: Okay, we've already covered that, in a slight departure from tradition, this is a magazine and not a book, so there's no plot, really, except for women killing it in the food world.
Thoughts: I've been following Cherry Bombe for a while now, but I just treated myself to a subscription (and the cookbook, not that you want to know that). This was mostly in anticipation of this very issue, on which my idol, Samin Nosrat, beams as the cover girl.
Verdict: Why aren't you already subscribed? And are you listening to their podcast? What about following them on social? Let's GOOOO, people!