Smoked Grapefruit Punch
When it's this hot outside, I always end up feeling like I need to put myself on a liquids only diet. And those liquids tend to be delicious concoctions that are designed to be extremely cocktail-able as soon as the clock strikes 5. Or 4. Or whenever you want because you're in charge of your life, and I'm not going to hate or judge.
My latest obsession is this smoked grapefruit punch: tangy, smoky, sweet, and totally spike-able. Make a pitcher this morning, enjoy it all day, then add some mezcal to party it on up tonight.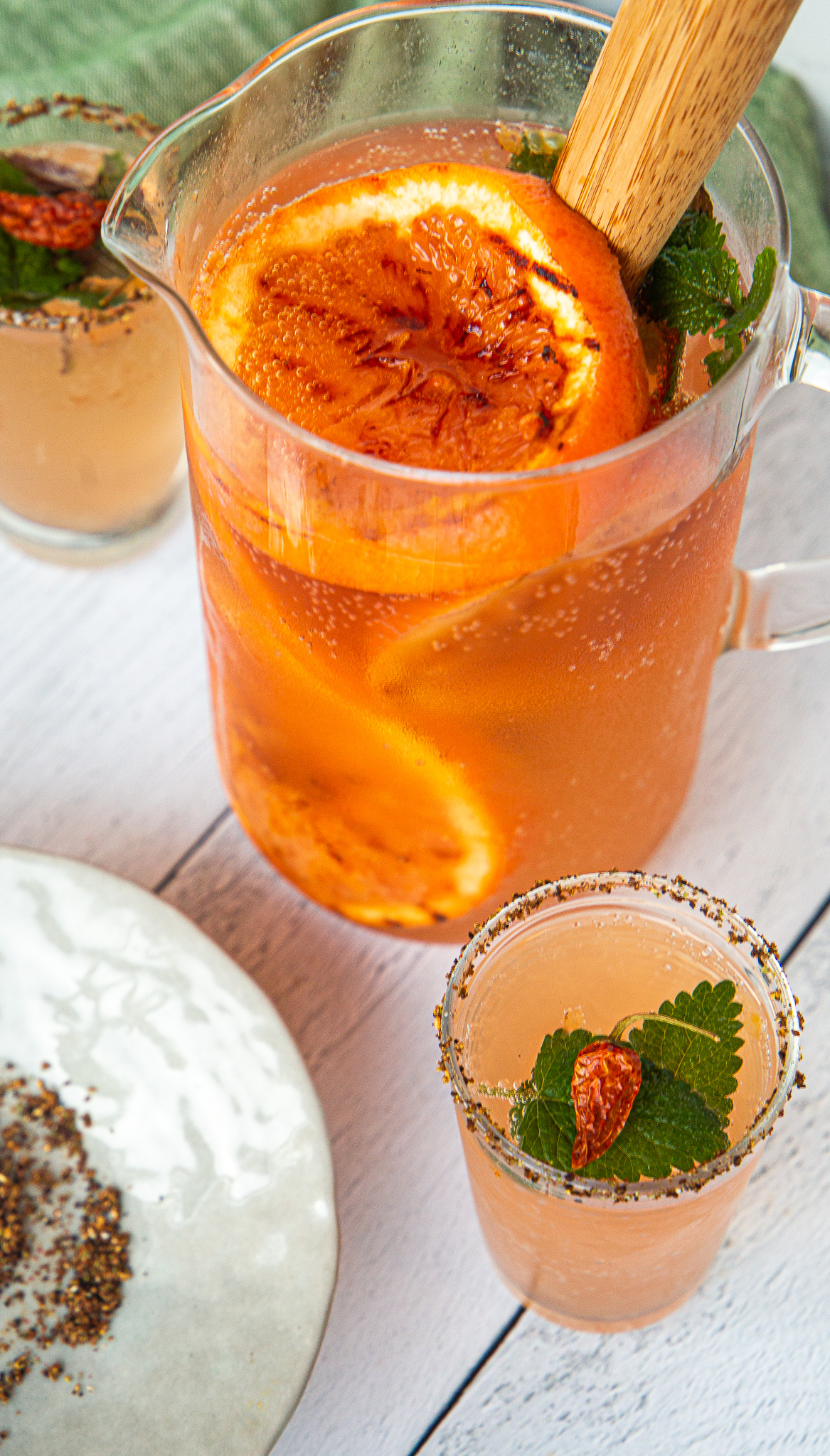 Mezcal optional, but encouraged.
Smoked Grapefruit Punch
By
Page & Plate
, july 12, 2019
Smoky, tangy, and just the right amount of sweet, this cocktail will be your new summer go to.
Makes: 10 servings
Prep time:
Cook time:
Ingredients:
1 large grapefruit, cut into thin slices
1 bunch of mint leaves
4 oz of lime juice
1 oz of liquid smoke
16 oz of sparkling water
8 oz of grapefruit juice
smoked salt, for garnish (I used Wanderlust Salt's Coffee Salt)
1 oz of mezcal per serving (for those who desire it)
Instructions:
Step one is to figure out if you have a grill or if you're going to be using a grill pan for this. If you're using a grill, turn it on medium heat. If you're using a grill pan, put it over a high heat on your stove and wait until it's hot.
Grill the slices of grapefruit on both sides, until grill marks are burned into the fruit. This will take about five minutes, but possibly less, so pay attention! You are literally playing with fire.
Meanwhile, in a large pitcher, combine the mint leaves, lime juice, and liquid smoke. Muddle, then add the sparkling water and grapefruit juice. Stir to combine.
Add the grilled grapefruit slices to the pitcher, top with some ice, and serve over more ice. Ta-freaking-dah.
Spike it with your fave mezcal if you're feeling fun.
PS! Wanderlust Salt sent me a sample of their coffee salt to try. I loved it, so I put it in! If you like the sound of this, and would like to talk to me about incorporating your products in my post, let me know at laura [at] pageandplate.com!