Chocolate Peanut Butter Sheet Cake
Think back to eating a banana split as a kid. Not the ho-hum kind from Dairy Queen, but vanilla ice cream swathed in chocolate syrup with a ripe banana, peanut butter chips, and maybe even some chocolate shavings on top. A cherry if you need it, sure, but do you really with all of that goodness? I don't. And I don't think you do either.
So I made you this sheet cake. It's a lot like the Texas sheet cake recipe that I posed earlier this year, but BETTER. Why better, you ask? It's vegan. And it's gooey. And there's a chocolate ganache. I rest my case.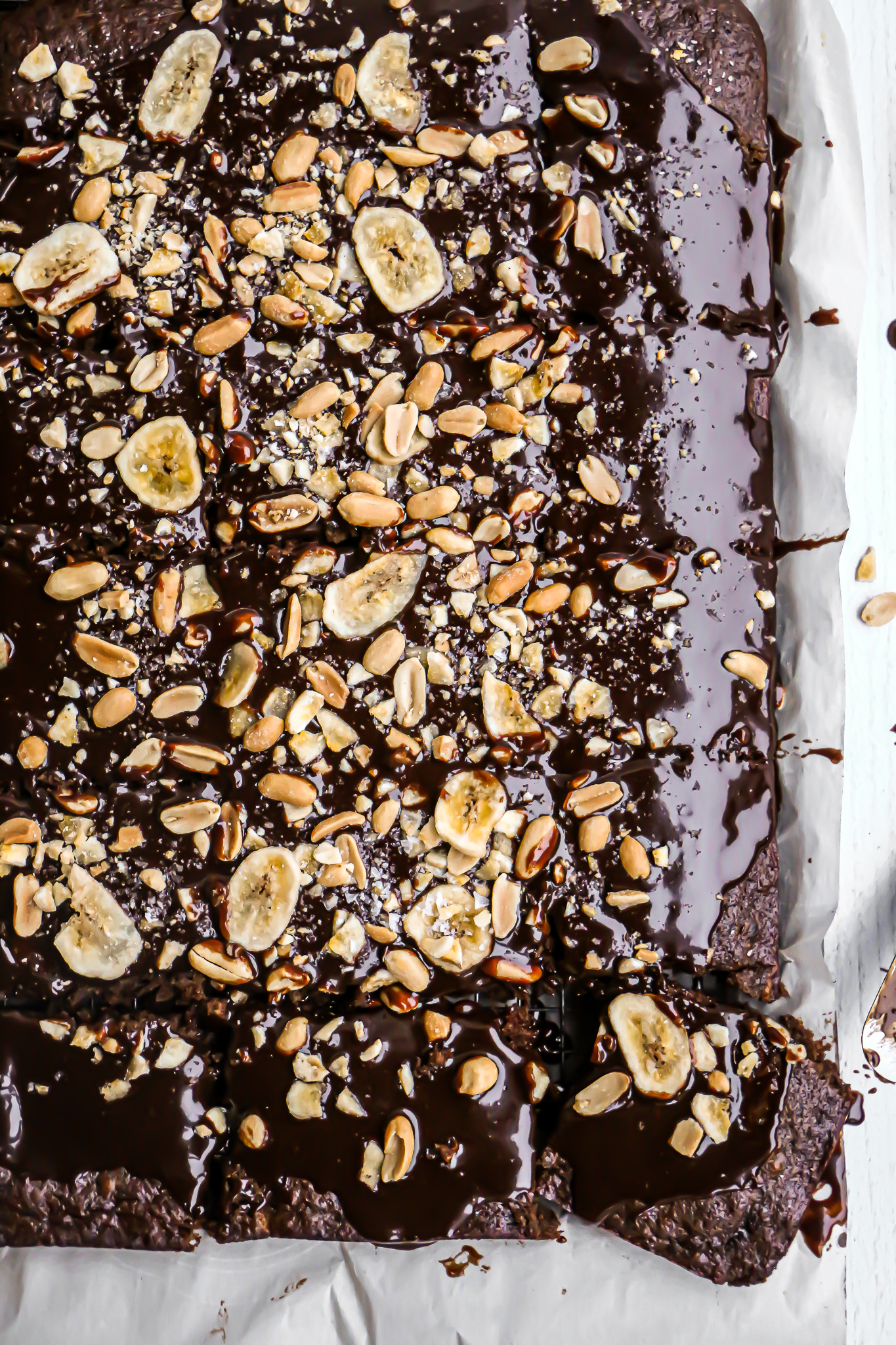 Chocolate Peanut Butter Sheet Cake
Like a banana split, but better.
Chocolate Peanut Butter Sheet Cake
By
Page & Plate
, July 23, 2019
All of the flavors of a banana split, plus peanut butter, swirl together in this ooey, gooey vegan sheet cake with chocolate ganache.
Makes: 16 servings
Prep time:
Cook time:
Ingredients:
1 cup of coconut oil, divided
1/2 cup of peanut butter
1/2 cup of water
4 TBSP of vegan cocoa powder plus 4 tsp
2 cups of all-purpose flour
2 cups of granulated sugar
2 flaxseed eggs (mix together 2 TBSP of ground flaxseed and 1 TBSP of water per egg)
1 tsp of baking soda
2 bananas, browned
1/2 cup of almond milk
4 cups of powdered sugar
crushed peanuts and candied banana slices, for garnish, optional
Instructions:
Preheat your oven to 400 and grease and line jelly roll pan. Set aside.
In a small saucepan, combine 1/2 cup of coconut oil, peanut butter, water, and four TBSP of vegan cocoa. Bring to a boil, then set aside to cool for about five minutes.
When cooled, beat in flour, sugar, flaxseed eggs, baking soda, and bananas. Mix until smooth, then pour into jelly roll pan and spread into an even layer.
Bake for 20-25 minutes, until cake has risen and a cake tester comes out clean.
Set cake aside to cool, then make ganache: boil remaining coconut oil, vegan cocoa, and almond milk for three minutes. Cool slightly, then beat in powdered sugar.
When cake has completely cooled (no cheating here, okay?), pour the ganache on top. Let set slightly, then top with crushed peanuts and bananas, if using.