Oatmeal Raisin Cookie Ice Cream
I'm not an oatmeal raisin cookie girl. I just plain would rather have a nice chocolate chip. Or better yet, a double chocolate chip. Basically, just any kind of chocolate and I'm in. Unless it's from a store. I don't do store-bought cookies. I mean, come on. I'm a food blogger.
But when somebody hands you a tray of leftover oatmeal raisin cookies, sometimes you just say yes. And then make them into ice cream. And then make that ice cream into an ice cream sandwich. Duh.
Start here with the recipe for oatmeal raisin cookie ice cream (no churn, of course), then go subscribe so you can turn this creamy concoction into ice cream sandwiches. You don't want to miss out on that recipe.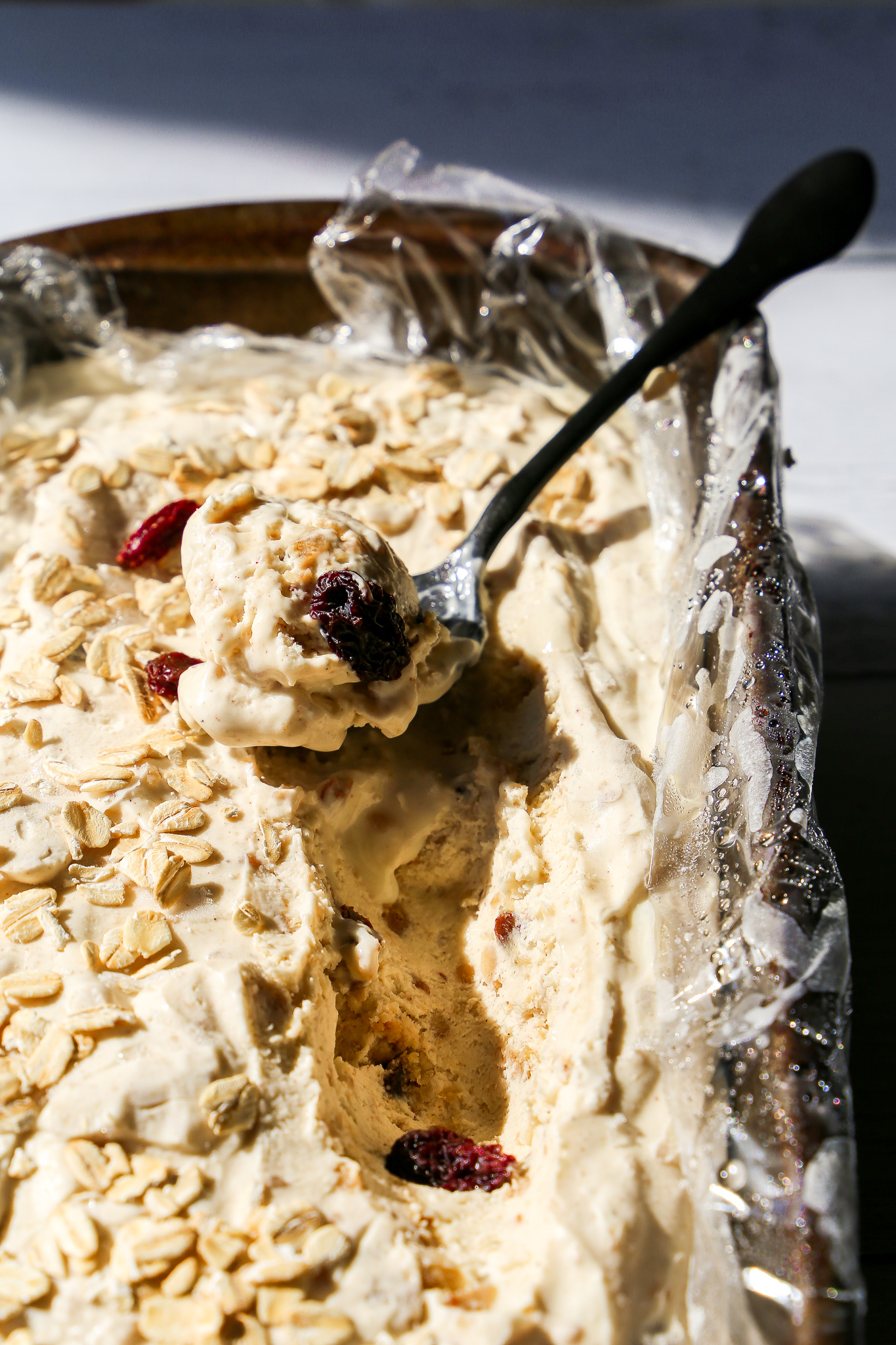 Oatmeal Raisin Cookie Ice Cream
A classic cookie gets an ice-cold makeover.
Oatmeal Raisin Cookie Ice Cream
By
Page & Plate
, June 7, 2019
Brown butter, oatmeal, and yes, even raisins, shine in your new favorite flavor of ice cream.
Makes: 16 servings
Prep time:
Cook time:
Ingredients:
6 TBSP of unsalted butter
half-dozen to dozen oatmeal raisin cookies
3 cups of heavy whipping cream, divided
15 oz of sweetened condensed milk
1 tsp of sea salt
raisins, for garnish
Instructions:
Let's make some ice cream! The first step is to crumble the cookies into a large bowl and pour 1 cup of the heavy whipping cream over them. Set aside to soak up all of that goodness.
Cool. Now let's make the brown butter. Put the butter in a saucepan over medium-high heat. Stir frequently, then stop when it begins to rapidly bubble and brown. Remove from heat when it's the color of caramel, then immediately stir into the cookies. Set aside.
In a stand mixer (I use this one) or using an enormo bowl and a hand mixer, whip the heavy whipping cream until stiff peaks have formed. For this ice cream specifically, you want to whip the sh*t out of that cream, until it allllmost curdles.
Using a large spatula and being careful not to beat down too much of the air, fold in the sweetened condensed milk and salt, then gently mix in the softened cookies. Pour into ice cream container (I use this one) or a loaf pan lined with plastic wrap. Smooth it out, garnish with raisins, then freeze.
Freeze for four hours (or as long as you can wait), then demolish or make into ice cream sandwiches.