CBD Marshmallows
Making marshmallows has always scared the crap out of me. But when I started working with the lovely Korina and Marie over at superhUe, a line of sparkling CBD elixirs, I had a feeling it might be my marshmallow moment. Their elixirs are delicious on their own, but adding it to these beautifully pink marshmallows makes it feel like even more of an indulgence.
I started with the ineffable Stella Parks's marshmallow recipe from her book BraveTart and ran with it. I'm obsessed with her, and you should be too.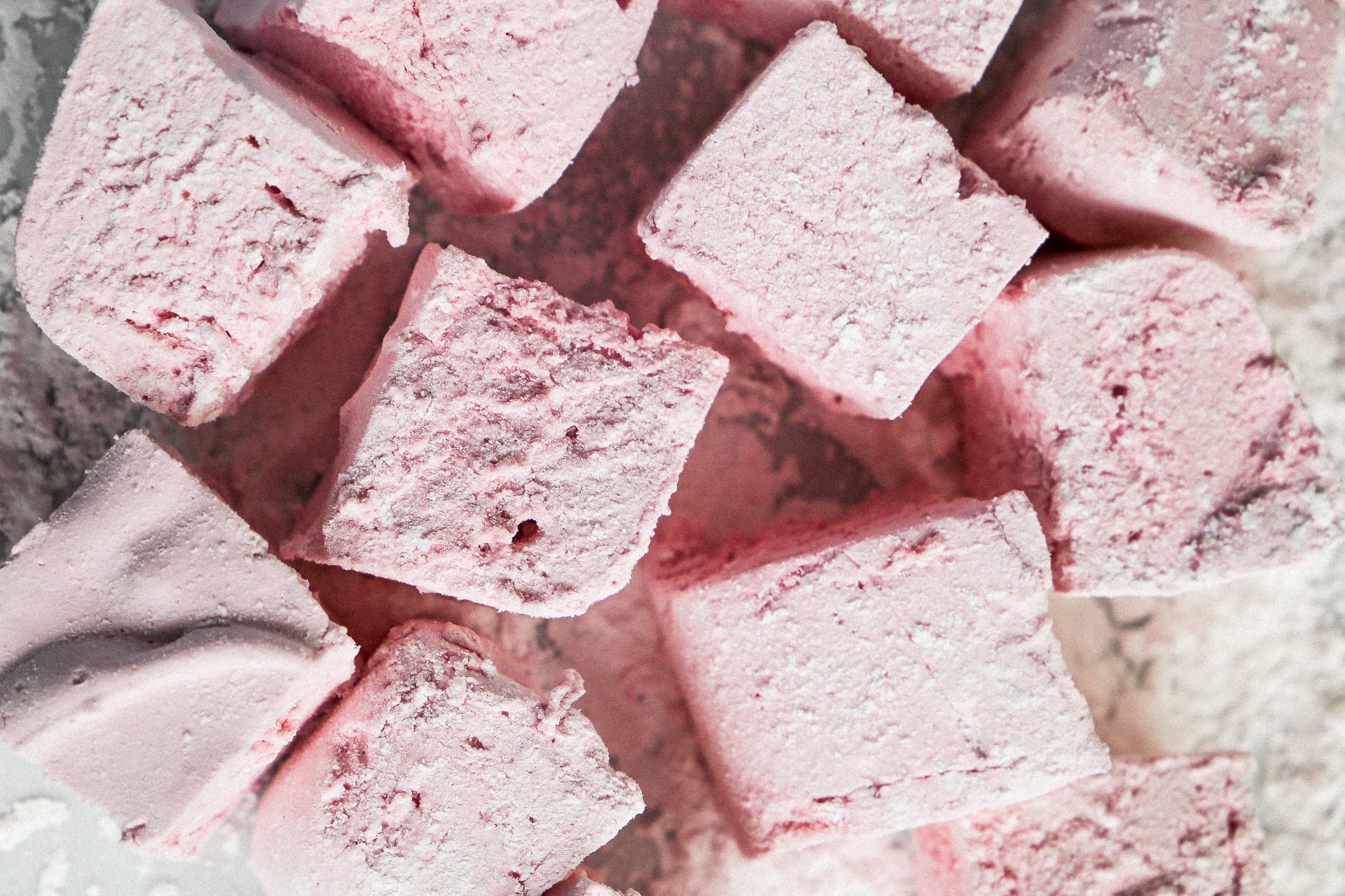 CDB Marshmallows
By
Page & Plate
, June 24, 2019
Using superhUe's Beet + Strawberry + Basil CBD sparkling water as a base, these marshmallows have a subtle flavor and a calming effect.
Makes: 12 2 inch squares
Prep time:
Cook time:
Ingredients:
3 envelopes of pectin
1 tsp of vanilla extract
1/2 cup of water
scant 1/2 cup of corn syrup
2 cups of sugar
1/3-1/2 cup of powdered sugar
Instructions:
Grab a loaf pan and grease the sh*t out of it. Set it aside for future use.
First, bloom the pectin in the superhUe elixir. If you've never done this before and feel intimidated by that, don't worry. That's just fancy speak for pour the elixir into a small bowl and sprinkle the pectin on top. Add the vanilla. Good. Now leave it alone for 5 minutes. Bloom = bloomed.
Okay, here comes the harder part. Get a medium saucepan and add the water, corn syrup, and granulated sugar. Put it over medium heat, and stir until the sugar has mostly dissolved and the mixture is bubbling at the edges.
Now, ask yourself: "Do I have a candy thermometer?" If you do, grab it and attach it to the side of the saucepan. If you don't, set a timer for 5 minutes. You're doing this the risky way.
When your saucepan of boiling sugar hits 250 degrees (or your timer goes off), transfer the syrup to the bowl of a stand mixer or a large bowl, in which case you'll be needing your hand mixer. Move the thermometer with it, and cool the mixture until 212 degrees or your timer tells you that 5 more minutes have gone by.
When the sugary syrup has appropriately chilled, add the pectin mixture and start beating the mixture, gradually increasing the speed.
You're going to whip this for about 10 minutes, which seems absolutely insane. It feels absolutely insane, too, until you see the beautiful, cloud-like marshmallow happening.
When the marshmallow has pulled away from the sides of the bowls, pour it into the greased loaf tin. Refrigerate for about an hour.
Sprinkle the powdered sugar onto a cutting board, then turn the marshmallows out onto the sugar. Cut into 12 cubes. Eat and chill.
Pst! This post contains a product that I love but that also happens to be one of my clients. If you're interested in talking with me about recipe development, food styling, or photography for your products, you can email me here.