Blueberry Ginger Biscotti
I have often waxed poetic about my deep, deep love for Enrico Biscotti, perhaps the world's best bakery and cafe, located in Pittsburgh. Need proof? Go read my Ultimate Guide to Pittsburgh.
But, alas, I don't live close enough to drop in every Saturday for a fix, so I had to make some biscotti for myself. This version features spicy candied ginger, 11th Orchard Bitters, and dried blueberries for a little sweetness. I ate it for breakfast and felt exactly zero shame about that.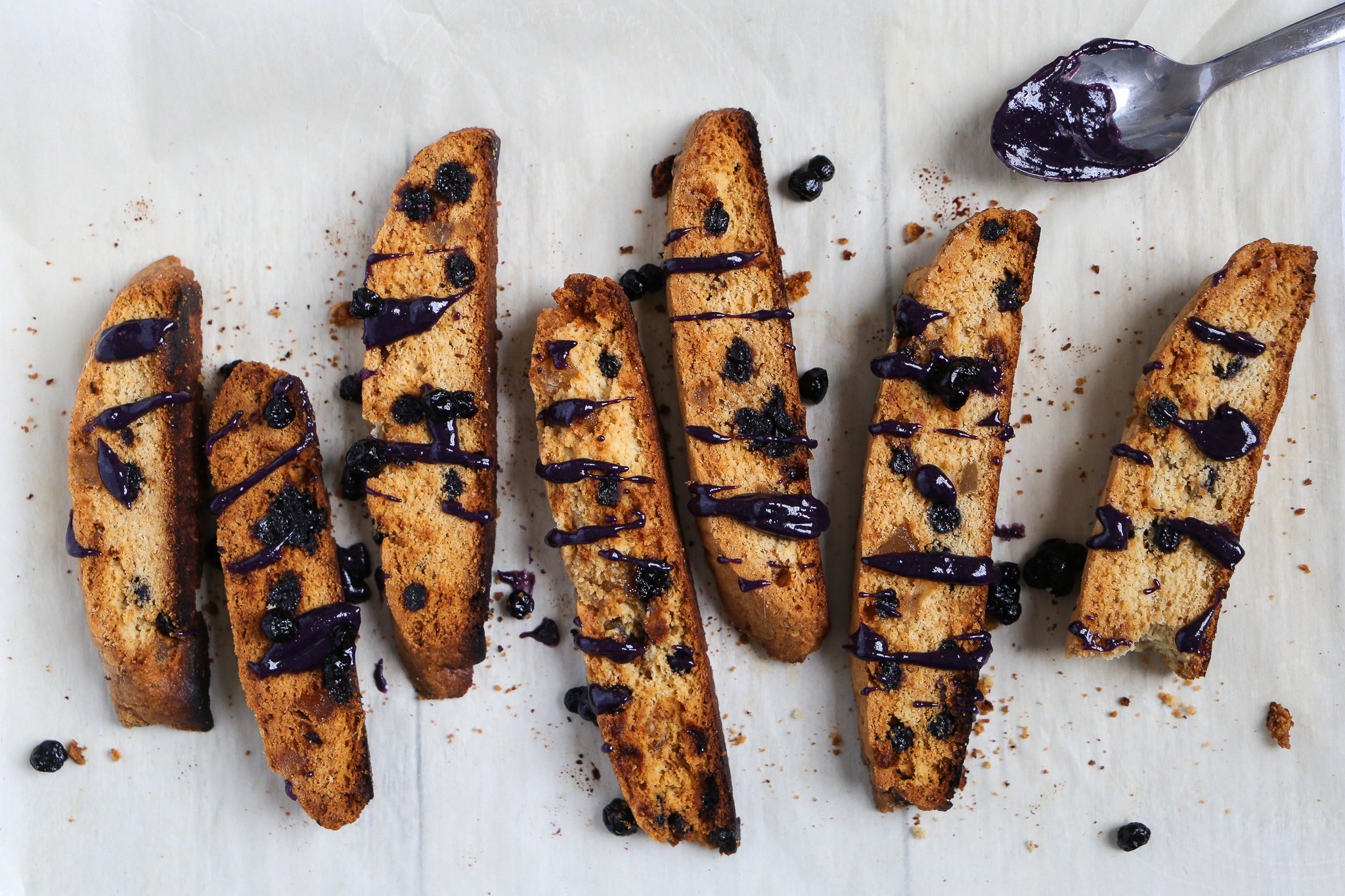 Blueberry Ginger Biscotti
With a white chocolate and blueberry glaze, obvi.
Blueberry Ginger Biscotti
By
Page & Plate
, June 19, 2019
Dried blueberries and candied ginger come together in the prefect biscotti.
Makes: 16 cookies
Prep time:
Cook time:
Ingredients:
6 TBSP of unsalted butter, softened
2/3 cup of sugar
1/2 tsp of salt
1/2 tsp of powdered ginger
1/2 tsp of allspice
3 TBSP of 11th Orchard Bitters Birch Bark Bitters (get them here!)
1 1/2 tsp of baking powder
2 eggs
2 cups of all-purpose flour
1 cup of dried blueberries
1/2 cup of candied ginger, chopped finely
8 oz of white chocolate
3 TBSP of freeze-dried blueberries, ground to a powder
Instructions:
Preheat your oven to 350 and grab your favorite sheet tray.
Using a stand mixer fitted with a beater attachment or a hand mixer and large bowl, beat together the butter and sugar until fluffy.
Add the salt, powdered ginger, allspice, bitters, and baking powder, then beat briefly to combine. Add the eggs, one at a time, and beat until things are getting kind of soupy.
Now dump your flour in and mix that until eveything has meleded together into a dough. Now, mix in the dried blueberries (not the freeze-dried ones!) and the ginger. Ta-dah! Things are moving right along!
OKAY TEAM: grab that baking sheet and dump your dough on there. Shape it into a log. Now, flatten the log a bit until you get a really, really fat and really-really short log. Think egg carton. Now, bake it for 20-25 minutes or until lightly golden.
When it's getting all gold, take it out of the oven, turn the temp down to 325, and, using a searated knife, slice it croswise into biscotti. I usually get between 12 and 16 biscotti from one log.
Turn the biscotti on their sides so the insides of the log are now facing up. Bake 'em for 25 more minutes, or until dried out and crisp.
Meanwhile, make the icing: melt the white chocolate in a microwavable bowl by zapping for 30 second intervals. Stir in the powdered freeze-dried blueberries until smooth and very, very purple.
Once the biscotti have cooled, drizzle the icing over them and enjoy with coffee as "breakfast" for the next week.