White Chocolate Banana Muffins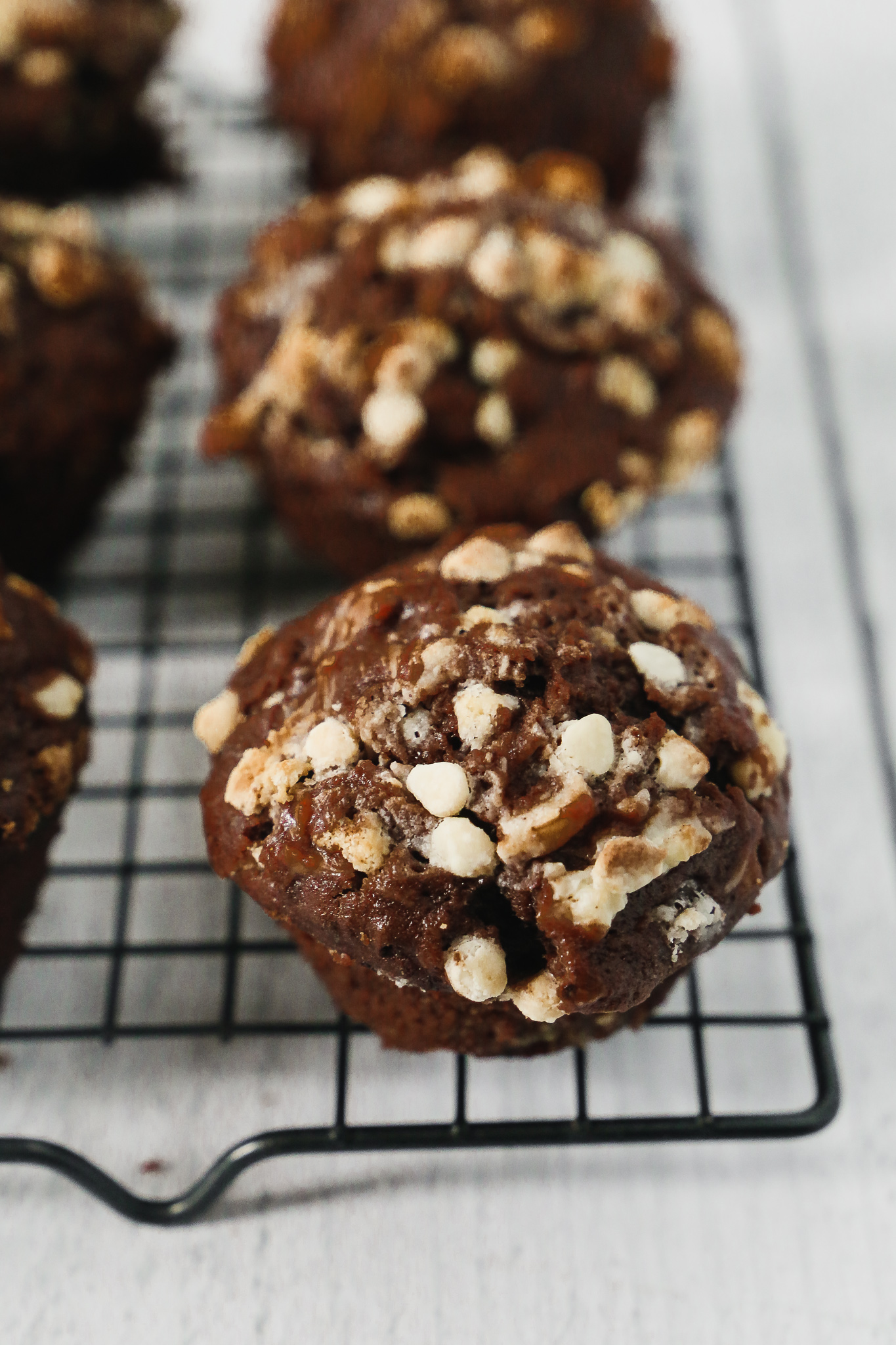 White Chocolate Banana Muffins
The perfect breakfast .Or lunch. Or dessert.
White Chocolate Banana Muffins
By
Page & Plate
, June 17, 2019
Think banana bread, but chocolate. With white chocolate chips. And cream cheese swirls. Yum.
Makes: 12 muffins
Prep time:
Cook time:
Ingredients:
2/3 cup of unsalted butter, softened (that's a stick plus a bit, guys)
1 1/3 cups of sugar
4 large eggs
3-4 brown bananas (I mean brown within an inch of their life, okay?)
1 tsp of vanilla extract
3 cups of all-purpose flour
1/2 cup of cocoa powder
1 TBSP of baking powder
1/2 tsp of baking soda
1/2 tsp of sea salt
1 TBSP of espresso powder (I use this stuff!)
1 1/2 cups of mini white chocolate chips
3 TBSP of cream cheese, melted
Instructions:
Preheat your ov to 365 and grease the crap out of a muffin tin.
In a stand mixer or using a hand mixer and a bowl, cream together the butter and sugar. When smooth, add the eggs and vanilla and whip until fluffy.
As best you can (sometimes old bananas are just plain too gross), cut the bananas into coins and add them to the batter. Beat until the bananas have broken down.
Using a wooden spoon (trust me), mix in the flour, cocoa powder, baking powder, baking soda, salt, and espresso powder until hydrated (that's baker speak for until you can't see the dry ingredients at the bottom of the bowl).
Mix in the white choco chips, reserving a few for garnish, then divide the batter between the muffin tins.
Divide the melted cream cheese between the muffin tops, and use a knife to swirl it around. Top with those extra chips. #artisinal
Bake for 20-25 minutes, until you can smell the chocolate goodness.