Crispy Veg Polenta and A Separation
I have really high standards across the board, especially when it comes to books and food. (It's kind of my job.) It's not often that I taste a recipe I'm developing and think to myself "HEYO, that's a slam dunk!" but it does happen. And it certainly happened for this recipe starring the polenta that my friends over at Meadowlark Organics sent me. It also happened with the book that I paired with this dish, but more on that later. For now, enjoy perfection.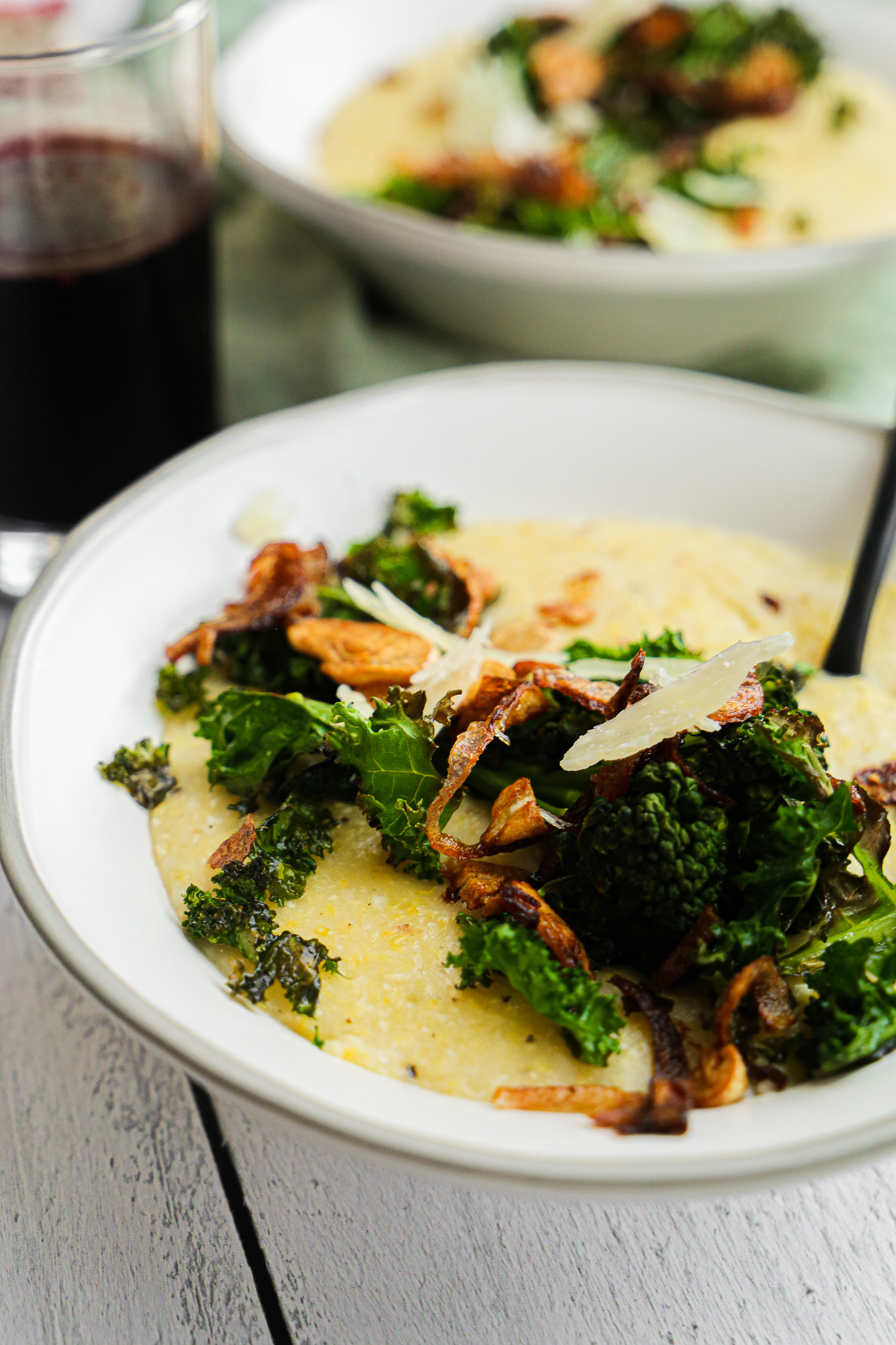 Saucy, crunchy, and delicious.
Crispy Veg Polenta
By
Page & Plate
, June 14, 2019
Crispy kale, mushrooms, garlic, and shallots make the perfect topping for a creamy polenta.
Makes: 4 servings
Prep time:
Cook time:
Ingredients:
4 cups of water
4 tsp of salt, divided
1 cup of Meadowlark Organics polenta
1 bunch of curly kale, stripped and roughly chopped
8 oz of shiitake mushrooms
4 TBSP of olive oil, divided
2 medium shallots, sliced thinly
2 cloves of garlic, sliced thinly
Instructions:
Let's start off with the polenta, 'kay? Bring the water and salt to a boil, then slowly pour in the polenta while whisking. Also while you're doing that, go ahead and preheat the oven to 375 for kicks.
Keep on whisking on for about five minutes, until the polenta has started to break down and the mixture is creamy. Add 2 tsp of salt. Turn the heat waaaaay down to a nice simmer, and let it go by itself for 30-40 minutes, until totally creamy and smooth. You're going to want to stir it every few minutes along the way.
Okay, cool! Let's keep trucking. Grab a large bowl, and toss the curly kale and shiitake into it. Douse them with 2 TBSP of olive oil, 1 tsp of salt, and the spread them evenly onto a sheet tray. Bake 'em until they're crispy (probs 15-20 minutes).
We're moving right along here. Grab a medium skillet, and add the remaining olive oil and toss it over a medium heat. When the oil is shimmering, add the shallots, the garlic, and the remaining salt, then turn the heat down so they slowly brown while the kale and mushrooms finish cooking.
When the mushrooms and kale are done getting crispy, toss them into the aromatic skillet. Give everything a stir, then turn the heat off.
Now dump the contents of THAT skillet into the polenta pot. Give everything a stir, taste and adjust seasonings if necessary, and divide that ish into four servings.
You can garnish with Parm here or keep it vegan. You do you, just make sure you eat dinner before it gets funky, okay? Okay.
Plot: A woman who has separated from her husband is sent to retrieve him when he goes missing in Greece.
Thoughts: How boring does this book sound, am I right? And, honestly, there's not a whole lot of plot to talk about past that little old sentence up there. But that's the beauty of this quiet, little work of genius! Not a lot happens outside of the main character's mind, but we're treated to an insider look at what processing the disappearance of your estranged, not-quite-ex-husband.
The book is an almost travelogue in its description of Greece. It turns out to be a rather brutal setting, and author Katie Kitamura does a stunning job of incorporating setting as part of the plot. Mm. It's delicious.
Verdict: Loved it. It's easy to crush in an afternoon and feels like a not-so-bad-for-you beach read. Grab a copy here for your next afternoon pool (or lake!)-side.
Pst! This post contains affiliate links. Thanks for supporting Page & Plate!