Cacao Energy Bites (with Lil Bucks!) and Black Leopard, Red Wolf
As much as I love the thought of energy bites, I hate most of them that I've tried. This is part of a larger problem, wherein I want to be someone who eats lots of smoothies and salads and does a lot of yoga and meditation but instead, I make and eat an entire tray of focaccia while scrolling through Instagram after I go for a five-mile rage run. I'm not mad about this. It me.
Anyway, when Emily over at Lil Bucks sent me the cacao Bucks, I knew they were the key to unlocking energy bites I would actually eat. Add some vegan chocolate in there, and I'm sold. Don't think about how healthy they are, and you might not even realize it.
I had a similar feeling about Black Leopard, Red Wolf. While I was reading this incredibly long and detailed book, I forgot I was even reading and was completely immersed in a crazy-ass world of African mythology. MAN, what a world, am I right?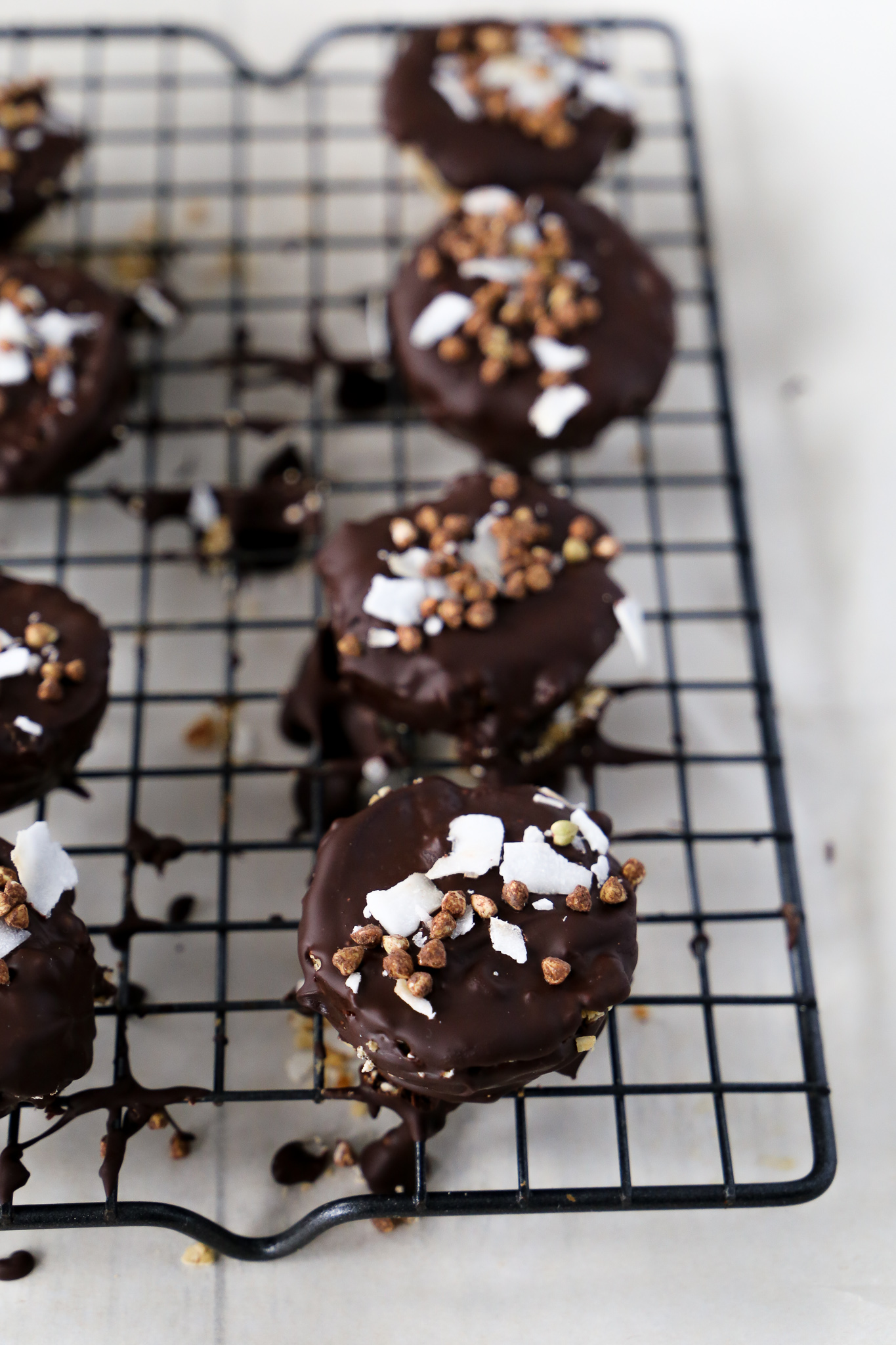 All of the energy, most of the chocolate.
Cacao Energy Bites
By
Page & Plate
, May 10, 2019
These bites are like Reese's Cups if Reese's Cups were from California. Vegan chocolate coats a cup made up of dates, coconut, and Lil Bucks for the perfect snack!
Makes: 16 servings
Prep time:
Cook time:
Ingredients:
9 dates, pitted
1/3 cup of natural peanut butter
1 cup of quick cook oats
1 tsp of salt
1 cup of cacao Lil Bucks (grab some here!)
1/4 cup of unsweetened coconut flakes
1 tsp of cardamom
1 cup of vegan dark chocolate chips
2 TBSP of coconut oil
Instructions:
Step one is to figure out if you have a mini muffin tin or not. If you do, great! Give it a good coating of coconut oil to stop the sticking and set it aside. If not, you're making balls not bites. Don't worry about it.
Step two is to put a cooling rack inside of a baking sheet for chocolate coating purposes. Set that aside because we'll talk more about this later.
In your favorite food processor (mine is this one), combine the dates, peanut butter, oats, salt, Lil Bucks, coconut flakes, and cardamom.
Pulse a good few times until there are no chunky bits left anywhere and a dough-ish-sort-of texture is forming.
If you're going the route of the mini cupcake tin, divide the date mixture between the tins, press them down firmly, then turn the tin over onto the cooling rack to empty the cups. If you're on the ball track, divide the date mixture into 16 clumps and roll those babies into balls between the palms of your hands. Set 'em down on the cooling rack.
Leave those guys alone for a minute and grab a microwavable bowl. Add the vegan chocolate and the coconut oil, then zap at 30 second intervals until smooth.
Pour the choco over your cups/balls and top with any leftover Lil Bucks and coconut flakes.
Let cool for as long as you can, then devour.
Plot: In a land filled with magic, war, and betrayal, a man named Tracker sets out with a ragtag group to find a missing boy. Black Leopard, Red Wolf is the tale of that long, twisted journey.
Thoughts: This book was one of the most challenging books I've ever read (and finished CC Infinite Jest). It was full of writing that was so beautiful and poetic it seemed like a translation of an ancient text. The journey on which the group of hunters embark is full of twists and turns and more shifting alliances than Game of Thrones (which, truly, is saying something).
I still don't feel like I really understood everything that happened in Black Leopard, Red Wolf, but here's what I do know for sure: Marlon James is an artist. The way that man writes is something special, and even as I wondered if I was really getting all of this, I was mentally adding his other books to my to-read list. That's how good he is! Really! If you don't believe me, go read the article my friend and once-upon-a-time coworker Ryan Pait wrote for the Houstonia Magazine.
Verdict: Super beautiful, even if it was over my head. Give it a read here, and see what you think.
Pst! This post contains affiliate links. Thanks for supporting Page & Plate!