Whipped Goat Cheese Tart and Midnight in the Garden of Good and Evil
This might be the most exciting post of the whole entire spring / summer / it's barely stopped raining in a gazillion years season. Why's that? BECAUSE I FINALLY GET TO TELL YOU ALL ABOUT MEADOWLARK ORGANICS. You know I've been using their flour in a ton of my fave recipes (like pizza, cake, and the works), but now you get to hear my soapbox rant about why everyone should buy their flour.
Here's the thing you probably didn't know about flour, but maybe did if you read the book The Third Plate like I recommended. We grow far fewer varieties of grains than we used to (I'm talking as a human race, not just me personally). That's bad! Why? Lots of reasons. First of all, the kinds of grain we grow mostly include those with root systems not deep or complex enough to feed nutrients back into the soil from whence they came. Second, growing fewer strains of grains (heh) means we're opening ourselves up to a world of hurt when a disease comes along that wipes everything out. Lastly, for some reason, the kind of grain we've decided to grow isn't the tastiest or healthiest option. WTF, right? I know!
Lucky for us (especially the Chicago us-es out there), we have farms like Meadowlark Organics who have invested time, money, and fields into bringing back those heritage grain varieties we stopped growing. Totally organic, non-GMO, chemical-free, and DELISH, their flour is a sign (at least in my book) that things are looking up for flour.
And, by extension, for me. Because I use a sh*tton of flour, kids. Check them out here, let them know you're thankful for them, and get baking. Mmmkay? Mmmkay.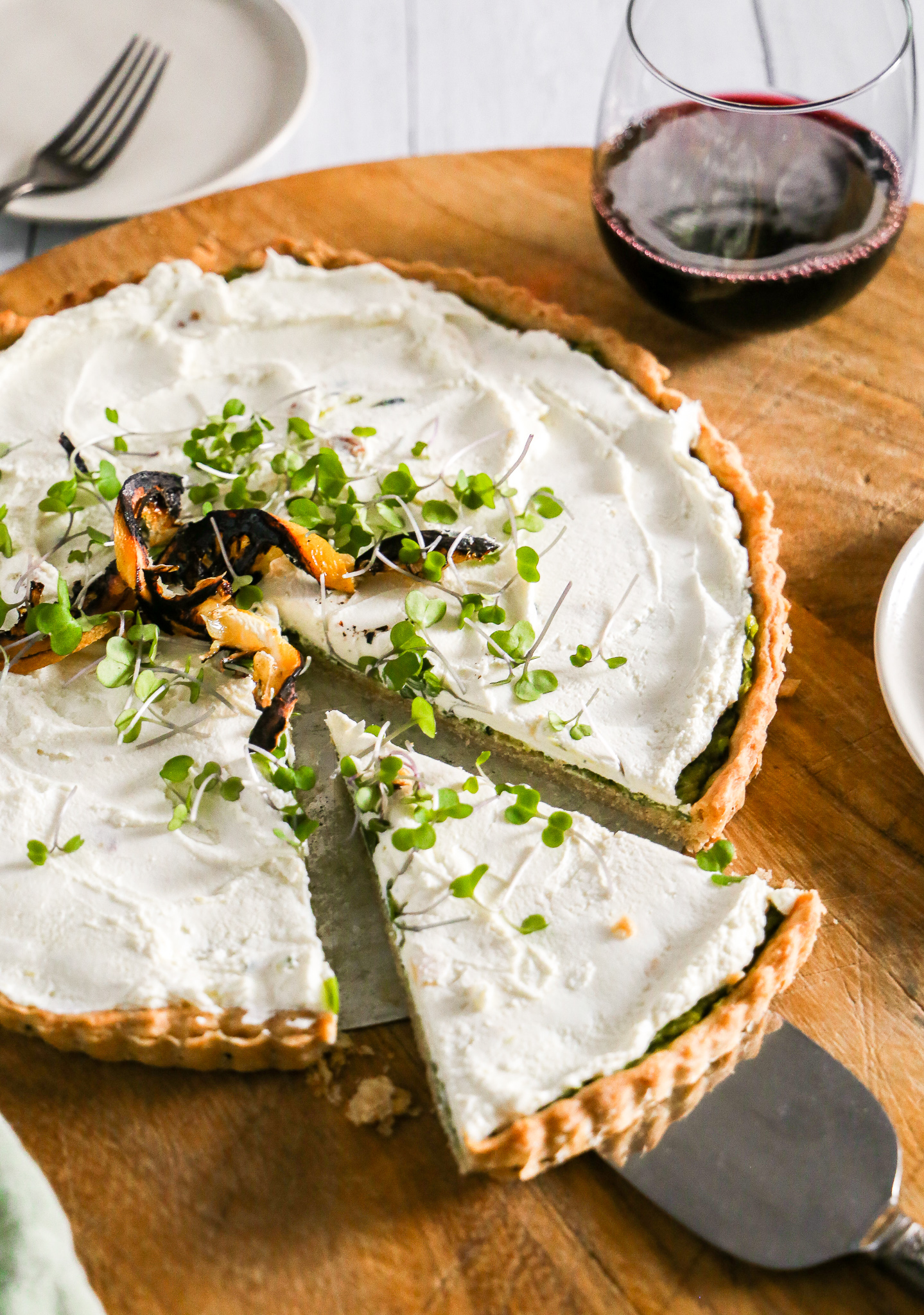 Appetizer? Sure. Dinner? Definitely. Snack? Always.
Whipped Goat Cheese Tart
By
Page & Plate
, May 31, 2019
This perfect spring tart features a rich swirl of goat cheese covers zucchini butter and a buttery crust made with Meadowlark Organics turkey red flour.
Makes: 12 servings
Prep time:
Cook time:
Ingredients:
2 cups of Meadowlark Organics Turkey Red Flour (get some here!)
salt
1 cup of unsalted butter, divided, chilled
4 TBSP of vodka, straight from the freezer
5 large zucchini, grated and drained (sprinkle with salt, wrap in paper towels, and wait 15 minutes)
1 tsp of black pepper
1 tsp of crushed red pepper flakes
12 oz of goat cheese
3 TBSP of lemon juice
2 TBSP of olive oil
Instructions:
Alright ya'll, let's make a tart! The shell comes first, so preheat your oven to 375 and find a tart pan (mine looks like this).
Get your trusty food processor ready (I love this one). If you don't have a food processor, just get a big bowl and use a fork and some elbow grease to make it happen. Add the flour and about a teaspoon of salt to the food processor / bowl and mix.
Add 3/4 cup of butter (that's 1 1/2 sticks) to the processor or bowl and process or mash until the butter is evenly broken up into small pieces.
Slowly drizzle in the vodka while mixing until a dough forms. Dump the dough into the tin, press down, then pop that baby in the oven for 15 minutes or until golden brown and roasty smelling. When it's finished, set it aside to cool slightly.
One step down! Now, let's make the zucchini butter. In a small saute pan, melt the remaining butter, then add the zucchini, about a teaspoon of salt, the black pepper, and the crushed red pepper. Let this cook down for about a half hour, stirring occasionally. When it's done, dump it onto a plate and set aside. You should probably taste it, too.
WE ARE MOVING RIGHT ALONG! Grab that food processor / bowl sitch again (give it a swish, first), and add the goat cheese, lemon juice, and olive oil. Process or whisk until fluffy and delicious. I add a little salt here because I have a problem. You don't have to do that.
Let's assemble the tart: add all of the zucchini butter to the tart shell and spread evenly. Add the goat cheese on top, then use a spatula to swoosh it around a little bit.
Bake for 10-15 minutes, until the goat cheese has slightly browned and everything smells like a dream.
Midnight in the Garden of Good and Evil
Plot: OH MY GOD, it's so juicy. This guy, John Berendt, visits Savannah and becomes fascinated with the weird, amazing, mysterious humans who live there, so he decides to take up residence. THEN, MURDER HAPPENS.
Thoughts: You guys, this is a real story! It actually happened! And it still makes a damn good book! I'm kind of out of my mind obsessed with this book. I know I say this a lot, but it is SO beautifully written. So beautifully written, in fact, that it kind of makes you want to put it down for a few to check out the Airbnbs that are available in Savannah.
While this whole murder thing hangs over the book (and had me on the edge of my seat), it was the vignettes about all of Savannah's other residents and quirks that had me swooning over this one. The attention and love that Berendt puts into telling such a wide-ranging and fascinating portrait of a city in transition shines through in every chapter.
Verdict: Read it! Now! Get a copy here and do it!
Pst! This post contains affiliate links. Thanks for supporting Page & Plate! Also, just so you know, the flour I used to test this recipe was gifted to me by Meadowlark Organics. I love them, and I hope you will too!