Buckwheat Snickerdoodles
Here's the thing about snickerdoodles: I'm not the biggest fan. In my opinion, cookies should have chocolate in them, end of story. But as it turns out, this is another case where I have been proven wrong many a time, and thus, welcome to a very special snickerdoodle recipe.
This recipe is special not only because it's gluten-free, but because what makes it gluten-free makes me actually really like these cookies. Unsurprisingly, that something involves chocolate and that something is Cacao Lil Bucks: sprouted buckwheat cereal flavored with cacao and cinnamon. I'm OBSESSED. They go on every smoothie I drink, every yogurt bowl I assemble, and sometimes just in the palm of my hand to toss back the old gullet. When Lil Bucks's founder, Emily, asked if I could make some fun recipes with them, I got out my trusty coffee grinder, turned Lil Bucks into sprouted buckwheat flour, and got to work on these babies.
I used the infallible Stella Parks's recipe to start and made some adjustments to make my cookies more gluten-free friendly. The result is 100% gluten-free, 100% delicious, and 100% easy to make dairy free as well (just sub coconut oil for the rest of the butter). Wham bam thank you, ma'am. Except don't call me ma'am.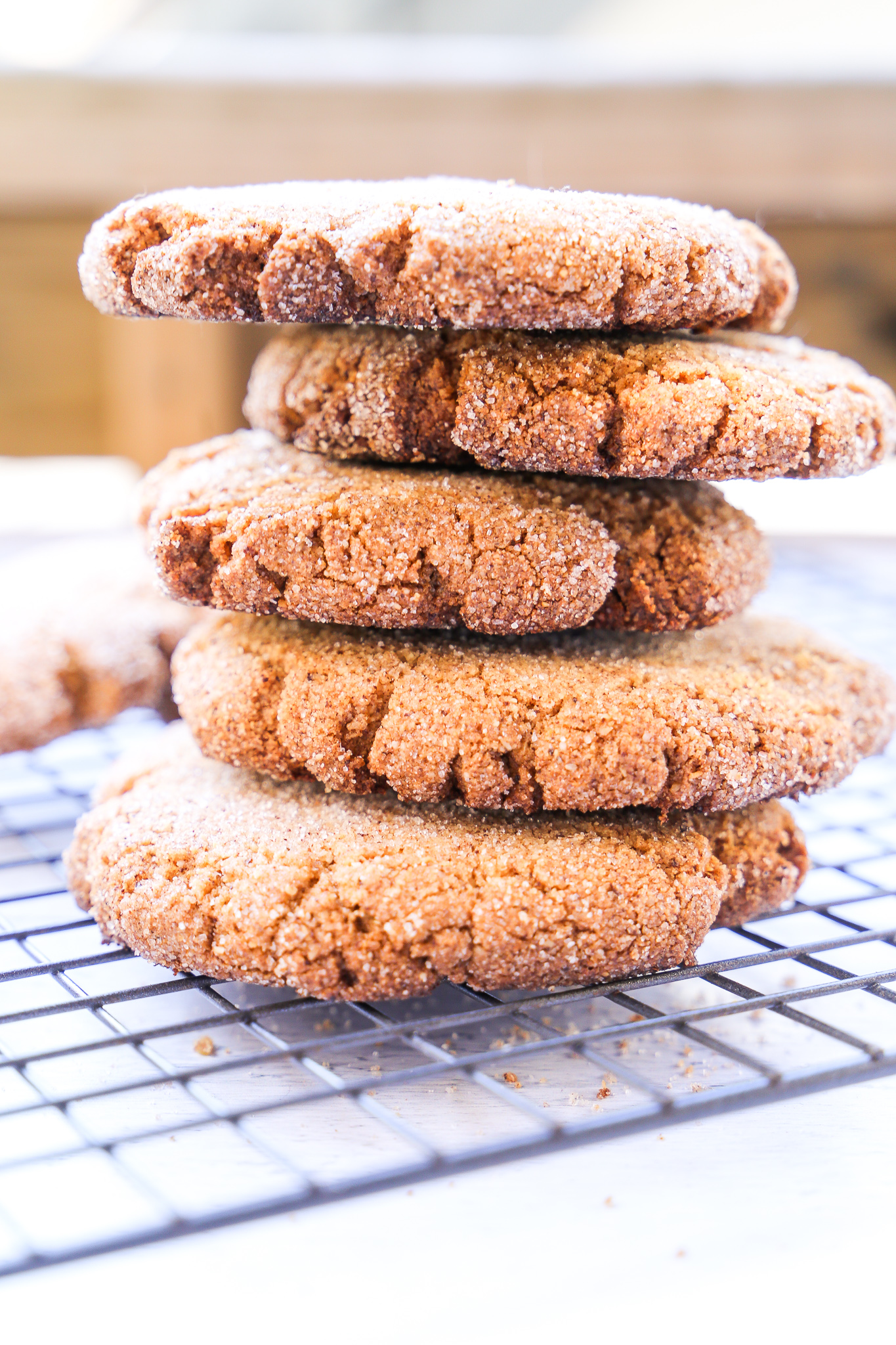 Your favorite cookie gets a very 2019 makeover.
Buckwheat Snickerdoodles
By
Page & Plate
, May 28, 2019
Somehow, the absence of regular flour in these snickerdoodles makes the cookie even crispier and tastier.
Makes: 16 cookies
Prep time:
Cook time:
Ingredients:
1/2 cup of unsalted butter (yo, that's 1 stick)
1/3 cup of coconut oil, slightly melty (I zap mine for 20 seconds.)
2 cups of sugar, divided
1 large egg
1 tsp of salt
1 tsp of baking powder
1 TBSP of vanilla extract
1 cup of almond flour
1 cup of Cacao Lil Bucks (get yours here!), ground finely
2 tsp of ground cinnamon, divided
1/2 tsp of ground cardamom
Instructions:
Preheat the oven to 400, and line a cookie sheet with parchment paper. Set aside.
In a stand mixer (I use this one!) or using a hand mixer, beat together the butter, coconut oil, and 1 1/2 cups of sugar until creamy. CREAAAAMY, I tell you. That takes about 5 minutes for real.
Beat in the egg, salt, baking powder, and vanilla. That beat is quicker. Set your mixer aside for a second.
Sift the almond flour and Lil Bucks into a bowl, then add all at once to the mixer with 1 tsp of cinnamon and the cardamom.
Beat together until a dough forms. This happens fast. You should taste it now, too, because it's super yum. Refrigerate for 10 minutes.
.Meanwhile, make the coating: mix the remaining sugar and cinnamon together. Let's be real: that took less than 10 minutes. Don't cheat the dough on chilling time, though!
Alright, time's up. Grab the dough from the fridge and use a cookie scooper (this is the one I use) to form the dough into balls, then roll in cinnamon sugar. Flatten onto baking sheet with a spatula if you're dignified. I am not; I use my fingers. Top the cookies with any remaining cinnamon sugar.
Bake for 5 minutes, then lower temperature to 350 and bake for 10 more minutes. Let cool, then demolish.
Pst! This post contains affiliate links. Thanks for supporting Page & Plate!