Texas Sheet Cake and The Catcher in the Rye
It's time for a post stuffed full of classics. If you're like me, you grew up standing around in the kitchen with your family, all cutting tiny slices of Texas sheet cake until the entire cake was consumed in one night. If you're also like me, you somehow made it through high school and college without ever having been forced to read The Catcher in the Rye. But, if you're like me, you probably turned out okay anyway, so, water under the bridge, you know?
This cake is a favorite for big family dinners or dinners that you don't know are happening until it's too late. As I grow older and get less fun, I find myself opting for a bitter bourbon caramel sauce instead of the icing listed below. That recipe went out to subscribers a couple of months ago, so if you find yourself wanting to go that route, go subscribe to figure out how to make that ish.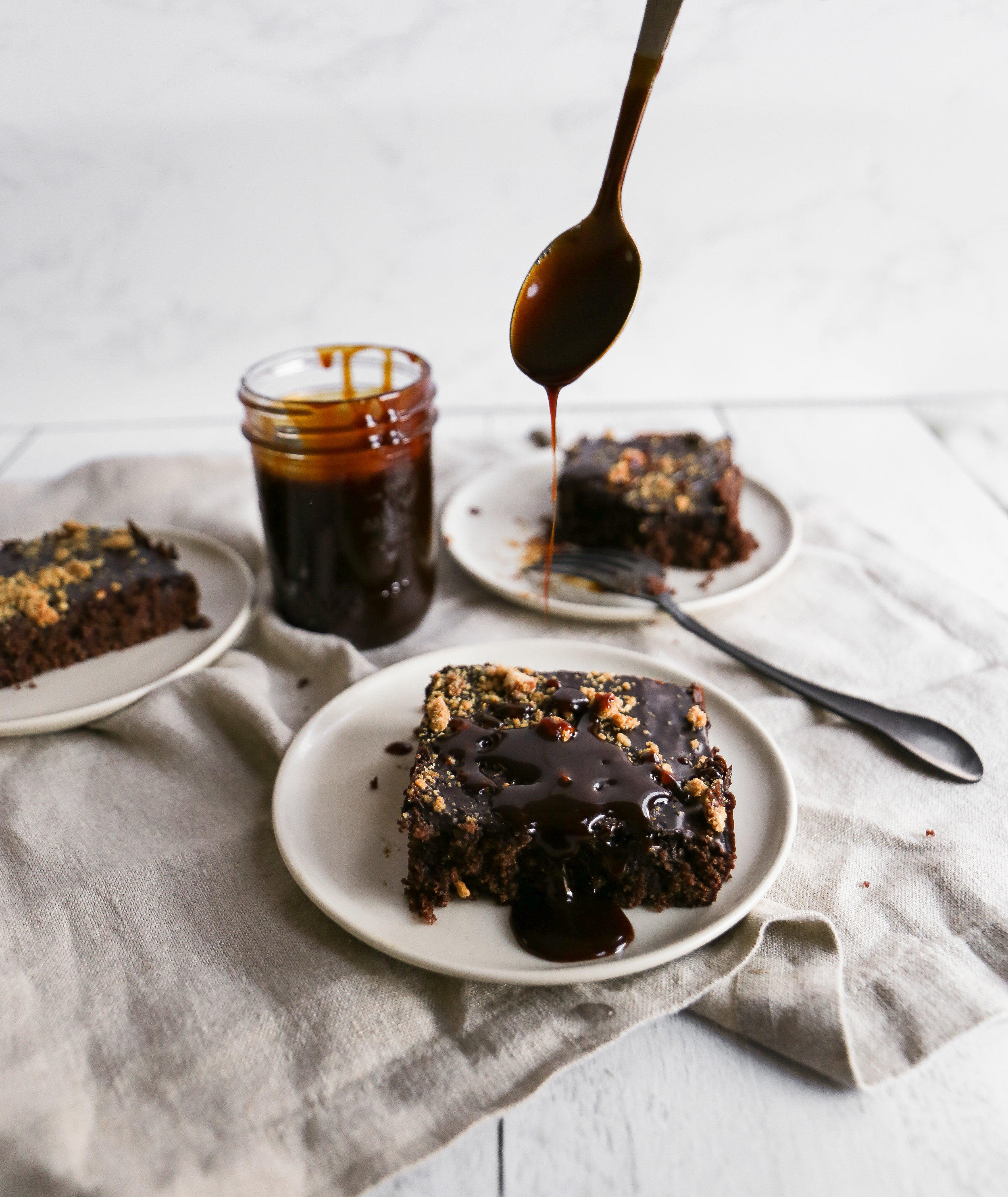 A classic recipe you'll eat in one night.
Texas Sheet Cake
By
Page & Plate
, May 24, 2019
If the best of brownies and the best of chocolate cake had a baby, it would be this classic sheet cake.
Makes: 10 servings
Prep time:
Cook time:
Ingredients:
1 1/2 cups of butter, divided (that's 3 sticks, okay peeps?)
1 cup of water
1/3 cup of good quality cocoa powder plus 2 TBSP, divided
2 cups of flour
2 cups of sugar
2 eggs
1/2 tsp of baking soda
1/2 cup of full-fat Greek yogurt (sour cream also works here)
2 tsps of vanilla extract, divided
1/3 cup of milk
3 1/2 cups of powdered sugar
Instructions:
Get a large sheet tray (I'm talking roughly 18x13" with a nice lip here folks), and grease it. Set aside.
Now find a large saucepan — and I do mean large. Add the 1 cup of butter (that's 2 sticks), water, and 1/3 cup of cocoa powder, and bring to a boil. Boil it for 5-ish minutes, then remove from heat and cool completely.
When it's cooled (like, really cooled, not cheater cooled), add the flour and sugar. Mix to combine, then add the eggs, baking soda, Greek yogurt, and 1 teaspoon of vanilla extract. Aren't you glad you picked a big saucepan? Mix until smooth. You're probably going to want to taste here.
Pour the batter into the sheet pan, smack it on the counter once to eliminate air bubbles, and then pop that baby in the oven for 20 minutes, or until a tester comes out just lightly coated in crumbs and your whole kitchen smells like a bakery that serves heaven.
Let's make the icing: in a smaller saucepan, boil the remaining butter, cocoa powder, and milk for 5-ish minutes again. Remove from heat and whisk in the remaining vanilla and the powdered sugar. Set aside.
When the cake has cooled, spread the icing on top. Again, don't cheat. You'll end up with some really sad melted butter.
Plot: The angsiest of all angsty teenagers, Holden Caulfield is a high-schooler with larger-than-life anger, depression, and confusion. The Catcher in the Rye recounts his ongoing battle against the phonies.
Thoughts: Okay. So here's the thing. I know that somehow, I squeaked around reading this over the course of my otherwise completely fulfilling academic career. I'm kind of happy about that, to be honest. I was lucky to have teachers in high school who taught works not by the DWMs (dead white males) of the literary world, and I applaud them to their dedication to that noble mission.
Because I'm an overachiever, though, in college, I decided I couldn't count myself as an English major until I had slogged my way through some of these "classics," so I paid a visit to the ever-wonderful Caliban Books and bought myself this one.
I was … underwhelmed. Listen, I know that it's a classic and that it's shaped basically an entire generation worth of ennui. But I couldn't help but wonder if Holden was ever actually going to get the point and grow up.
Verdict: It's a classic, so you might as well read it. But if you do, you should also add some other modern classics to your list. Like what? Oh, I dunno. This. Or this. Or this.
Pst! This post contains affiliate links. Thanks for your support of Page & Plate!