Smashed Pea Pasta
A couple of weeks ago, one of my friends from school posted a picture of his dinner at Rich Table in San Francisco, and my mouth immediately filled with drool as my stomach rumbled. The pasta, which looked homemade and perfect, was covered in a gorgeous green pesto-looking sauce, fresh herbs, and decadent burrata cheese. Before I had even gotten the whole way through dissecting the dish, I had already decided I was going to try to recreate it. I mean, you heard burrata, right? I'm sold.
I never actually consulted Rich Table's menu before I took a dive into this, but I knew that one thing I wasn't going to do for this recipe was make my own pasta. Lately, time's been a precious resource, so how convenient is it that Barilla had just sent over the most amazing box of pasta? Super convenient, I tell you.
Oh, and by the way? This recipe is gluten-free friendly (just use gluten-free pasta) and vegan-friendly (just don't use burrata, I guess, if that's okay). All are welcome here!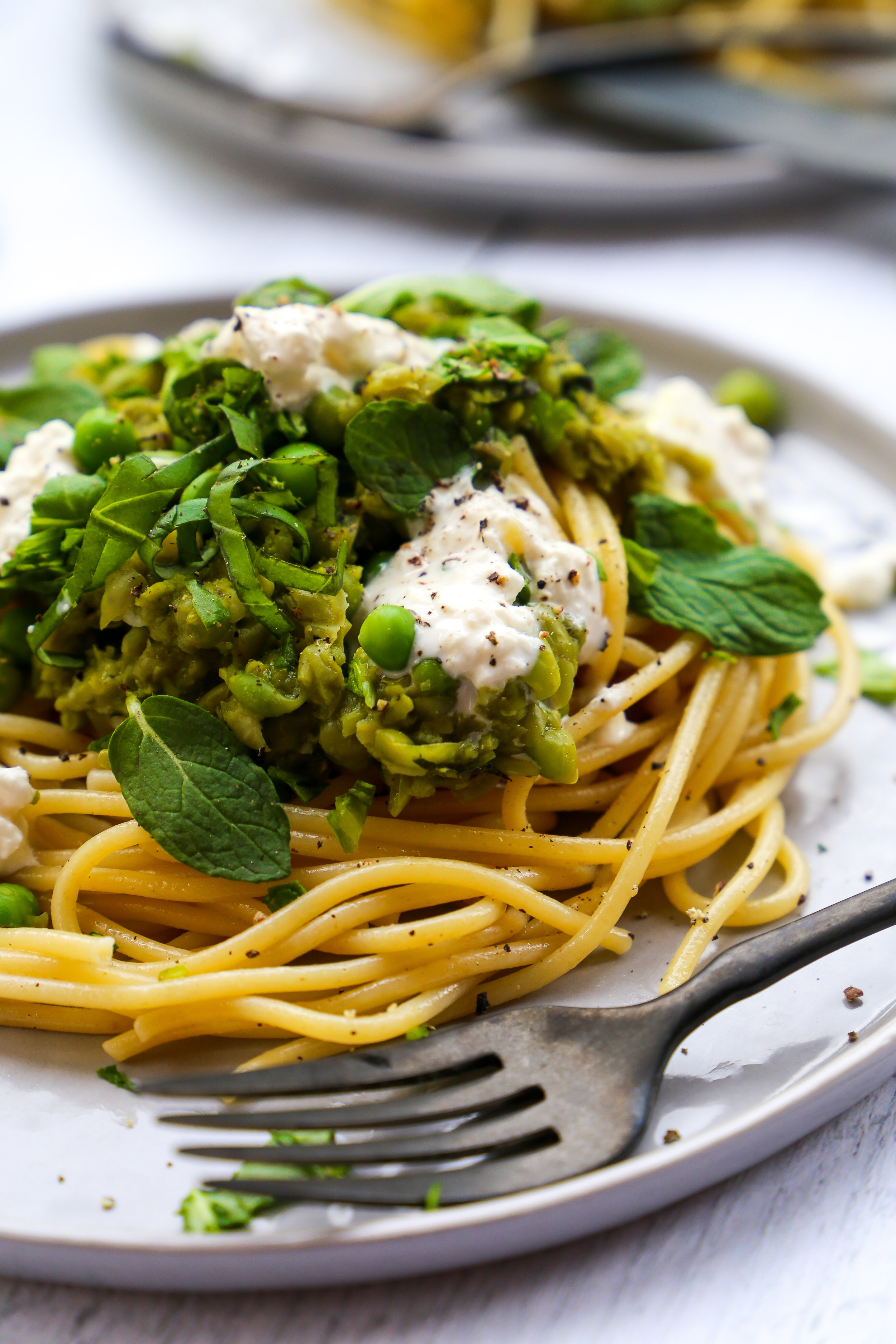 So fresh, so delish, so perf.
Smashed Pea Pasta
By
Page & Plate
, May 22, 2019
Garlic-y peas smashed with fresh herbs and plenty of black pepper and melty burrata coat noodles for the perfect summer dinner.
Makes: 6 servings
Prep time:
Cook time:
Ingredients:
1 12 oz box of spaghetti, bucatini, or fettuccine
salt, plenty
3 cloves of garlic, sliced
1/4 cup of olive oil
16 oz pack of frozen peas
2 tsp of black pepper
1 lemon, juiced and zested
1 cup of basil, sliced thinly
1 cup of parsley, sliced thinly
1/2 cup of mint, sliced thinly with a few leaves reserved for garnish
8 oz of burrata cheese
Instructions:
Set a large pot of very, very salted water to boil. When the water is boiling, add the pasta and cook until al dente ("to the teeth!"). It is likely your packaging will advise you of this time. In my opinion, it's about seven minutes. When the pasta is done, drain, reserving one cup of pasta water, and set aside. Congratulations on finishing one part of this recipe in one very long step.
To the peas! Add the olive oil, garlic, peas (reserving a few for garnish), and pasta water to a large saute pan and set over medium heat. Cover with a lid. Walk away for, like, five minutes.
Come back to the pan, and give everything a stir. Taste and adjust seasonings if you need to.
Using an immersion blender (grab the one I have here), blitz the pea mixture a few times, just until the peas are mostly broken down. Stir in the lemon juice.
Go grab that pasta and those herbs. It's time to plate.
Split the pasta between six plates, then top with the smashed peas, the fresh herbs, the reserved peas, and the burrata, torn into small chunks.
Do another crack of fresh ground black pepper and serve with a strong red.
Pst! This post contains affiliate links. Thanks for supporting Page & Plate!