Thai Mole Tofu and Killers of the Flower Moon
Okay. This recipe went out to newsletter subscribers last week, which was way, way before I intended to send it out. But sometimes, you have to cave to the demands of your readers. And when friends reach out to you and DEMAND the recipe early because they're your friends, it's time to give the people what they want.
I've rarely gotten such demanding responses in my year-and-change of blogging. BUT, I guess that's a good thing because it means you could tell through your screen how delicious this breaded tofu and coconut mole curry was. "WAIT A MINUTE. THAT IS NOT A THING," you say. "NOT A TRADITIONAL THING. DEFINITELY NOT," I reply. "But it's 2019. Time to innovate."
This recipe was ready to post weeks ago, but it was waiting on me to finish the book. And damn. What a book! You need to read this one yesterday. Okay. Here we go.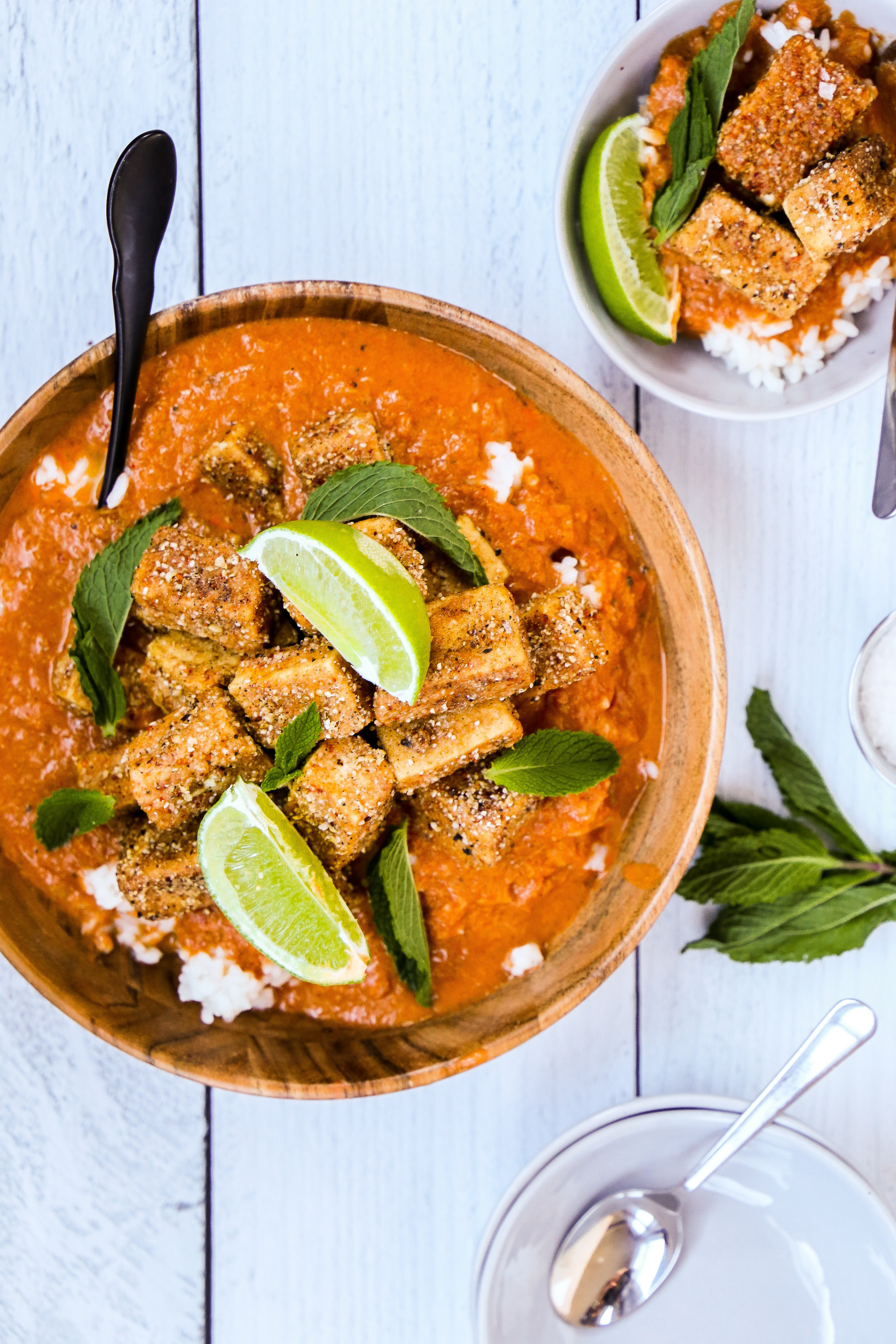 Super traditional? Nah. Still delish? Yeah.
Thai Mole Tofu
By
Page & Plate
, April 8, 2019
Crispy tofu coated in buckwheat plus delicious mole sauce with a tomato and coconut base equals pure deliciousness. Easy math.
Makes: 6 servings
Prep time:
Cook time:
Ingredients:
1 cup of vegetable oil, divided
14 oz of extra firm tofu, drained and pressed
1 cup of original Lil Bucks, ground into a powder (or buckwheat flour)
1/2 cup of corn starch
2 tsp of salt plus extra for seasoning
2 tsp of smoked paprika, divided
1/2 of a medium onion, roughly chopped
3 cloves of garlic, roughly chopped
1 tsp of red pepper flakes
3 TBSP of Bumbleberry Farms Molten Lava honey butter (if you don't have that or if you're making this vegan, use 1 TBSP of cocoa powder mixed with 1/2 tsp of chili pepper)
15 oz of roasted tomatoes, diced
15 oz of coconut milk
rice, mint, and lime for serving
Instructions:
Alright, people, This is a multi-step recipe. You've got this. Let's start with the tofu. In a deep skillet, put 3/4 cup of the vegetable oil over high heat. Put a cooling rack inside a baking sheet, and set aside. Also, might as well go ahead and preheat your oven to 250. This goes fast.
Cut the brick in half (like, cut parallel to the counter to create a thinner top half and a thinner bottom half), then cut the halves into 12 pieces each. Or cut into however many pieces you want. Again, none of my beeswax.
In a small bowl, combine the ground Lil Bucks, corn starch, salt, and 1 tsp of smoked paprika. Mix to evenly combine. Set aside. Add the remaining vegetable oil to another small bowl. Set aside, and grab your tofu. Let's bread it: first, dip the tofu into the vegetable oil to coat, then dip into the corn starch mixture and coat. Repeat, then add to the oil (only when the oil starts shimmering).
Cook for one minute on either side, then use tongs to remove and place on the cooling rack.
Repeat until you've fried all that tofu, and your kitchen smells amazing. Put the baking sheet with the tofu into the oven, and let it go while you make the sauce. One thing done! And that was the hard part. I promise.
In a medium saucepan, heat another splash of vegetable oil until it shimmers. Add the onion, garlic, and red pepper flakes, and saute for about five minutes, or until onion is softened and the garlic is browned.
Add the honey butter or cocoa butter / chili pepper flakes mixture and the remaining smoked paprika, and stir until coated.
Add the tomatoes, and bring the mixture to a boil. Boil for five minutes, then turn the heat off. Set aside to cool for a few minutes.
Dump all of that into a blender and liquify. Add the coconut milk and blend again. Taste and adjust seasoning (more salt, probably).
Serve over the now-crispy tofu with rice, mint, and lime. Rejoice that you subscribed.
Killers of the Flower Moon
Plot: Way back when in the midst of Prohibition, the oil-rich Osage tribe began dying off in mysterious ways. Author David Grann covers the murders, the trials, and then, in a twist even he doesn't expect, uncovers more than he ever expected. Duh duh duh.
Thoughts: I've been dying to sink my teeth into a crazy good non-fiction book, so when I saw this in City Lit Books, I pounced. I mean, as much as one can pounce after eating at Lula Cafe. I'm so glad I did, too, because this book was absolutely everything I wanted. Grann weaves suspense as well as a healthy dose of historical perspective into his narrative and in doing so, accomplishes a rare thing in his coverage of events that unfolded nearly 100 years ago.
The part of the book I most appreciated was Grann's frank and appreciative acknowledgement of the part that racial dynamics played in every part of this story, from the method of distributing the money that rightfully belonged to the Osage to the investigation of their murders. The crimes that he writes about are horrifying, but his obvious respect for the Osage and their descendants, and obvious contempt for the murderers and the system that allowed them to roam free make the book not only worth reading but honorable to enjoy.
Verdict: If you haven't already read this tour de force, grab a copy here and get going.
Pst! This post contains affiliate links. Thanks for supporting Page & Plate!