General Tso's Cauliflower and Good Omens
In case you haven't already guessed this, Colin and I cook a lot. As a direct result of that (and probably the irresponsible amount of money spent on groceries), we're not restaurant people. We don't go out to eat every wek, and we don't often find ourselves ordering a pizza these days (I mean, have you SEEN the pizzas that guy makes?). We've gotten better and better at cutting back on ordering any kind of food, in fact, but we have a weakness: Chinese food.
I'm a huge sucker for noodles with spicy sauces, practically still sizzling crab rangoon, and, lest we forget, spring rolls filled with veggies that absolve my guilt for eating the former. I literally ate dinner an hour ago, but this is making my mouth water. I have a problem.
In hopes of finally following through on the resolution we make every year, I created this recipe for breaded cauliflower drenched in spicy red sauce. I'll be honest: it's probably one of the tastiest things I've made this year. Also coming in hot is Good Omens, which, PS, is being made into an Amazon Prime series. Oh what a world.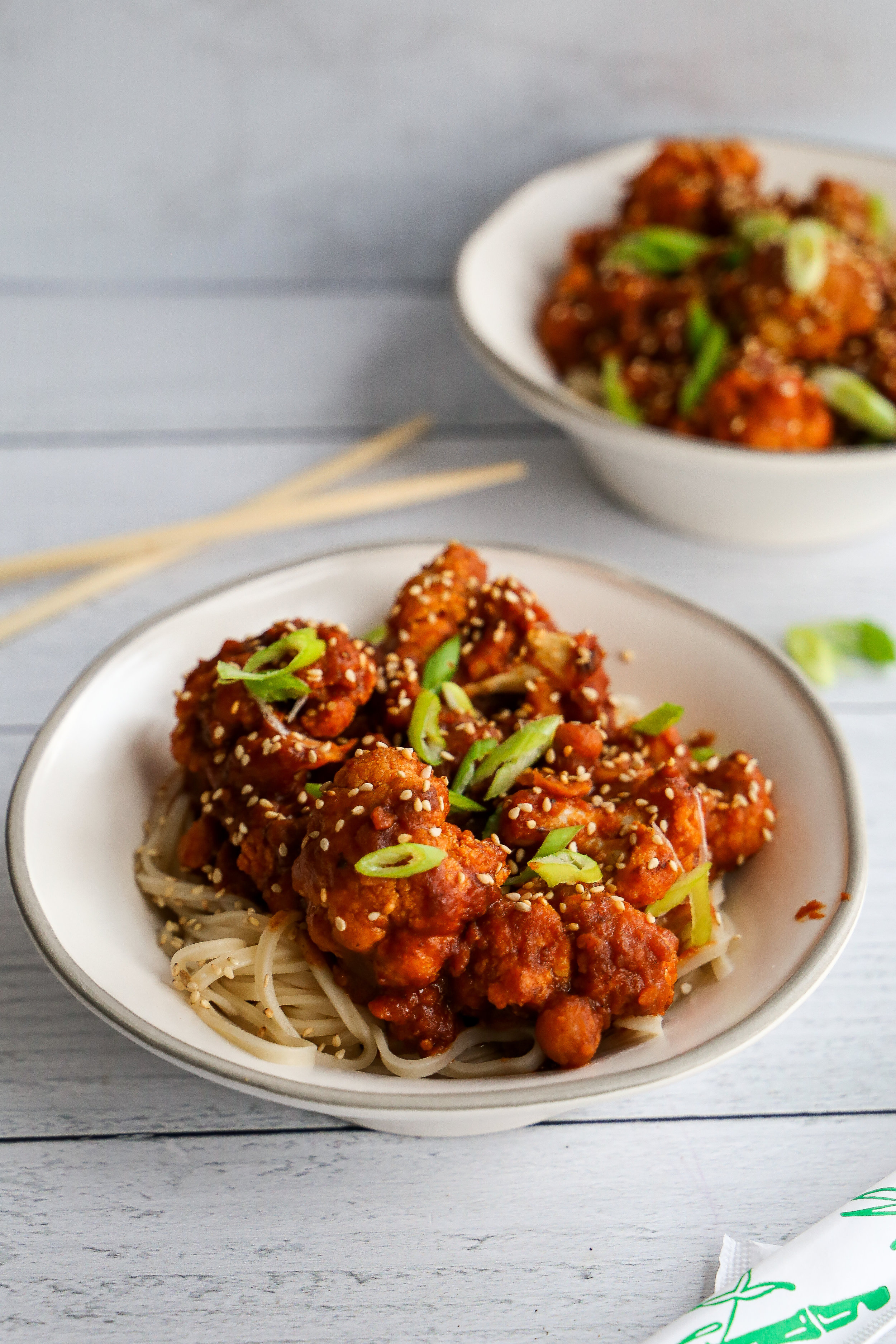 General Tso's Cauliflower
Who needs delivery when you have this bowl?
General Tso's Cauliflower
By
Page & Plate
, April 29, 2019
Spicy red sauce coats this breaded cauliflower to mimic your favorite takeout dish. Gluten-free and vegan too (yeah, I went there), this cauliflower is just as good as anything you could get delivered.
Makes: 4 servings
Prep time:
Cook time:
Ingredients:
1 head of cauliflower, cut into florets
6 TBSP of vegetable oil, divided
1/3 cup of gluten-free tempura batter
15 oz can of chickpeas, drained and rinsed
1 tsp of salt
1 tsp of red chili pepper flakes
1 tsp of smoked paprika
1 cup of water
5 TBSP of soy sauce
2 TBSP of rice wine vinegar
3 TBSP of brown sugar
4 oz of tomato paste
1 TBSP of hot chili oil
1 pack of rice noodles, cooked and drained
green onions, for garnish
sesame seeds, for garnish
Instructions:
Preheat oven to 425. Put a cooling rack on a large baking sheet, then set aside. (Not that you care, but this allows the cauliflower to roast evenly, including from the bottom up!)
Add the cauliflower florets to medium-sized bowl and coat with three TBSP of vegetable oil and the tempura batter. TBH, I also add salt here, but that's not mandatory.
Spread the cauliflower on the cooling rack, then bake for 20 minutes or until golden brown.
Meanwhile, add the remaining vegetable oil to a large skillet over medium heat. When the oil is shimmering (real thing), add the chickpeas and fry until golden brown, seasoning with salt, red pepper flakes, and smoked paprika.
Meanwhile MEANWHILE, combine the water, soy sauce, rice wine vinegar, brown sugar, tomato paste, and hot chili oil in a measuring cup. Whiskkk.
Dump this into the fried chickpeas, and use it to deglaze the pan.
Remember that cauli? Take it out of the oven and combine it with the chickpea ish. Put the whole thing in the oven for five minutes or until brown, then toss with noodles or rice.
Garneeshe (garnish, duh) with toasted sesasme seeds and chopped green onion.
Plot: The anti-Christ has been born (he's now an eleven-year-old boy), and the end of the world is coming (mostly because he's orchestrating it) (on accident). It's up to a demon with a soft spot for Earth and an angel who runs a secondhand bookstore to save the world. NBD.
Thoughts: Not sure how I haven't read this yet, but damn, I'm glad I finally got around to it. I'm a huge fan of Neil Gaiman, who co-authored the book with the legend Terry Pratchett, and this book made me love and respect him even more.
Hilarious, fast-paced, and high-staked (it's a word now), Good Omens ticks all of the boxes that I require to boost a book into my top reads of the year. I couldn't stop laughing as I was reading this in an airport after a red-eye flight, and if I'm laughing in that situation, you know this is a good one.
Verdict: You have to read this before the series comes out. Because David Tennant is in the series, so you're going to want to watch it. And you should always read the book before you watch. Get your copy here!
Pst! This post contains affiliate links. Thanks for supporting Page & Plate!