Vegetable Ragu and Memory Wall
I know for a fact that I'm not the only one who listened to the episode of the Bon Appetit Foodcast with Andy Baharagini and absolutely drooled my way to the store during my lunch, then all the way home to make a ragu that very night because I couldn't contain myself any longer. But I also know that I'm *probably* the only one who listened to this episode and got, like, super indignant about the state of ragu for vegetarians.
"Unpopular opinion," you say? Just wait until you read the review of Anthony Doerr's work.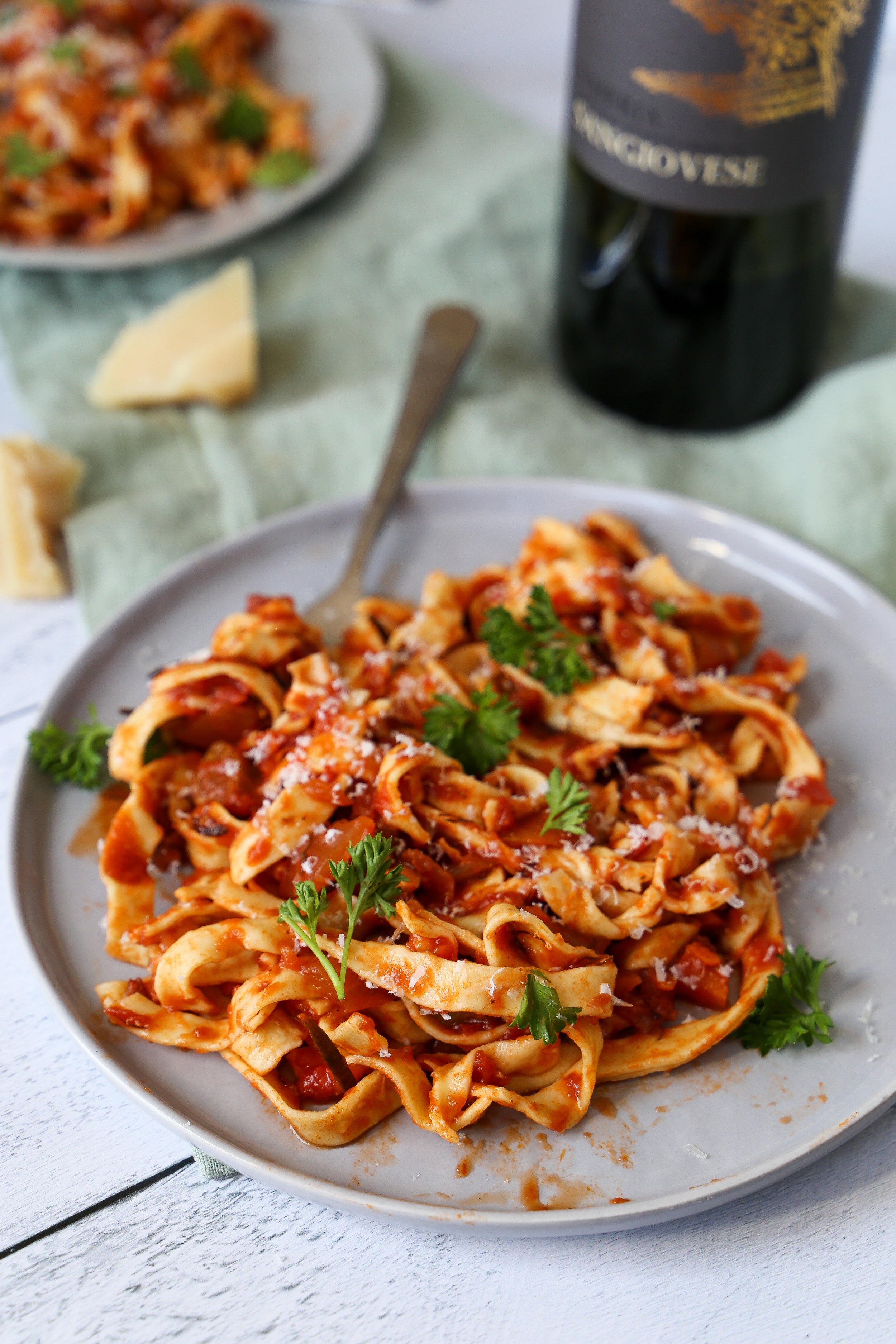 Because you don't need meat to have fun.
Vegetable Ragu
By
Page & Plate
, March 6, 2019
Okay, here is my unpopular opinion that you have to read because you are on my blog: ragu does not need to have meat in it to be good. Ragu also does not need to simmer for three hours to be good. You will notice that I am not writing "...to be traditional." I am writing good. Because I am not here to fight with Italian grandmothers everywhere. So, this non-traditional but still very good recipe goes out to all you vegetarians (and vegans!) out there. This one's for you. And if you're vegan, please use vegan pasta and not the recipe here that def for sure uses eggs. And if you're gluten-free, use gluten-free noodles and you're all set. Man, we're making everyone happy here.
Makes: 4 servings
Prep time:
Cook time:
Ragu Ingredients:
3 TBSP of olive oil
1 medium sweet onion, finely diced
2 medium carrots, finely diced (no, I do not peel my carrots)
1 medium bulb of fennel, finely diced
3 cloves of garlic, thinly sliced
2 sprigs of rosemary, stripped and chopped finely
1 tsp of fennel seeds
6 oz. of Thrive Market Organic Tomato Paste
1/4 cup of red wine
28 oz. of Jovial Organic Crushed Tomatoes
2 tsp of kosher salt
1 tsp of red pepper
1 tsp of black pepper
1 tsp of red pepper
Pasta Ingredients:
1 cup of semolina flour
1 cup of 00 flour
2 eggs
3 egg yolks
Instructions:
Put a large pot over high heat, and add the olive oil.
When the olive oil is shimmering (aka very hot), add the onions, carrots, and fennel bulb. Saute for 10 minutes, until everything is starting to lose its structure and soften up. Stir occasionally to make sure that nothing burns.
Add the garlic, rosemary, and fennel seeds. For those of you wondering who gave me the right to ask you to put two types of fennel into one sauce, this is the ingredient that will make your sauce stand up to the meat-stuffed ragus everywhere. Also, I love you, but please just shut up and follow the recipe.
When the garlic has browned slightly and the room smells like the Italian suite in Heaven, add the tomato paste and stir until the paste sticks to everything kind of evenly.
When the sauce is starting to stick to the bottom of the pan, add the red wine and deglaze the pan. This means you use a wooden spoon to scrape up the stuck parts from the bottom of the pan.
Add the tomatoes and a cup(ish) of hot water. Stir to evenly combine, then bring to a boil. Immediately after it begins to boil, turn heat down to low, cover partially, and let simmer for 20-30 minutes.
This is a great time to make your pasta! In a large bowl, whisk together the semolina and 00 flour, then make a crater in the middle.
Crack the eggs into the crater, add the egg yolks, and, using a fork, whisk all of the egg parts together. Little by little, incorporate flour into the egg.
Eventually, this will become too much for your poor little fork, Transition to using your hands. When your dough has come together in a ball (yes, still in a bowl), cover and set aside for, eh, 15 minutes. Start a medium saucepan full of salty water to boil.
After the dough rests, roll it out using a rolling pin, a hand crank pasta machine, or a stand mixer outfitted with a pasta roller, roll out the pasta until you can see the shadow of your hand through it, and then cut into thin, fettuccine-like shape.
Boil pasta for three minutes, then drain and set aside, reserving one cup of pasta water.
Remember that sauce? Add the cup of pasta water, stir it in, and season with salt, red pepper, and black pepper.
Toss the pasta with the sauce and serve with Parmesan cheese (unless you're doing this the vegan way).
Plot: This short collection of stories explores (you guessed it!) memory and what it means to us as humans.
Thoughts: Okay. Here's an admission. I didn't love All The Light We Cannot See. In fact, I didn't even finish it. And I finish a lot of subpar books. This fact is made more painful and insulting when I tell you that this book was recommended to me by my mother, who has amazing recommendations, and that I actually heard Anthony Doerr speak in summer of 2015. And he, like my mom, is great! I have nothing against him. I just didn't love that book particularly. Memory Wall, though, was a different story.
Something really spoke to me in this slim collection of stories by Doerr. They were lyrical, haunting, and sort of, in certain parts, kind of wry. I'm always down for a really solid book of short stories, and this one has literally taken up space in my brain since winter 2015. Go read it, and then think hard about what it means to be human.
Verdict: I'm so into these stories and what giving this book as a gift says about you as an emotional person. Grab it here.