Cranberry Birch Blondies with 11th Orchard Bitters
Latest obsession alert comin' in strong on behalf of 11th Orchard Bitters, a Chicago-owned and operated bitters company that boasts products made from foraged plants around Chicago. Read that sentence again so you really understand how awesome this is. Now let me say it again for the people in the back: Chris and Janie literally travel around the Chicagoland area searching and foraging for the key ingredients that make their bitters unique and delicious. HOW CRAZY COOL IS THAT?
I met with them last week, and they gave me some samples to try. And I went crazy. I used the birch bark bitters in this cranberry blondie recipe and fell completely in love with the way the bitters complimented the acidity of the cranberry and the nutty flavor of the white chocolate. I mean, wow. BIG wow.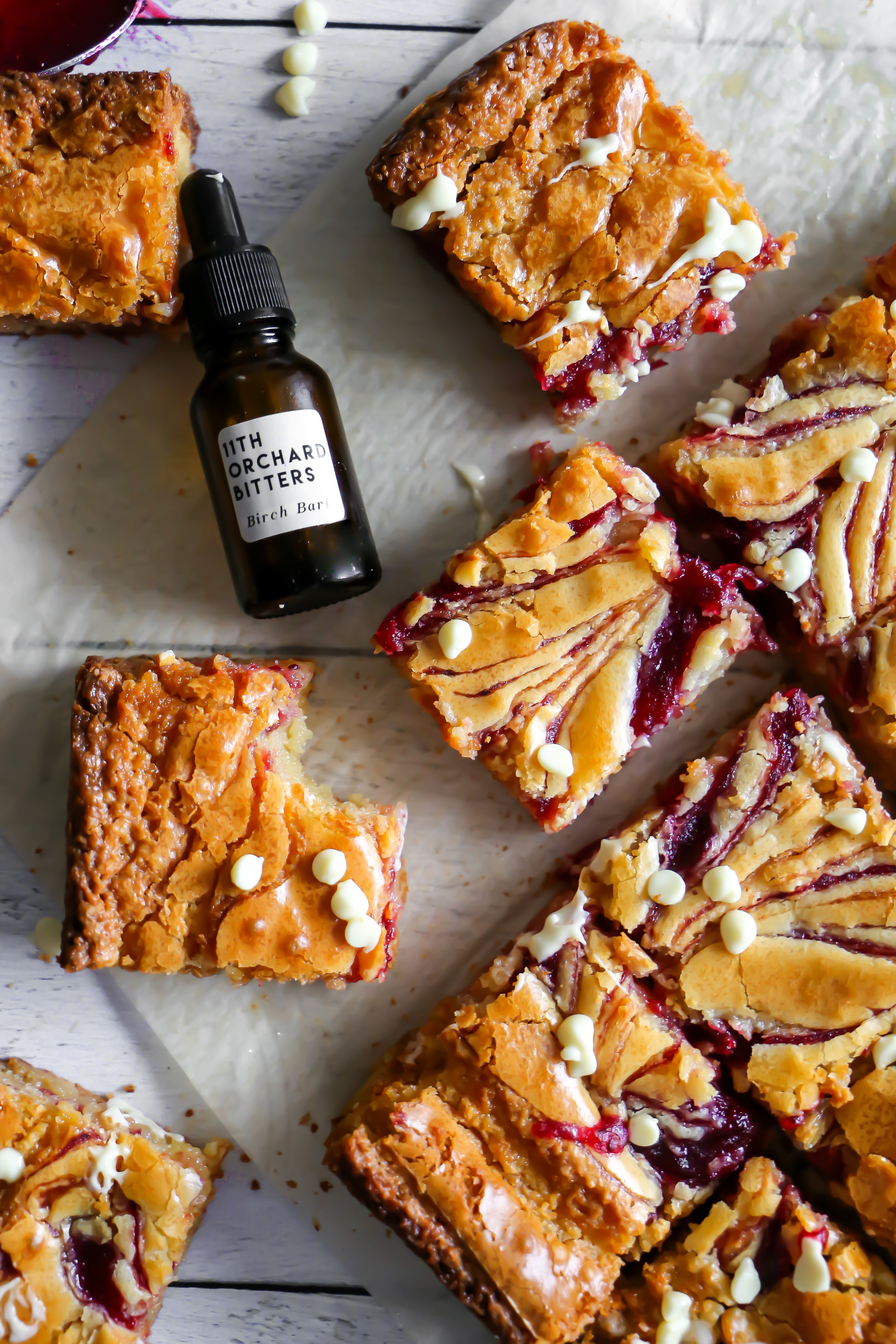 Starring 11th Orchard Bitters!
Cranberry Birch Blondies
By
Page & Plate
, March 25, 2019
Picture brownies but in the middle of a white chocolate revolution. Then swirl in some cranberry jam and add some birch bark flavored bitters. Then die of happiness.
Makes: 16 bars
Prep time:
Cook time:
Ingredients:
3/4 cup of unsalted butter (aka 1 1/2 sticks)
2 cups of sugar
10 oz of white chocolate chips
3 eggs
4 tsp of 11th Orchard Birch Bark Bitters
1 cup of all-purpose flour
1 cup of cranberry jam (sauce is also acceptable)
Instructions:
Preheat your oven to 350 and grease and line an 8x8" pan. Set aside.
Add the butter and the sugar to a medium saucepan, and put it on the stove over low to medium heat until the sugar has dissolved and the butter has melted. Don't let things boil, though! You're aiming for a yellowy, stirrable mixture that doesn't bubble.
Add the white chocolate, and stir until melted. Remove saucepan from heat, and set aside to cool a bit. Go feed your sourdough starter or something.
When reasonably cool, add the eggs to the batter, and mix in until smooth.
Add 2 tsp of the bitters and mix in.
Add the flour, and whisk until no lumps remain.
Pour the batter into the prepared pan and set aside. Don't bake it yet!
In a small bowl, combine the remaining bitters and the cranberry jam. Add 12 spoonfuls of jam randomly to the batter. Like, just plop it on top, any old where.
Take a butter knife and make a waving pattern through the dough to spread the jam through.
Bake for 35 minutes or until golden brown. Drown in your new favorite dessert.
Pst! This post is sponsored, but the opinions here are entirely my own. Enjoy!