Mac and Cheese and Greens
Hear me out: you should be eating greens every single day of your life, no question, no debate, period, the end. Cool! Thanks for reading Page & Plate!
Just kidding; I'm back to talk more words! I know that I love greens more than many other people in this world, but I really do believe that they make you better in every sort of way. However, I, like many people, also enjoy a good vat of macaroni and cheese every once in a while. So here's what I propose: pretty please will you consider adding some greens to your macaroni and cheese tonight and believing that it'll taste good? I mean, this is kind of my thing. You can trust me.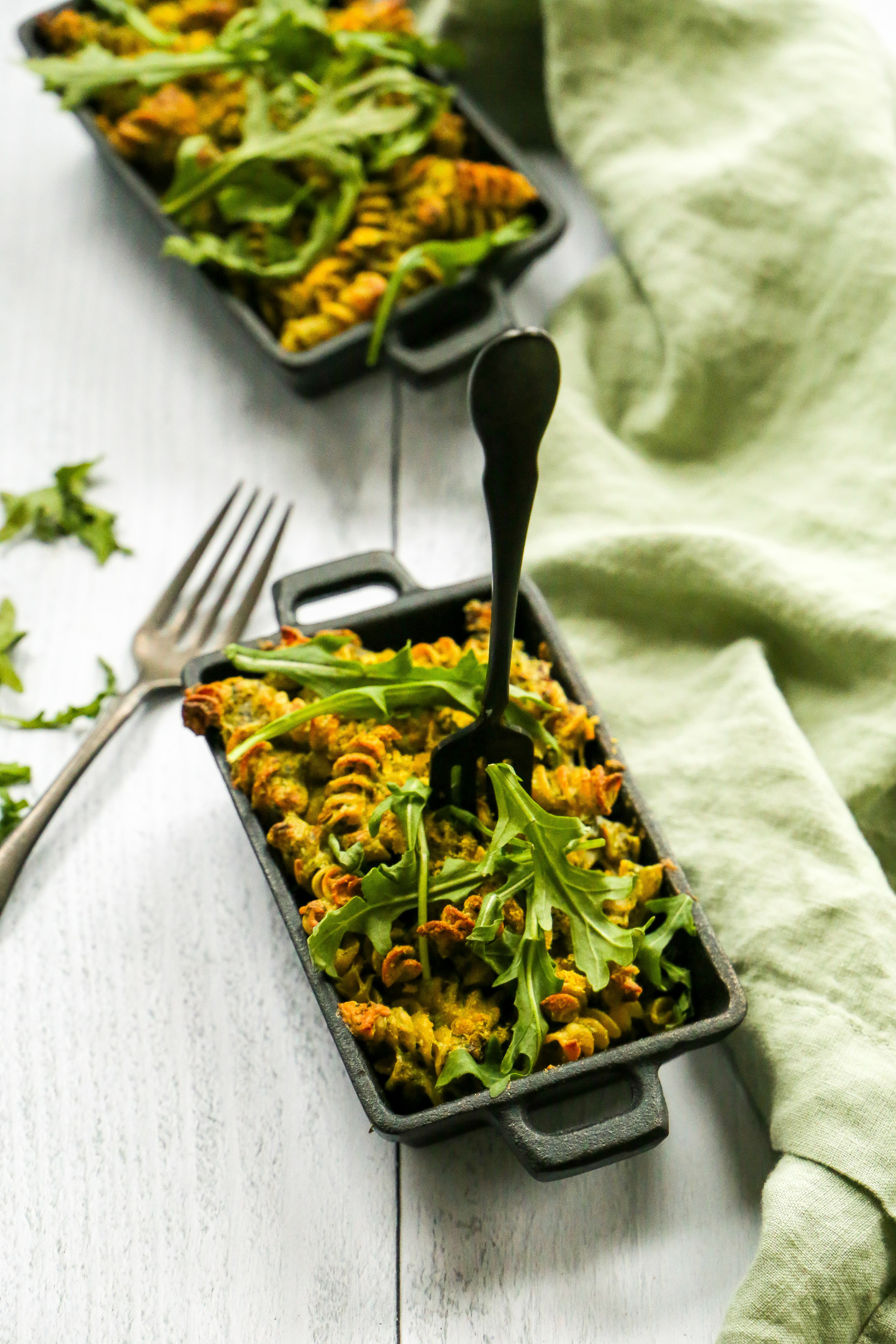 Mac and Cheese and Greens
Because even though St. Patrick's Day is over, you can still love yourself with some greens.
Mac and Cheese and Greens
By
Page & Plate
, March 19, 2019
This is the grown up macaroni and cheese recipe you've known you needed for a while now. Yes, you're going to make a roux. Yes, you're going to be okay. Yes, you're going to stir some greens in for health's sake. And yes, it's going to be delicious.
Makes: 4 servings
Prep time:
Cook time:
Ingredients:
16 oz. box of pasta
3 TBSP of unsalted butter
3 TBSP of all-purpose flour
1/2 cup of milk
3 TBSP of cream cheese
1/2 tsp of salt
1/2 tsp of black pepper
2 cups of Swiss and / or Gruyere cheese, shredded
8 oz. of frozen spinach, defrosted and drained
arugula, optional
Instructions:
Bring a large pot of thoroughly salted water to boil.
Cook the pasta in said boiling water according to package directions. If you're me, you'll undercook it just a bit. If you're you, you do what you want.
While that pasta is merrily cooking away, make your cheesy goodness: melt the butter in a small saucepan over medium heat. Also, go ahead and preheat the oven to 425.
When the butter has melted, whisk in the flour.
Whisk the flour occasionally until browned. Add the milk, whisking until smooth.
When bubbling, remove from heat and stir in the cream cheese, salt, pepper, shredded cheese, and spinach. Set aside to melt.
Drain the pasta and add to a large, oven-proof skillet.
Mix cheese sauce into the pasta until the pasta is covered.
Bake for 10 minutes or until golden brown and bubbling. This is the good stuff. And see? It isn't even that green.
Top with even more greens (the arugula) if you desire, and consume.