Chocolate Raspberry Gobs
Okay, welcome to a post you thought was about chocolate but is really full of debate. Surprise! At least I'm on brand for 2019. Anyway, let's talk about the puffy cookie sandwiches with marshmallowy buttercream filling. You may call them whoopie pies. You may call them gobs. You may be looking at your screen right now, pretty sure I've finally lost it, because to you, these sound like bloated Oreos.
As it turns out, whoopie pies is the more commonly known name. However, if you grew up in Western Pennsylvania, like I did, hearing about the cookies that your great-grandfather made for your mom while she was in college, you'd swear they were called gobs. It's a regional thing, apparently, and a matter of contention. But we're going to set all of that aside today, agree that because I'm the blogger, I can call cookies whatever I like, and make chocolate raspberry gobs / whoopie pies / kisses to celebrate ourselves, our friends, our families, and our loves. Okay? Okay.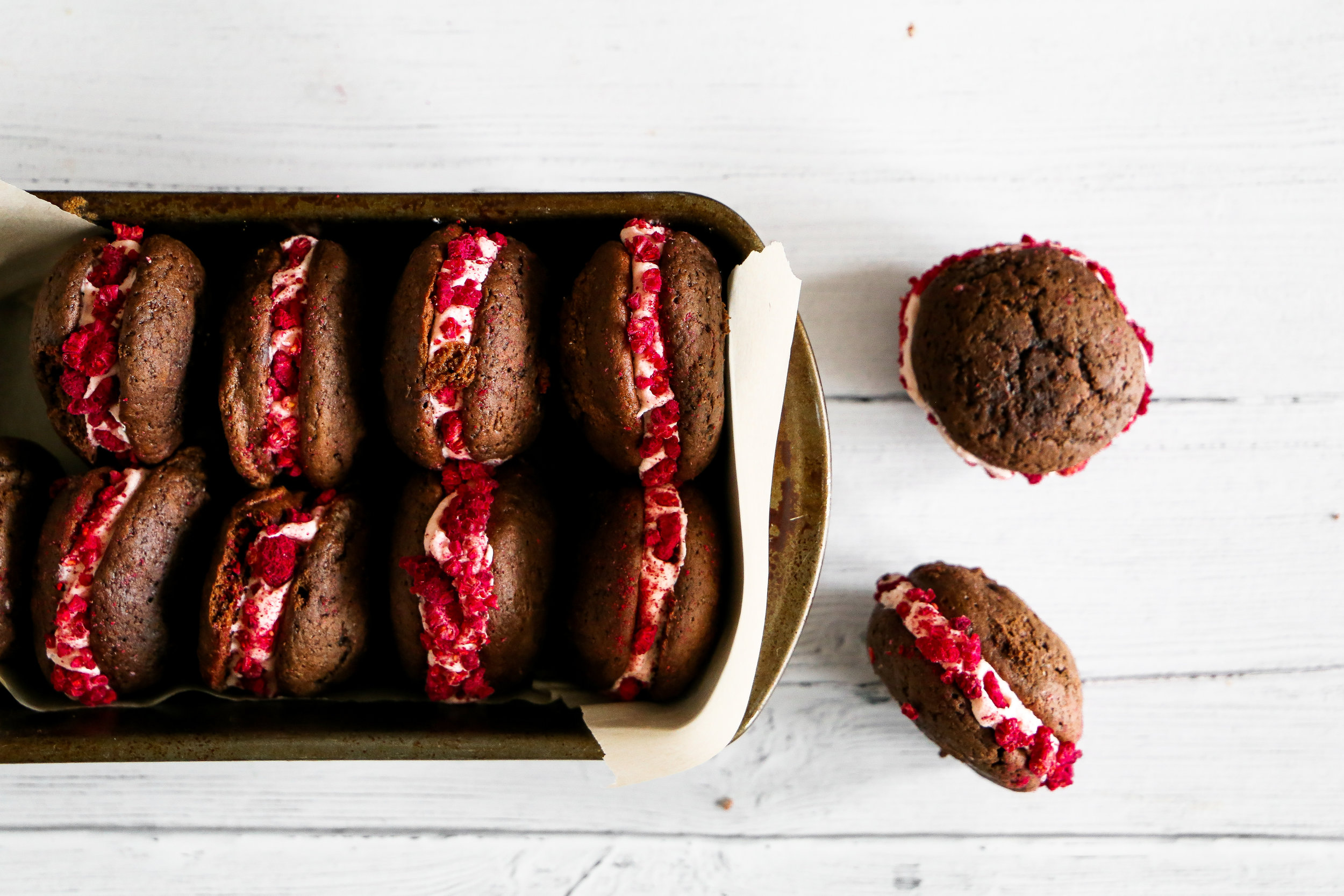 Chocolate cookies and raspberry buttercream are the real #couplegoals.
Chocolate Raspberry Gobs
By
Page & Plate
, February 13, 2019
Full of raspberry marshmallow buttercream and the intensely tangy flavor of freeze-dried raspberries, these cookies are elegant, comforting, and delicious.
Makes: 15-20 cookie sandwiches
Prep time:
Cook time:
Ingredients:
1 cup (2 sticks, guys) of unsalted butter, divided and at room temperature
1 cup of white sugar
1 egg plus 1 egg yolk
1 tsp of vanilla extract
2 cups of all-purpose flour
1/2 cup of cocoa powder
1 tsp of baking soda
1/2 tsp of kosher salt
1/2 cup of buttermilk (or, scant 1/2 cup of milk with 1 TBSP of lemon juice added in and left to sit for 5 minutes)
1/3 cup of boiling water
1 8 oz. container of mashmallow fluff
2-3 cups of powdered sugar
1-2 oz. of freeze-dried raspberries, divided
Instructions:
Preheat the oven to 450, and line two baking sheets with parchment paper. I konw, it seems like a super high temperature. Trust me.
In a stand mixer fitted with a beater attachment or a hand mixer, beat 1/2 cup (aka one stick) of butter with the white sugar until smooth and fluffed.
Add in the egg, egg yolk, and vanilla and mix until nice and smooooooth.
Meanwhile, in a medium bowl, combine the flour, cocoa powder, baking soda, and salt, and stir to evenly combine.
Alrighty. Get that dry stuff you just put in a bowl, your buttermilk or fake buttermilk, and boiling water, and set it all down near your mixer situation. The next few steps go fast.
Take a look at your dry ingredients and try to imagine what a third of that would look like. Dump what you've imagined into your mixer, and mix until just combined.
Now add the buttermilk, and mix until combined.
Now add another third of the flour mixture, and mix until combined.
Now add the water, and mix until combined.
Annnnd finish it up with the rest of the dry ingredients, mixed until combined. Whew.
Spoon cookies onto the prepared baking sheets using a spoon or a cookie scoop. Normally, I'd be all "screw the corporations! Use a spoon!" but here, I think shape matters. So maybe go the cookie scoop route.
Bake for 6-8 minutes, or until tops are slightly puffed. Cool for a few minutes on the baking sheet, then move to a cooling rack and let cool completely while you make the icing.
Make the icing (see how easy that transition was?). Using your In a stand mixer fitted with a beater attachment or a hand mixer that you've hopefully washed out by now, beat the remaining stick of butter, marshmallow creme, and powdered sugar together until smooth. Add about half of the bag of freeze-dried raspberries, and beat until they've turned everything they touch pink.
When the cookies have cooled, spoon or pipe about 2 TBSP of icing onto the bottom of a cookie, then top with another cookie of roughly the same size. Roll in the remining freeze-dried raspberries, and stuff your face.
PST! This recipe contains Amazon affiliate program links. Thanks for your support!