Easy Apple Tart
I love a good marathon baking session. I love hunting down old recipes that are bound to be fiddly, like Mary Berry's French Apple Tart recipe or Nigella Lawson's latest tarte tartin triumph. I love using every dish in the kitchen, getting down in the weeds converting grams to cups, and spending a whole day on something delicious. This is why I do what I do. I'm crazy.
But you know what? Lately, I've been EXHAUSTED. All the time. And while that marathon baking session still sounds great in my head, TBH, I'm definitely not making an apple pie this weekend. Or any weekend soon. It's just not going to happen (especially not while I'm busy re-reading the Harry Potter series for the umpteenth time).
So, last night (yes! On a weeknight!) I made this instead. I thought about naming it something clever — it does have maple in it, after all, and lots of yummy spices —but part of what's great about this apple tart recipe is exactly what it says in the name: it's easy.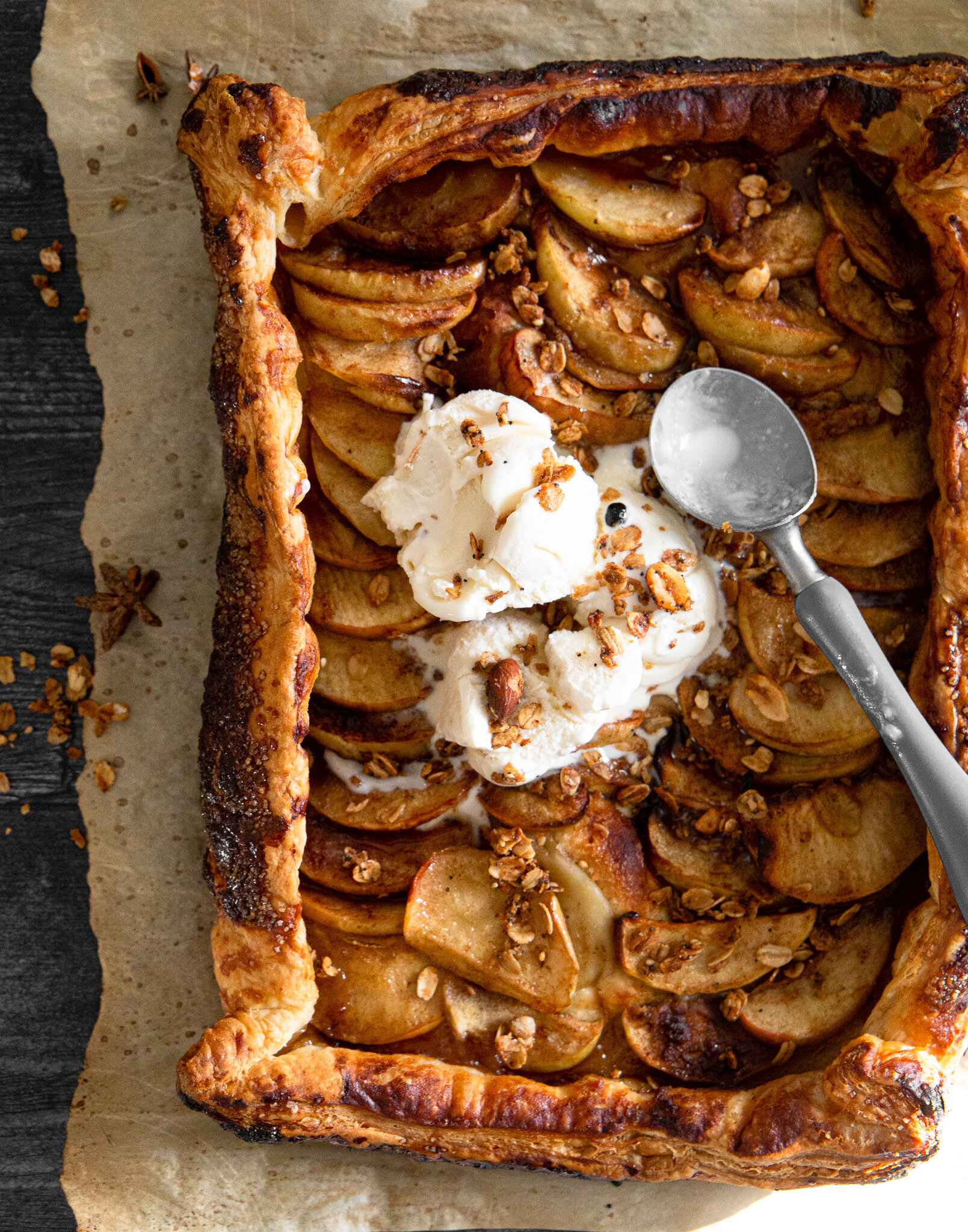 Easy, maple-y, spiced simplicity.
Easy Apple Tart
  By
Page & Plate
,  March 9, 2019 
It's may be as easy as 1-2-3, but this tart is a treat fit for fall company, especially when you get some ice cream melting on top.
Makes: 10 servings
Prep time:
Cook time:
Ingredients:
3 apples, cored and sliced thinly
1/2 cup of brown sugar
3 TBSP of maple syrup
1 tsp of vanilla extract
2 tsp of ground cinnamon
1 tsp of ground ginger
1 tsp of ground nutmeg
1 sheet of puff pastry
flour, for dusting (if needed)
Instructions:
Preheat your oven to 425, and find a sheet tray. Hold on, folks. This goes fast.
In a large bowl, mix the apples, brown sugar, maple syrup, vanilla extract, and spices until the apples are evenly coated. Set aside.
Roll out the puff pastry until roughly the size of the sheet tray, then transfer it to the sheet tray (don't forget to do this before you fill the apples up!).
Leaving a nice two inch gap on all sides, layer the apple slices in a nice-ish manner. you can invest a lot of time in making them look nice or you can invest a lot of time in reading Harry Potter. I opted for the latter.
Fold up the edges, and bake that baby for 20-25 minutes, or until a deep, golden brown.