Vegan Banh Mi Sandwich
Now that I'm working at home full-time, making lunch is something I'm trying to do better. After all, if I have a whole kitchen at my disposal, there's no excuse for shoveling a half of a bag of pita chips and a tub of hummus in my mouth at my computer anymore (no hate though — one of my all-time favorite hobbies). Lucky for me, I stumbled upon KPOP Foods, a company that focuses on bringing Korean flavors to the American table.
I don't eat a lot of banh mi. (Obviously. It's a meat sandwich.) But ever since I first Googled "what is banh mi?", I've loved the idea of a sandwich that's elevated by pickled vegetables, fresh cilantro, and a seasoned-within-an-inch-of-its-life star of the show. It's the perfect example of a recipe that knows its weak points and has all of them covered. Baguette roll seem like too much bread? Yeah, that's why we gave you a nice spicy filling. Spicy filling too much for you? That's why we added pickled veggies to cut through the fat. Too much sour from the pickled veggies? We thought of that too, dummy. That's why we threw in some cilantro. A banh mi sandwich might actually be the perfect sandwich. Except of course for adult grilled cheese. Hmm. Lemme think on that one.
Anyway, back to the part that makes it vegan: by using the sauces from my friends at KPOP Foods, I was able to make tempeh taste like over-seasoned pork. Best of all worlds? Checkeroni.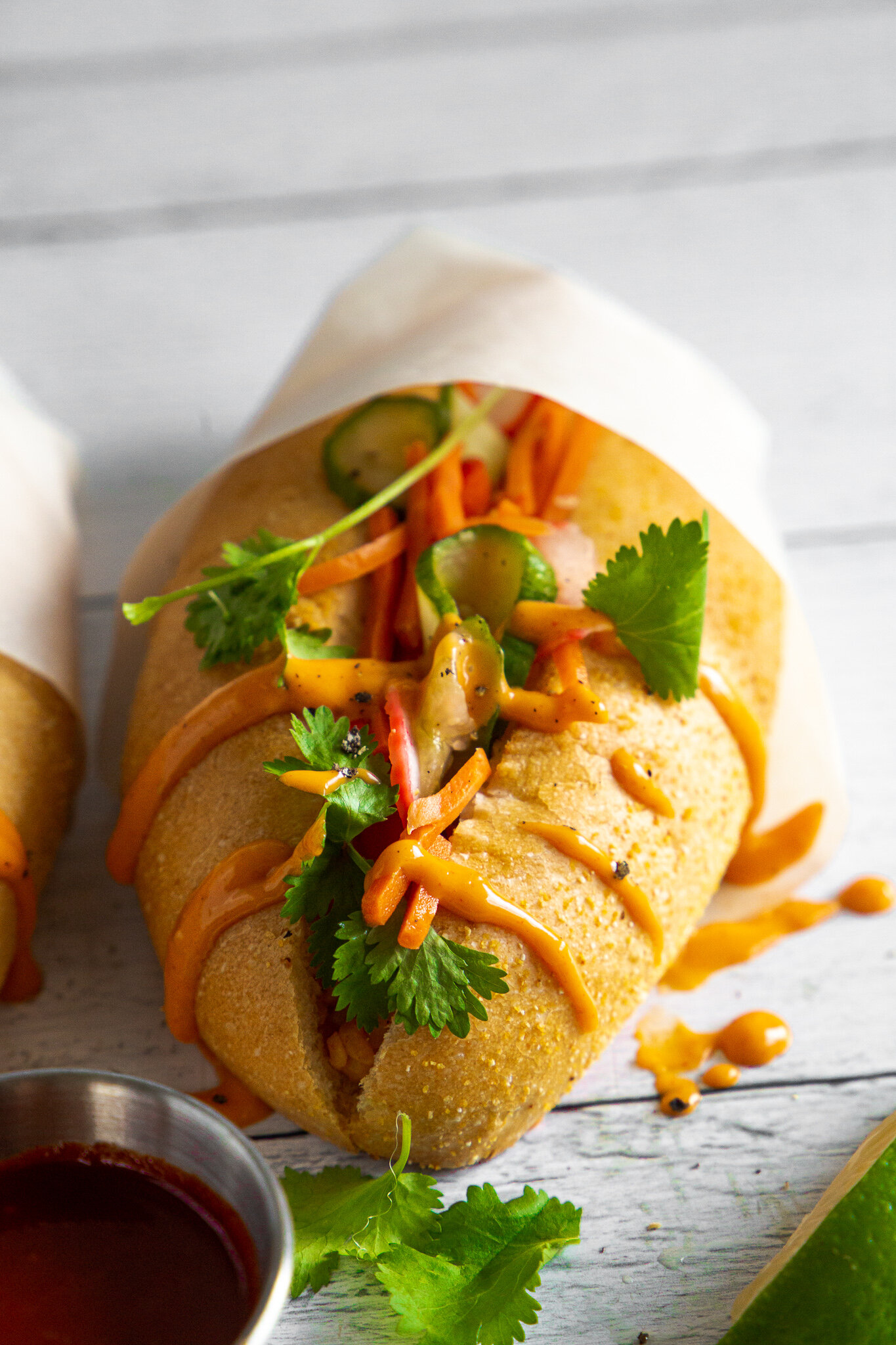 Packed with flavor and low on effort.
Vegan Banh Mi Sandwich
  By
Page & Plate
,  October 3, 2019 
Quick-pickled veggies, a burst of fresh cilantro, and flavor-backed tempeh make this sandwich an easy winner.
Makes: 4 sandwiches
Prep time:
Cook time:
Ingredients:
1 cucumber, sliced thinly
1 cup of shredded carrots
5 radishes, sliced thinly
1 cup of rice wine vinegar
2 TBSP of mirin
1 tsp of salt
3 TBSP of sesame oil
10 oz. of tempeh
2 TBSP of fresh ginger, grated
3 cloves of garlic
1/3 cup of KPOP Sauce
4 baguette rolls
fresh cilantro
Instructions:
Step one is to not be intimidated by this list of ingredients! You can do this; I promise. Let's start with something easy and make some pickled vegetables. Combine the cucumber, shredded carrots, and radishes in a large Mason jar and top with rice wine vinegar, mirin, and salt. Set aside. Whew! Step one is done.
In a medium skillet, warm the sesame oil over medium heat. When shimmering, add the tempeh. Use a wooden spoon to break it up until it's roughly the same texture as ground beef.
Cook for about three minutes, until starting to brown, then season with ginger and garlic.
When you can really smell the ginger and garlic, add the KPOP Sauce, stir to combine, and remove from heat. Taste, and adjust seasoning with salt and pepper if necessary.
Time to ASSEMBLE: cut the baguette rolls in half down the middle. Add the tempeh mixture, then top with pickled vegetables, fresh cilantro, and KPOP Kimchi Mayo. Ta-freakin-dah.
PST! I created this recipe for KPOP Foods as a part of my ongoing relationship with the company. If you like what you see and are interested in working together to create some awesome recipes, snap some beautiful photos, or learn more about social media for food brands, hit me up at laura [at] pageandplate.com!