Chipotle Cashew Dip for a Tacocuterie Board
I'm about to rock your world. Hear me out, okay? Charcuterie boards are great. Allllll the rage for the trendy party you resolved to throw in 2019. They're beautiful, tasty, and customizable. What more could you want?
I'll tell you. I'll tell you EXACTLY what more you could want. You could want the same concept — a gorgeous spread of different tastes, colors, and textures, but made with TACOS. Think about it. You have dips, toppings, fillings, etc. You have colors. You have flavors. You have all the things to make your next party the one that people are talking about in 2020. First, make the tacos, then make the arguably most important part (the dip). Finally, compile the board. YOU ARE A GENIUS.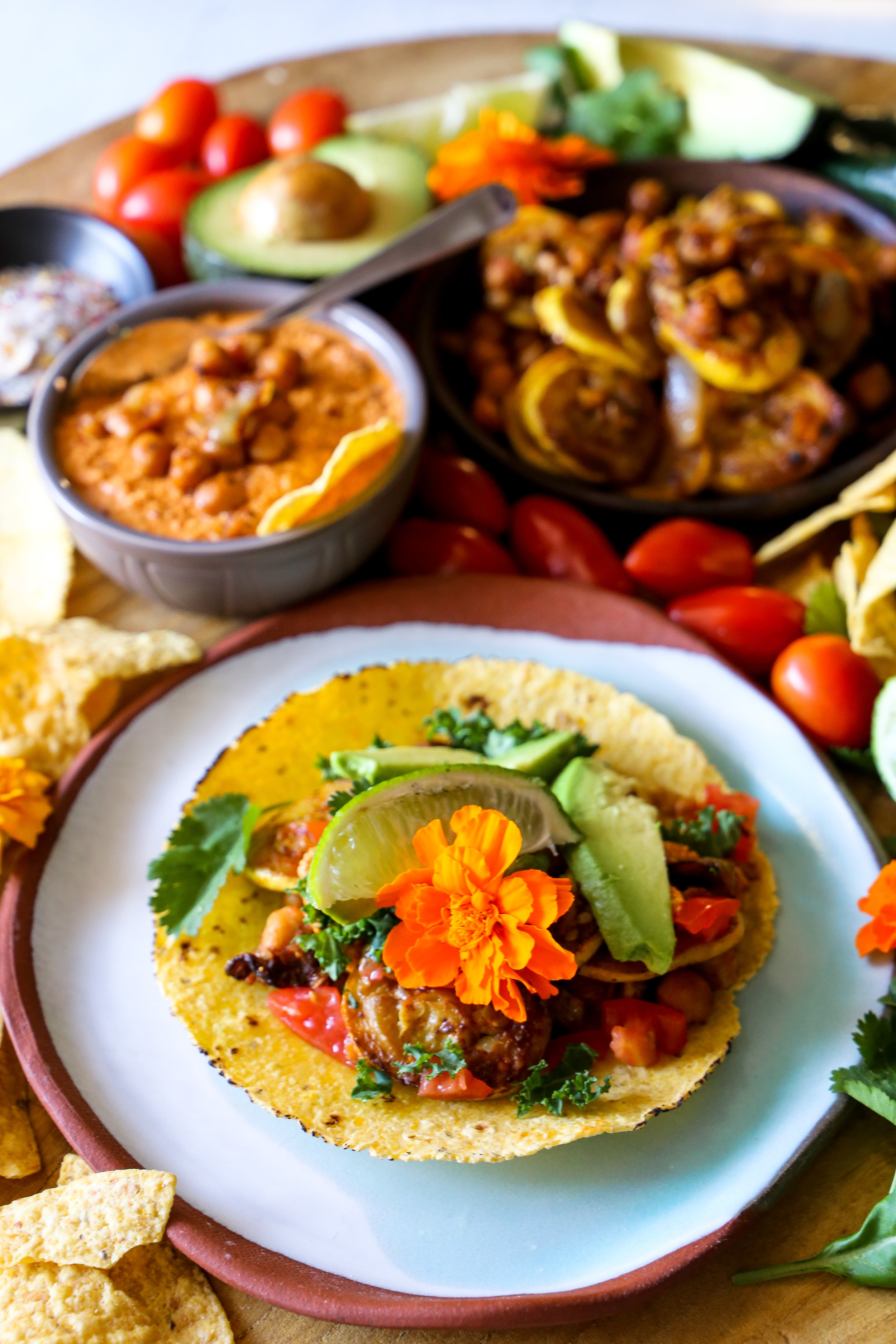 Smoky vegetables in a spicy sauce make the perfect substitution.
Smoked Veggie Tacos
By
Page & Plate
, January 20, 2019
I love tacos, and I think it's crazy that so few places offer a genuine effort vegetarian taco. (BIG & littles, I love you.) The key to these bad boys is two-fold: using multiple vegetables to get a nice blend of textures and flavors and dousing it all in Savory Spice Shop's barbecue sauce. Top with cilantro and lime, and you've got an instant way to resurrect summer.
Makes: 6 servings
Prep time:
Cook time:
Ingredients:
3 TBSP of vegetable oil
1 white onion, diced finely
2 medium shallots, sliced thinly
2 yellow squash, sliced thinly
3 cloves of garlic, minced
salt and pepper, to taste
1 tsp of smoked paprika
1 tsp of chili powder
1 15 oz. can of chickpeas, drained and rinsed
2 TBSP of light beer, optional (I think this adds another level of that wonderful, barbecue-y taste, but if you're not the kind of person who opens a beer to cook with and then finishes it for your own drinking pleasure, I'd say forget it.)
2 cups of corn (either from two ears that you cook and shear or from a can)
1 cup of Savory Spice Shop's barbecue sauce(almost all flavors work here, so pick your favorite!)
taco shells, cilantro, lime, and sour cream for serving
Instructions:
Put a nice large saute pan with about two TBSP of vegetable oil in it over medium heat. When the oil is shimmering, add the onion and shallots and saute until glistening.
Add the yellow squash, garlic, spices, and chickpeas when the onion has started to sweat (and probably you have to, TBH). Stir to give everything a fair chance at deliciousness, then turn the heat down and feel free to neglect the pan for the next ten-ish minutes.
When you come back from your few minutes of neglect, give everything a nice stir and add the optional beer to deglaze. If you're not on the beer train, that's fine. Stay with me.
Either way you're rolling, add the corn and then the barbecue sauce. Stir this in well, please.
Turn the heat all the way down to low, and let the sauce reduce into the veggie goodness for a few minutes. (For me, this is as much time as it takes to quarter a lime, cut some cilantro, and lay out the taco shells and all that other goodness. We are not a sour cream family.)
Now, go make the dipping sauce of all dipping sauces.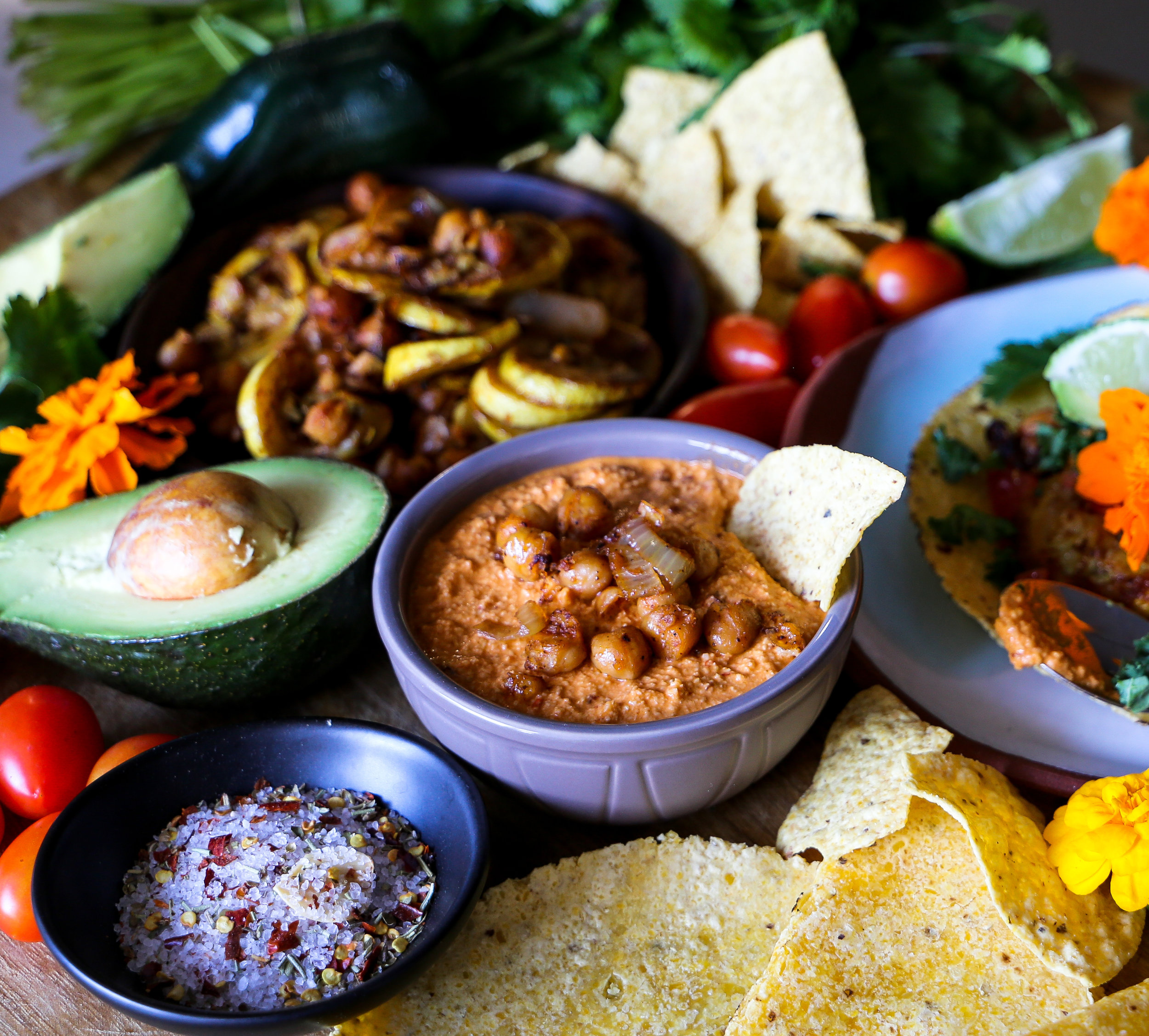 Chipotle Cashew Dip
By
Page & Plate
, January 20, 2019
You have to decide you want this smoky, cheesy dip about two hours before you make it, but trust me: it's very worth it.
Makes: 6 servings
Prep time:
Cook time:
Ingredients:
8 oz of raw, unsalted cashews
3.5 oz of canned chipotle peppers in adobe sauce (roughly half of a can)
1 tsp of salt
2 TBSP of fresh lime juice
Instructions:
Add cashews to a medium bowl, then pour about two cups of boiling water over them. Set aside to soak for at least two hours, until the water has completely cooled and the cashews look like I do when I finally drag myself out of the shower.
Drain the cashews and add them to your favorite food processor (mine is here). Blend until smooth, about three minutes. Usually, I add a tablespoon or two of water here to help things get extra smooth.
Add the chipotle pepper, then blend again until everything is a gorgeous color of orangey red that usually indicates your tongue is about to be burned off.
Add the lime juice, then blitz again. Take a taste, then adjust. Perfect? Good. Now go make the best tacocuterie board of your life.
The next big thing. Take my word for it.
Compiling a Tacocuterie Board
Grab:
Vegan tacos
Taco shells and chips, either or both
Grape tomatoes, halved
Avocados, peeled, pitted, and sliced thinly
Fresh cilantro
Limes, sliced
That chipotle cashew dip you just made
Your favorite charcuterie board that's about to get a makeover
Go:
Give your board a good wipe down to make sure it's clean.

Start with the bowls containing the taco insides and the chipotle dip, then fill in the rest of the board with elements to create the PERFECT taco.

Put it in the center of your party and wait for the praise to start rolling in.
This post contains Amazon affiliate links. Thanks for supporting Page & Plate!