Chocolate Hazelnut Pavlova and L'appart
We're going to try something new today, folks. Just like David Lebovitz did when he moved to Paris. Just like whoever did when they decided that leaving a meringue in the oven overnight was the best way to cool it. Today's post doesn't contain any links to other pages or re-routes to a different part of the site. As of today, everything is right here in one place for your convenience. Don't want to read my witty banter with myself before you see dessert? Skip it. Don't want to trudge all the way through a recipe for your new favorite dessert? Fast forward to the book review. Let me know what you think!
We're eleven days into a brand new year. I propose that you celebrate that today by making a dessert that looks like a million bucks but actually only has seven ingredients and by treating yourself to a charming book about the trials and tribulations of buying a house in Paris (as much of an oxymoron as that may seem).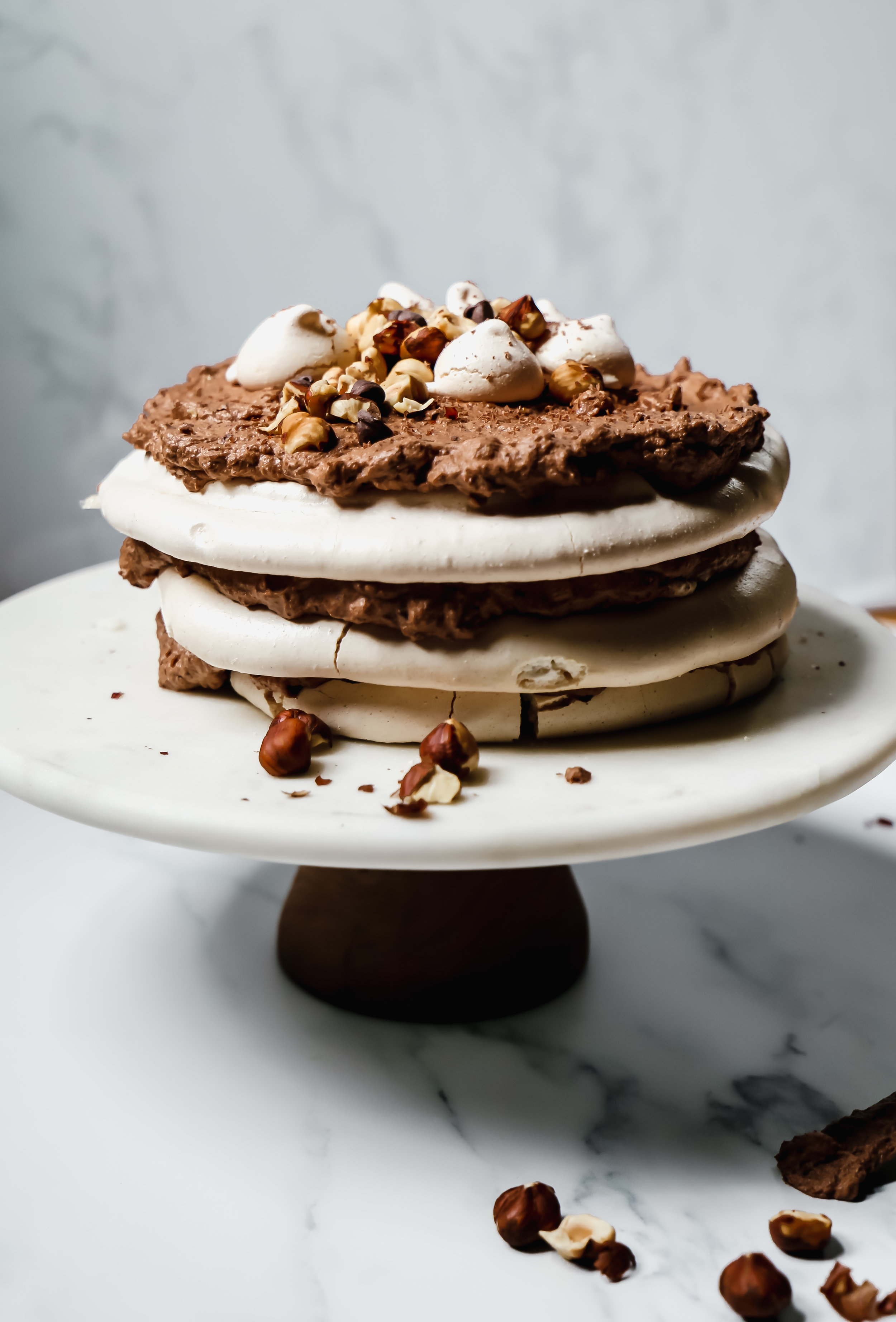 Chocolate Hazelnut Pavlova
From Mammaw comes greatness.
Chocolate Hazelnut Pavlova
This recipe comes to us from the pages of a cookbook that my Mammaw hand typed and handed out to friends and family. I know, right? It's almost like I get it from my family. Her recipe is slightly simpler than this one in that it only uses the meringues and crushed Heath bars. I love that version, irreverently dubbed "cow patty cake" more than I can say, but I wanted to cut down on the sweetness. Solution? Adding dark chocolate into the whipped cream and subbing Heath bars for hazelnuts. Yum.
Makes: 10 servings
Prep time:
Cook time:
Ingredients:
6 egg whites
1/2 tsp of cream of tartar
1 vanilla bean, scraped (use the insides, not the sad, used bean shell)
1/2 tsp of salt
2 cups of sugar
1 pint of heavy whipping cream
7 oz. of dark chocolate, melted
1/2 cup of hazelnuts, roasted and crushed, plus a lil bit extra for garnish
Instructions:
Get your trusty stand mixer and whisk attachment (or handheld mixer!) ready. Line two baking sheets with parchment paper onto which you've sketched a nice, nine-ish-inches circle in pencil and then flipped over. You may as well also preheat the oven to 250.
Add the egg whites and cream of tartar to the bowl, then whisk for about five to seven minutes, until soft peaks have formed.
Add the salt and scraped insides of the vanilla bean, then begin adding sugar about a quarter of a cup at a time while whisking.
After all of the sugar is adding, keep whisking until stiff peaks have formed. "EXPLAIN," you demand. Turn the mixer off, then take the whisk attachment off of the machine. Hold it perfectly straight upside down (meaning the part that connects to the mixer is on the bottom). Does the meringue hold its beautiful, bendy shape? If so, you're ready to go. If not, keep trekking.
There are two ways to get that meringue into the circles that you drew on the parchment paper way back in step one (you flipped it over so the pencil lines are on the bottom, right?). You can either just plop that meringue into the circle outlines using a spatula or you can pipe it in using a disposable piping bag filled with meringue. It's totally up to you. This is like a Choose Your Own Adventure book, except at the end, you have dessert.
Once your meringues are in roughly circular shapes on baking sheets, pop them in the oven for an hour. DO NOT open the oven door after this has happened. Just don't.
Okay, here's the deal. You can either turn the oven off WITHOUT OPENING THE DOOR and leave it like that overnight, or you can turn it off WITHOUT OPENING THE DOOR and wait about six hours until the oven has completely cooled to open it. I usually go the overnight route, because if you think I have the patience to wait for something over six hours, you obviously don't know me very well.
So, next day: open the oven up and grab those meringues. Wow! How cool is that? You did a thing that they do on The Great British Baking Show!
Now go make your whipped cream. In that same trusty mixer using that same trusty whisk attachment (or using the handheld mixer!), beat the heavy whipping cream until stiff peaks have formed.
Drizzle in the melted chocolate while still beating. Beat until incorporated, then use a spatula to fold in the roasted chopped hazelnuts.
To serve, layer the meringues and whipped topping GENTLY onto a serving plate. Top pavlova with extra hazelnuts and chocolate shavings.
Plot: David Lebovitz, chef, writer, generally talented human, decides to make the City of Lights (aka PARIS) his full-time home. After years of renting, he decides he hasn't had enough and, gulp, makes the leap to homeowner.
Thoughts: David Lebovitz is one of my favorite bloggers. He's funny, down-to-earth, and unforgiving in his quest for the pure enjoyment of life. So when I saw this book at Unabridged Books in the lovely Lakeview neighborhood of Chicago, how could I not buy it even though I had resolved to stop buying so many damn books when I have such a long list at home waiting desperately to be read? Too much information? Nah.
Seriously though, reading about literally anyone else complaining about buying a house in Paris would send me into conniptions. I mean, how DARE you complain? But somehow, David's wry and skillful writing kept me from turning green with jealousy and even had me ROOTING for him to get that apartment and get it into shape. Was I searching for real estate in Paris on the side for the majority of the book? Most definitely. Was I sure that, using his book of mistakes as a guide, I could make the move in a much smoother manner? You bet. But his genuine writing, general good nature, and convincingly nightmare-ish renovation tales did enough to satiate my taste for the ex-pat life while keeping my ambitions at bay.
Verdict: I wasn't expecting to enjoy this book as much as I did. It's simply charmant (which, for those of you unaware, means charming). Get a copy for you or your resident francophile here.
Pst! This post contains Amazon affiliate links. Thanks for supporting Page & Plate!