The Ultimate Chocolate Chip Cookie Recipe and Six Four
As I think we all know, I have some obsessive tendencies when it comes to cooking. When I get into cooking or eating something, I get REALLY into it, and I have been known, occasionally, every so often, to go a tiny bit overboard. Most recently, I double-whammied and obsessed over chocolate chip cookies and true crime.
My (most recent) deep dive into true crime got started with a crash course on the podcast My Favorite Murder. If you're not familiar and even the tiniest bit into true crime, run, don't walk. I know I'm a little late to the game here, but trust me, this is definitely a case of the better late than never. But alas, this blog isn't about podcasts, it's about books, and so, with MFM playing in my ears, I turned to my bookshelves for a true crime novel I had yet to read.
I found it in Six Four, which won the Best Japanese Crime Fiction of the Year in 2003. While I thought it leaned a little more towards a political drama than crime fiction, it satisfied my craving for a gritty police novel with mystery, intrigue, and, yes, crime. I'm betting it'll someday become an HBO mini-series starring lots of cigarettes. You heard it here first.
Simultaneously, I was also on the quest for the ultimate chocolate chip cookie recipe. And, with the help of my co-workers, who patiently taste-tested and gave feedback during my last week at work, I found it. This is a recipe worth memorizing, if I do say so myself.
If you read that last paragraph carefully, you'll notice that I managed to sneak in a life update: I am officially two weeks into a brand new position about which I'm really excited. As of late July, I'm the Director of Admissions and Community Outreach at the GCE Lab School in Lincoln Park, Chicago. It's been a wild transition, which I'll use as a great excuse for not having posted in a while, and I'm just really, really pumped to be a part of this great new community of learners. If you're in Chicago, or know someone who is, get in touch and let me talk your ear off about this amazing school.
I think that's it for now. More obsessions and updates to come. PEACE, LOVE, COOKIES.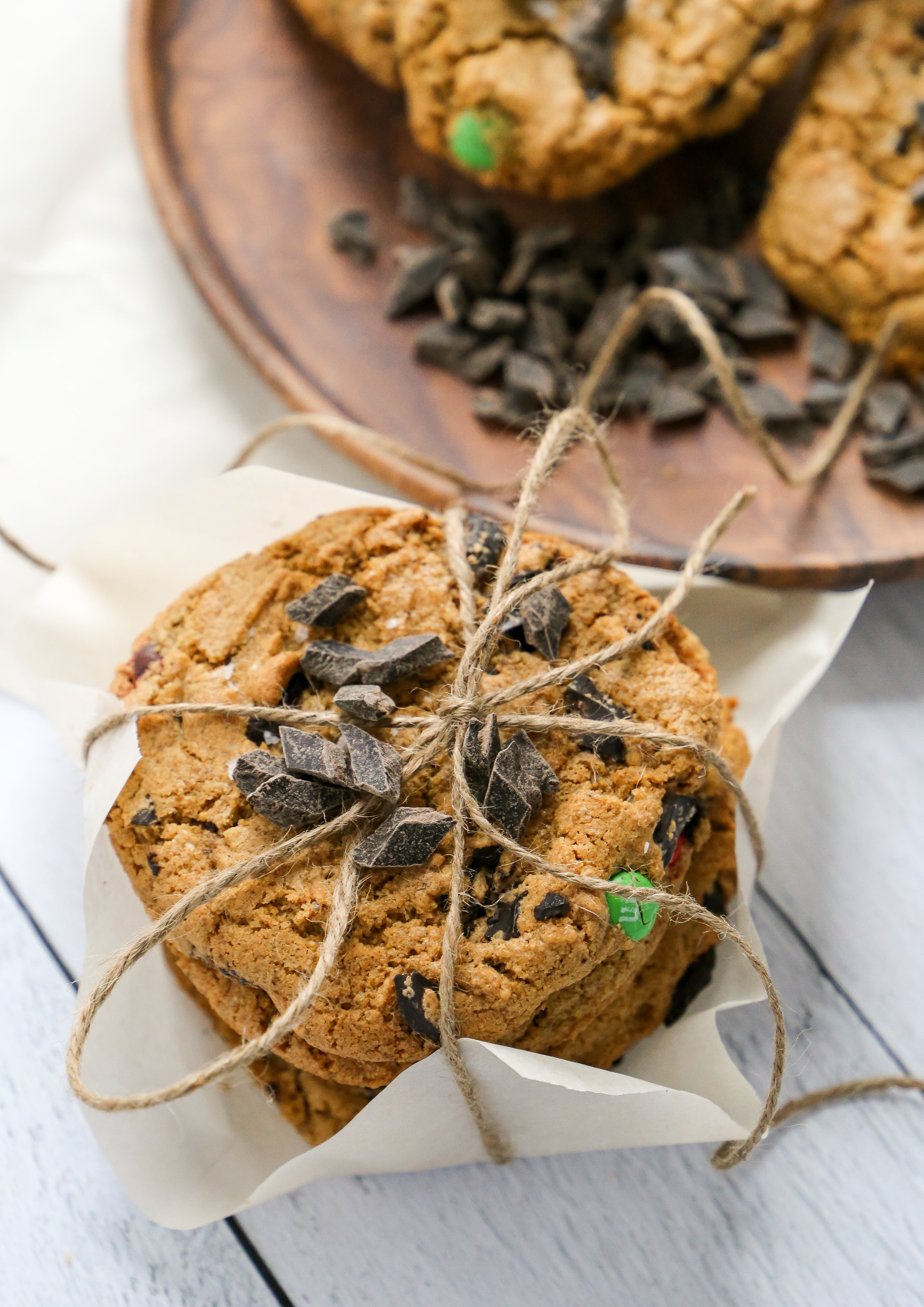 Ultimate Chocolate Chip Cookies
The best, hands-down, no contest.
Ultimate Chocolate Chip Cookies
By
Page & Plate
, August 5, 2018
I'm big on chocolate chip cookies. Huge, soft, over-chipped, warm, and salty. That's the cookie for me. After taste-testing a few different recipes and versions with people who were kind enough to eat a bunch of cookies for the sake of science, here's the definitive best chocolate chip cookie ever.
Makes: 12 enormous cookies or 24 regular cookies
Prep time:
Cook time:
Ingredients:
3/4 cup of unsalted butter
1 1/2 cups of all-purpose flour
1/2 cup of whole wheat pastry flour
1/2 tsp of baking soda
1/2 tsp of sea salt
1 cup of light brown sugar, packed
1/2 cup of sugar
1 tsp of vanilla extract
1 egg plus 1 egg yolk
2 cups of chocolate chunks (I sometimes do 1 cup of choco chunks and 1 cup of M n Ms)
large flake salt for finishing, optional
Instructions:
Preheat the oven to 350 and get your cookie sheets ready. I personally don't line them, but that's more of a me being lazy kind of deal. You do you.
Brown the butter: put the butter in a saucepan over medium-high heat. Stir frequently, then stop when it begins to rapidly bubble and brown. Remove from heat when it's the color of caramel. Set aside to cool. Wow, what a waste of time, you say. What kind of crazy person would do this? You would. Because it's a part of making the best cookie ever.
In a medium bowl, combine the flours, baking soda, and sea salt. Mix, then set aside.
In a stand mixer with a paddle attachment or using a hand mixer, combine the cooled butter and sugars. Beat for about three to five minutes, until light and fluffy. Yes, I time it. No, I don't feel weird about this.
Add the vanilla and the eggs. Beat for another three minutes.
Slowly add the flour mixture to the mixer while on low speed, then mix in the chocolate chips and candy, if applicable, by hand.
Using an ice cream scooper for enormo cookies and a cookie scooper for regular sized cookies, scoop the cookies onto your waiting cookie sheets, then top with a few flakes of the finishing salt.
Bake for between 10-12 minutes, until golden brown.
Enjoy. Brag. Share if you want to cultivate a faithful following.
Plot: A father haunted both by the disappearance of his own daughter and by a yet-unsolved kidnapping case he worked over a decade ago navigates his role in the local police force and another active kidnapping case.
Thoughts: I thought this novel was brilliantly written, and I immensely enjoyed reading it. What I had trouble with, however, was its branding as a true crime novel. Because it is not a true crime novel. It is a novel that breathtakingly unfolds a painstaking drama in a local police department. It was hard for me to separate the expectations that I had for the book from the actual experience.
All that yammering aside, I did enjoy reading it. Six Four was different than anything I've ever read, and I really enjoyed how deeply emotional the story got. It was evocative, poetic, and visceral. Give it a read only if you've got the time (and emotional capacity) to read a 500 page book like that.
Verdict: For the dedicated fans of political dramas, this novel will shine. For the true crime enthusiast, this will be underwhelming. Grab a copy here and see which side you're on.
Pst. This post contains affiliate links. Thanks for your support!