I Was Told There'd Be Cake and Blueberry Citrus Cake
If it wasn't already clear to you, I have a cake problem. I LOVE baking cakes (sometimes, when the time is right, and when the mood strikes me), but I am not the hugest cake fan. I will stare at a cake all day. I will watch videos of a cake being iced until my eyes roll back in my head and pop out of my skull. But give me an entire cake, and I'll make it through a bite or two before asking for a bag of chips.
I consider this lack of passionate love for cake to be one of my greatest character weaknesses, and I understand if this makes you as a reader suspicious of my validity as a baker. (Well, kind of.) BUT, to you skeptics, I offer this short, cake-related rebuttal: Today's blueberry citrus cake has not only grown on me in the last 48 hours, but made a huge splash at the office potluck that I had to bring it back in after I took it home because people FREAKED OUT. You know who you are.
Just look at that beauty. It's no wonder people called it crack cake and made me sign a blood oath to bake it at their wedding. So cake lover or not, get your butt over to that recipe and whip up the cake critics are describing as "the best cake I've ever had" and "no, seriously, did you put cocaine in it?" Answer: no. I'm not that fun.
Speaking of fun though, if you read one book this week, please have it be I Was Told There'd Be Cake by Sloane Crosley. I think you'll snort with laughter and really enjoy it, but even if you don't, she might catch wind of the buzz and want to be my friend, which would really mean a lot to me. Thanks in advance.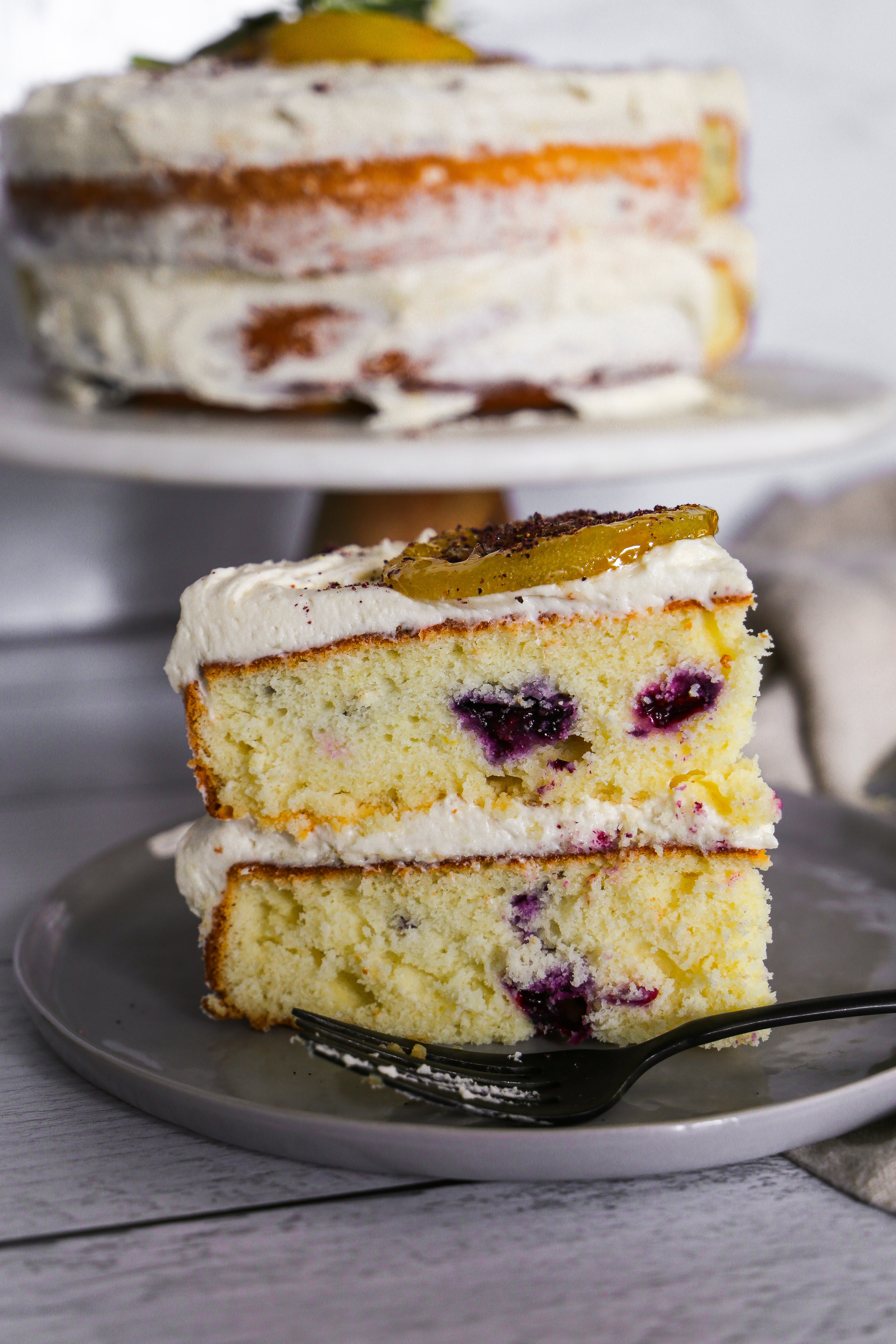 Meet carrot cake's worst nightmare.
Blueberry Citrus Cake
By
Page & Plate
, July 19, 2019
My sister, who is a self-proclaimed cake skeptic, suggested that I make this for the office potluck because it's "bomb af." With a ringing endorsement like that, how could I not? Needless to say, it was a hit, and I'm now committed to baking this for a co-worker's wedding cake. The original recipe comes from Better Homes and Gardens and suggests using a lemon cake mix. I refused on principle.
Makes: 16 slices
Prep time:
Cook time:
Ingredients:
2 cups of blueberries
3 cups of cake flour, plus extra for sprinkling
1 TBSP of baking powder
1/2 tsp of salt
2 cups of unsalted butter, softened and divided
just shy of 2 cups of sugar
4 eggs
1 tsp of vanilla extract
1 tsp of lemon extract
1 cup of buttermilk
1 lemon worth of zest
1/3 cup of orange juice, NO PULP
1 8 oz. block of cream cheese, room temperature
5 cups of powdered sugar
1 TBSP of orange extract
1 orange of zest
Instructions:
Preheat the oven to 350 and grease AND line two 9" cake pans. Do not ignore me on this one, my friend. You will be oh so sorry.
In a medium bowl, combine the blueberries and a pinch of flour. Add the SMALLEST splash of water, then stir to evenly coat. Seem dumb? WRONG. The littlest bit of flour will prevent the blueberries from sinking all the way through the cake batter and creating a sad, burnt layer of blueberry at the bottom of your cake.
Set the blueberries aside, and get another bowl of roughly the same size out. In this one, combine the cake flour, baking powder, and salt, and whisk. Set this aside too.
Get your trusty mixer out, and using the paddle attachment, beat the butter and sugar until pale white and creamy. Fun fact: the longer you beat it (and incorporate more air), the whiter the butter will get.
Add the eggs and extracts, then beat again until creamy and smooth.
Add the flour mixture slowly, then beat in the buttermilk, lemon zest, and orange juice until just combined.
Split the batter between the two pans. Top with the blueberries. Tap on the counter a few times to get those pesky air bubbles out.
Bake for 40 minutes, or until golden brown and a cake tester comes out clean. Cool completely before icing.
Make the icing: in a mixer with a paddle attachment or using a hand mixer, whip the butter and the cream cheese until smooth.
Add the powdered sugar slowly, then add the extract and the zest. Whip for a good five minutes, until puffy.
ASSEMBLY TIME. You know the drill by now: dab of icing, cake layer, icing, cake layer, icing on top and on the sides.
Garnish with candied lemon and fresh blueberries. Also, mint if your mint plant is still alive. Mine is not.
I Was Told There'd Be Cake
Plot: Sloane Crosley's essay collection examines the life of a 20-something with a collection of plastic ponies, a high alcohol tolerance, and low expectations in New York City.
Thoughts: I love this book. I love it so much that I lent it to someone for a year, and when I finally got it back, it was like being reunited with a long-lost, low commitment friend. And when I started to read it again, I was just as delighted as I was reading it the first time.
Crosley's essays are weird. They're bizarrely funny. They're like David Sedaris if David Sedaris was a young woman living in New York City. They're like calling and chatting with your best friend who lives far away, if your best friend who lives far away locks herself out of two apartments in one day and then has to deal with a sassy locksmith.
The standout essay in this collection is "You on a Stick," which describes Crosley's experience serving as the maid of honor for a long-lost high school acquaintance (to use the word friend would ruin the essay).
Verdict: Read it, then buy it for your friends. Get it here.