Guinness Cupcakes and Ireland
"What kind of crazy person doesn't post a recipe for Guinness cupcakes on St. Patrick's Day?" you ask. "ME BECAUSE I SAVED THEM FOR AN EVEN BETTER OCCASION WHICH IS ABOUT ME AND NOT A DEAD SAINT, YA LOSER!" I reply, totally calm and not at all over-caffeinated*.
The better occasion (obviously, because today's book is literally sub-titled Small-Town Itineraries for the Foodie Traveler) is that we're going to Ireland! And by we, I mean Colin and I! Not me and you, reader! Sorry! Although wasn't that clear? MOVING ON.** I went there last year for a way-too-fast four day visit with the bro (who had just finished a whole semester abroad there) and the sis (who had just finished freshman year finals, just as exciting), and it was great but, as mentioned, way-too-fast.
So, in honor of our impending trip, I baked Guinness cupcakes (and no, this post was not sponsored by Guinness, no matter how it may look) for you to also make, INCLUDING a video yay, and now I'm asking YOU for advice. We're spending time in Dingle, Galway, and, of course, Dublin. What should we do? What shouldn't we do? Where's the best place to grab a pint? WHERE SHOULD WE EAT?! Don't let me down, people.
*I am so over-caffeinated that you wouldn't believe it.
**Again: SO MUCH COFFEE.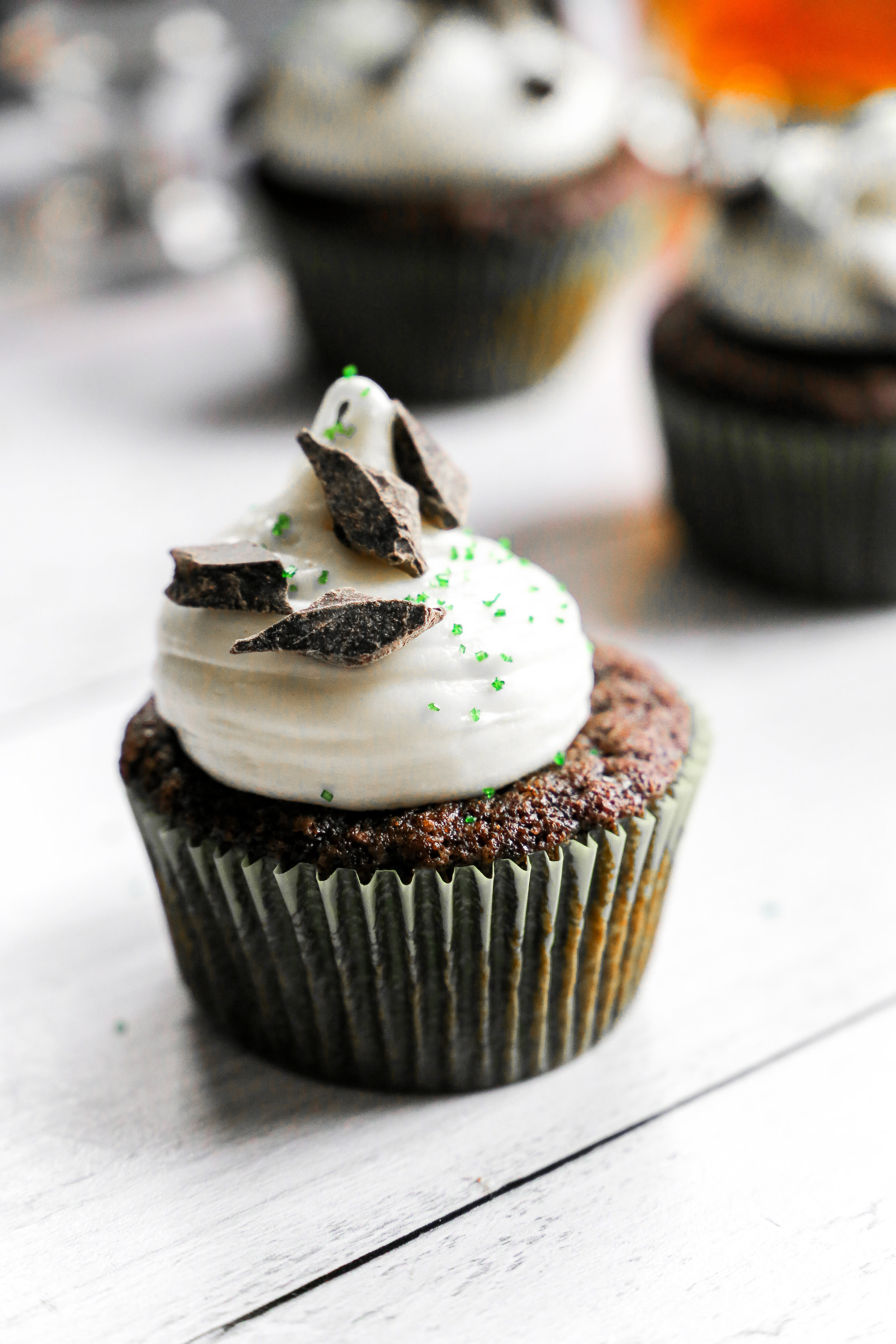 Guinness Cupcakes
By
Page & Plate
, May 3, 2018
I will never make plain chocolate cupcakes again. I'm not a cake person in general, but something about the way the Guinness makes the chocolate shine has converted me. Oh, and I made a video. Yay!
Makes: 20 cupcakes
Prep time:
Cook time:
Ingredients:
1 cup of unsalted butter plus 1/2 cup for icing, softened
1 cup of Guinness or your stout of preference
3/4 cup of cocoa powder
2 cups of all-purpose flour
2 cups of sugar
1 1/2 tsp of baking soda
1/4 cup of sour cream or high-fat Greek yogurt
2 eggs
16 oz of cream cheese, softened
3 TBSP of whiskey
4 cups of powdered sugar
Instructions:
Preheat the oven to 375, and put cupcake liners in a tin. Set aside.
In a saucepan over medium heat, melt the butter, Guinness, and cocoa together until just simmering. Stir to combine, then cool.
Meanwhile, combine the flour, sugar, and baking soda in a large bowl. Set aside.
In perhaps the largest bowl of all (this is why I don't make a lot of cakes, people), whisk together the sour cream and the eggs, and...yes, set aside.
Pour the cooled chocolate mixture into the sour cream and egg mixture, then whisk to combine.
In three parts, add the dry ingredients and mix until just combined.
Scoop batter into tin, and bake for 15-17 minutes.
Icing time! In a stand mixer or in a large bowl, whip the butter and the cream cheese together. Add the whiskey and mix to incorporate.
A cup at a time, add the powdered sugar and whip. You may need to thin with a tiny bit of milk or you may need to add more sugar to make your icing thicker. It's a toss up every time.
Using a piping bag (or a regular old Ziploc that you pluck of out anonymity and into stardom), ice the COMPLETELY COOLED cupcakes. If you want melty cupcakes, you can ignore my advice.
Sprinkles if you're fun!
Ireland: Small Town Itineraries for the Foodie Traveler
Plot: In the Little Roads Europe Travel Guides, Zeneba Bowers and Matt Walker take travelers away from the classic tourist traps and into small towns to find the best shops, worthwhile attractions, and, most importantly, places to grab an authentic bite.
Thoughts: Mostly what I've been thinking as I page carefully through this book is that I really should've booked a much longer trip so that I could literally follow every itinerary in this book step-by-step. Because these people really speak my language.
The book illustrates routes that each explore a different region of the country and recommends unique, adorable stops along the way. Again, a lot of these stops focus on food (like an out of the way chocolatier that I will probably never want to leave). Yes, this is the perfect book for me, and yes, my mom got it for me because she is the best gift giver ever.
Verdict: Super unique perspective on traveling in a very cute book. Get your copy here. And if you want to read what we ended up actually doing, check out my Big Ireland Download here.
Pst! This post contains affiliate links. Thanks for supporting Page & Plate!