Chocolate Soufflé and The Twelve Lives of Samuel Hawley
A wise woman once said "The best things in life are not planned." That woman was actually a Dove Milk Chocolate Wrapper. Mind. Blown. I love planning, as previously discussed, but recently I've been trying to embrace spontaneity more because sometimes, as many to do lists and meal plans as you make, there are some nights when you really need a chocolate cake and you're going to do anything necessary to make sure that you acquire one. And sometimes, that means realizing you don't have time to make a cake, trudging to the closest World Market after work, buying a mismatched set of ramekins and a bar of dark chocolate, and whipping up chocolate soufflés just five minutes before your guest is due for dinner (more on that later — Friday probs?).
Sometimes it means stopping with a car full of groceries at your favorite neighborhood book store (@ Roscoe Books, lookin' at you) and grabbing The Twelve Lives of Samuel Hawley, which you promised yourself you were going to wait and get out of the library and that you definitely didn't plan on buying. Oops.
"Now, spontaneously hop on over to the review and recipe to get the updated spur of the moment plan for your evening together!" Dove Milk Chocolate Wrapper out.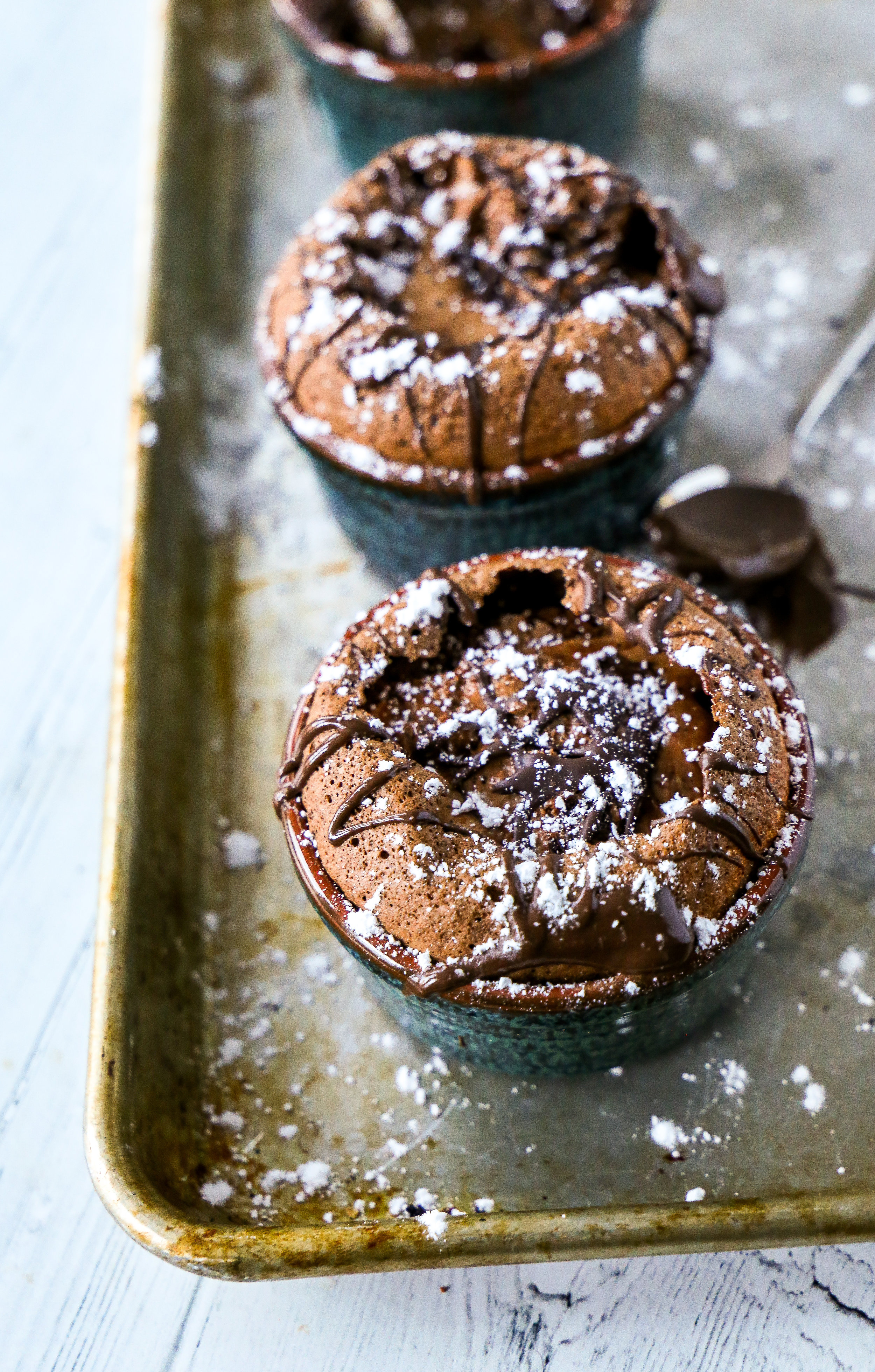 The easiest, fastest, most elegant dessert yet.
Chocolate Soufflé
By
Page & Plate
, February 27, 2018
Okay, here's the thing. Soufflés have a reputation for being THE MOST DIFFICULT thing you'll ever attempt and inevitably fail at making. This is fake news! You can make a soufflé! You can make one right now! Using this recipe inspired by Bon Appétit! In probably less time than it will take you to make dinner! You can even make it dairy free by subbing coconut oil in for the butter. Bam.
Makes: 4 servings
Prep time:
Cook time:
Ingredients:
1 TBSP of unsalted butter, plus extra for ramekin greasing purposes
scant 1/2 cup of sugar, plus extra for dusting the ramekins
7 oz. of 60-70% bittersweet chocolate (you will love yourself for spending the dough on the good stuff)
2 TBSP of coffee (hello leftovers from this morning)
5 eggs, divided into 3 whites and 2 yolks
2 tsp of vanilla
1 tsp of salt
Instructions:
Preheat the oven to 425. The first step to making delightfully fluffy souffles is to grease your ramekins. Coat the insides of the ramekins in the butter, using either the stick, a pastry brush, or your fingers to start from the bottom and swipe up. This sets the example for the batter to rise to new heights. After you've got 'em buttered up, sprinkle some sugar in each ramekin and rotate it to get the sugar to stick to the butter. Set aside.
Put a saucepan of water to boil. When the water is boiling, add the chocolate, butter, and coffee to NOT A MELTABLE BOWL, and hold the bowl above the boiling water and stir until the chocolate melts and is smooth. Set aside to cool.
Add the three yolks and the vanilla to the chocolate mixture, and whisk. Add a tablespoon of water at a time to de-grainify the mixture. Set aside.
In a stand mixer fitted with a whisk attachment or a hand mixer, beat the egg whites until foamy. Add the sugar, increase the speed, and continue beating until stiff peaks have formed.
Gently fold the beaten egg whites into the chocolate mixture, making sure that there are no streaks of white.
Spoon the mixture into the incredibly well-prepared ramekins (give your past-self a pat on the back), and run a knife over the top to smooth out. Run your thumb around the top, then put on a baking sheet and pop in the oven.
Immediately decrease the temperature to 400, and bake for about 13 minutes.
Serve immediately (they deflate after a bit) with ice cream and a huge appreciation for your weeknight cooking skills.
The Tweleve Lives of Samuel Hawley
Plot: Told through the eyes of his daughter, Loo, and the twelve bullet wounds that mark his body, the story of Samuel Hawley unfolds in this beautiful book about family secrets.
Thoughts: This book has been all over my Goodreads and Instagram feeds lately, and now I understand why. It's exciting enough to be classified as a crime story, angsty enough to be a coming of age tale, and well-written enough to seamlessly exist in both of those spheres. Toss that whole story into the charming seaside town of Massachusetts, and you've got a book that had me invested from page one.
The way that author Hannah Tinti chose to intersperse Loo's story with the tales of Hawley's wounds was especially compelling for me. It added a heightened sense of time and consequence to the story, as well as created a really touching duality to Hawley's character, leading up to the climax in which he and Loo become an inseparable team. I'm not saying that I got a little misty eyed at parts, but I got a little misty eyed at parts.
There's a lot going on in this book, but it feels very simple because of how well everything fits together. Though the past and the present blur, the plot of the story remains focused on Hawley and Loo and their fierce love for each other and their history.
Verdict: I hesitate to brand something as universally appealing, but I think this one warrants it. There's something for everyone here. Grab a copy for whoever you're thinking about.
Pst! This post contains Amazon affiliate links. Thanks for supporting Page & Plate!