Caramelized Onion Tart and My Year of Rest and Relaxation
We're almost there. You're almost done shopping, baking, planning, cleaning, decorating, and all other things holidaze. You're. so. close.
But, you're not quite there yet. First, you have to know how to host the perfect party, which, by the way, includes knowing what to feed all of us picky, impossible people who *gasp* don't eat meat. There's nothing worse than showing up to a Christmas dinner at which there's nothing meatless on which to munch. So listen up, all you hosts and hostesses: make something delicious without animals in it. A great place to start would be this caramelized onion tart that you'll swear has bacon cooked into it. (It doesn't, but you could tell Joe who refuses to try something without meat a white lie to get his 2019 diet off to a good start.)
Perhaps the best part of this tart is that you're using pre-made puff pastry, so there's so little work for you involved in this tart that I almost didn't post it. I came around when I finished My Year of Rest and Relaxation by Ottessa Moshfegh. It's all about prioritizing coping, no matter how you do it. The narrator in that book elects to self-medicate with a cocktail of sleeping pills and muscle relaxers. I elect baking, and so should you. Probably Paul Hollywood would say that stress baking doesn't count unless you make your own puff, but this article from The Atlantic makes me feel like any sort of baking will do.
Stay tuned for more recipes for holiday parties, more party recommendations, and more books to read while you're waiting for your eternally delayed flight home. No? Just me? Cool.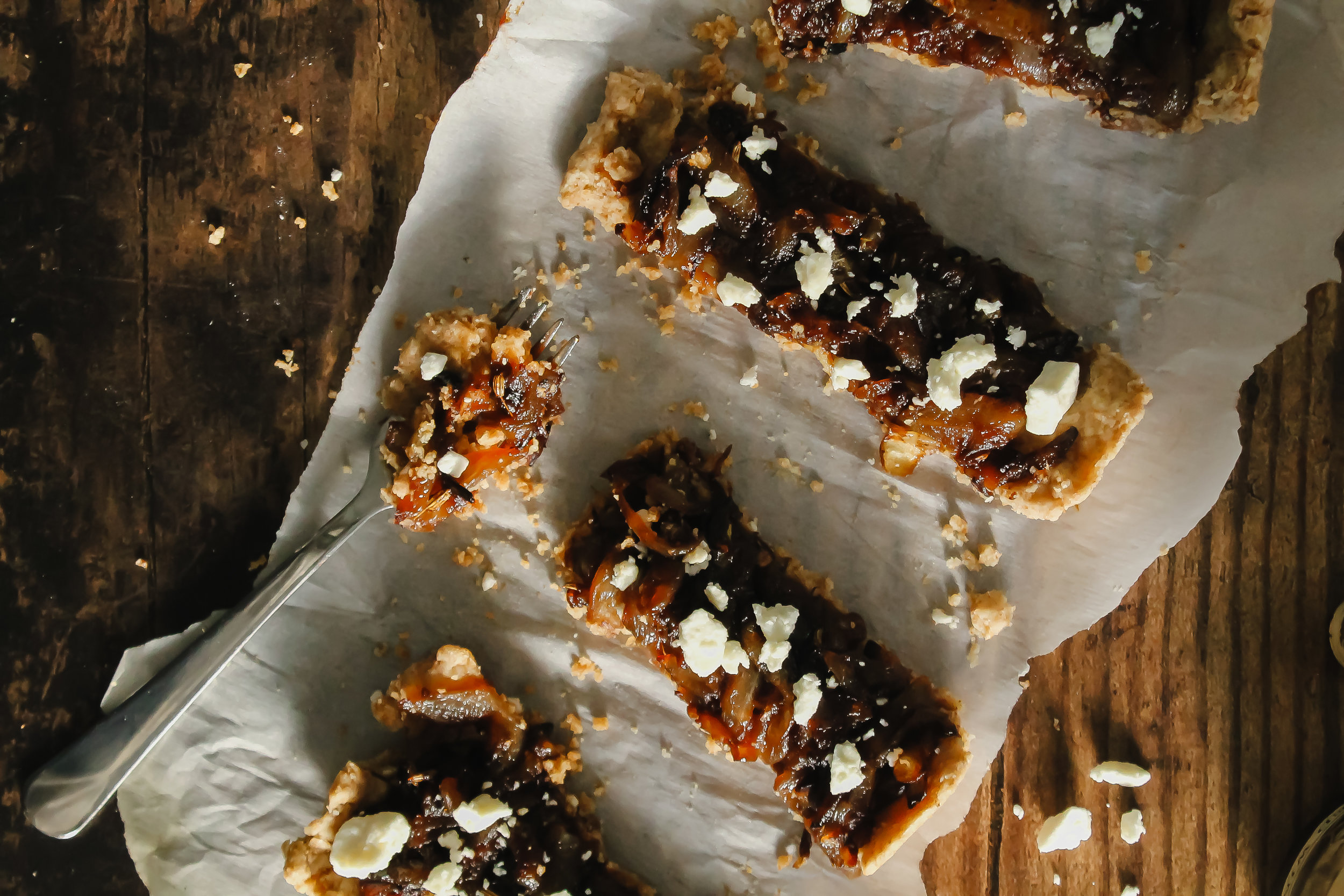 This is the easiest blow-your-mind-good vegetarian dish you can put together in under an hour. It has the taste of a complex, bacon-filled treat but the effort of a pre-made tart. Ta-dah!
Servings: 8-10
Time: 40 minutes, including baking
Grab:
1/2 package of puff pastry (i.e. one of the trifolds of dough. Just one.)
2 TBSP of olive oil
1 TBSP of butter
3 large white onions, sliced into rings
salt and pepper to taste
1 TBSP of fennel seeds
1 TBSP of red wine
8 oz. feta cheese
Go:
Preheat oven to 425. Find the vintage tart pan your mom sent you (thanks, Mom!).

Unwrap the puff pastry and dust with flour. Roll out with a rolling pin to thin it down. Try to make it as square as possible. I know this is an impossible task. Try anyway.

Fit puff pastry into large tart pan (12" or more), leaving some overlap on the edge.

Now, you're going to do something called blind baking. Put some parchment paper over top of pastry, then add rice to prevent excessive puffing. Yes, you can bake rice!

Bake the pastry for 20 minutes, or until sides are golden brown. Take it out of the oven and remove the rice, then bake for another five minutes before pulling it out for good, and then set aside to cool.

In the meantime, find a cast iron pan or medium skillet, and heat the olive oil and butter over medium heat. When it's all hot and foamy, add the onions.

Saute until caramelized, 20-25 minutes. Yes, it really takes this long. Don't skimp.

Season with salt, pepper, and fennel seeds, then add wine to deglaze the onion pan. Stir it around so the onions soak up this goodness.

Top the pastry with onions and feta, then serve warm.
My Year of Rest and Relaxation
Plot: A girl in New York City dealing with her past traumas experiments with medication to give herself a year off from the world.
Thoughts: I wasn't sure what to expect when I was picking up this book, but I definitely thought it was a memoir. After reading it, I'm really, really happy it's not because it would be one messed up memoir.
The whole book is stuffed full of a whole lot of inaction that covers a story of incredible emotional depth. The main character self-medicates herself through a slew of prescriptions written for her by a crazy doctor. Her best friend deals with the sickness and eventual death of her mother by drinking and purging. The most emotionally stable character in the whole book is an artist on the fringe of the story who creates art from dead dogs.
If this sounds beyond your tolerance for weirdness, do me a favor and take a chance here. Brilliant writing pulls you through the story, and the ending is so profound and unexpected that you'll find yourself stunned into flipping back a few pages to make sure you didn't switch books part way through.
Verdict: So clever. So heartbreaking. So weird. Check it out here.