The Ultimate Week-Out From Christmas Gift Guide
I take GREAT pride in my gift giving abilities. I don't mean to brag, but I pretty consistently knock everyone I love off the list early. This year, there was much more of the last minute panic than I like, but I'm happy to say I'm officially done with Christmas presents. I'm going to go out on a limb here and say that if you clicked on this entry, you are not. But don't panic! With just a week to go until the big day, you've still got time. And I've got a guide for allllll of the humans in your life.
Ready, set, GIFT.
For the baker:
Trust me on these recommendations, okay? Number one is a KitchenAid mixer, also known as a hubba hubba machine. Anyone who's actually interested in baking needs one of these on their kitchen counter. We use ours every. single. week, if not every two or three days. It makes us pasta, bread, cookies, cakes, icing, etc, etc, etc. It's the best thing I've ever gotten for Christmas. Shout out to Mom and Dad.
The next item on the list is one that I myself asked for this Christmas. BraveTart: Iconic American Desserts is a cookbook from one of my first baking obsessions, Stella Parks. I wanted this book because Parks is a total genius capable of explaining the science behind the baking and also because I love the idea of making my own classic bakes. TIA to Guy (my brother) who let me pick my present this year.
For the art lover:
Alright. I know I brag about her a lot, but I feel like I've achieved something wonderful by having Caroline of CJB Creations as an artist friend in my life who takes commissions. She does the cutest work for the most reasonable of prices. DO IT. Check her out. Trust me.
For the voracious reader:
If there are two things I can recommend the sh*t out of, it's baking supplies and books. Here's my roundup of the top books I read this year:
For the foodie (who lives in Chicago):
Gift card it up. My current obsessions are Publican Quality Meats, Bad Hunter, and Passerotto.
Alternatively, bring them to my wine pairing class at wineHouse Chicago on January 15 at 7pm. Food + wine = good times.
For the human you know nothing about but are obligated to gift for:
Hah. But yeah, I feel you. My advice here is to stay as impersonal as possible. I know that seems, uh, unfortunate, but the truth is, they'll be so touched that you thought of them at all, they don't even notice. Game plan? Whip up a batch of these gingerbread latte cookies to put in a gorgeous package. Throw in an Amazon gift card. Do a nice bow (my mom is the best bow artist, and she's on Twitter at @hollys_momma for help). Call it a day.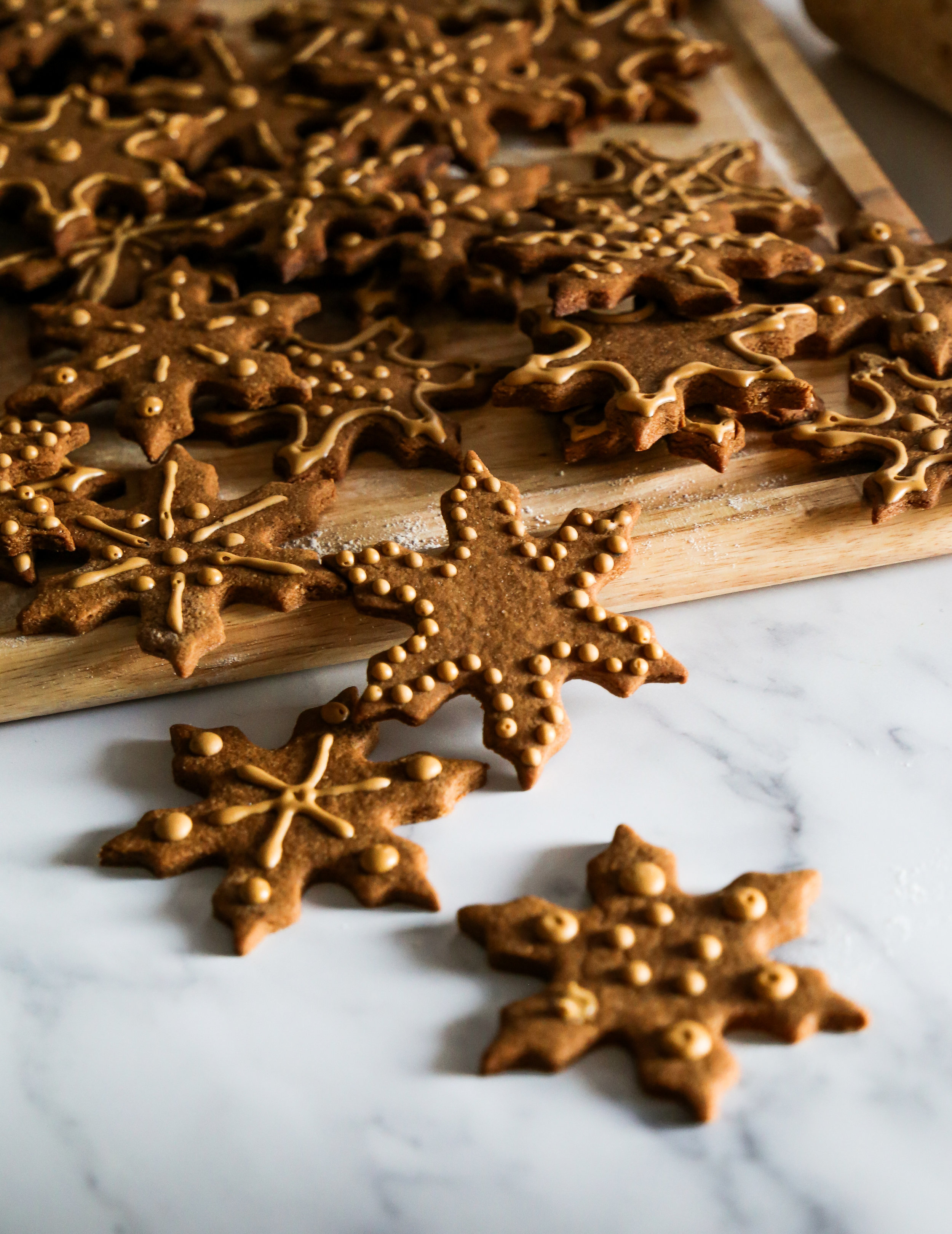 Gingerbread Latte Cookies
A Starbucks holiday favorite in a cookie.
Gingerbread Latte Cookies
I love gingerbread. It's not too sweet, it's packed with flavor, and it makes your house smell like a Hallmark movie came to life. I used Williams Sonoma's cookie base recipe, then made a variation of their frosting to be more of an espresso-flavored royal icing situation. Win, win, win, win.
Servings: 10-15
Time: 30 minutes active plus 30 minutes chilling / cooling time
Grab:
1/2 cup of unsalted butter (aka one stick), softened
1/2 cup of white sugar
1/2 cup of molasses
1 egg
1 tsp of almond extract
2 1/2 cups of all-purpose flour
3/4 cup of almond flour
3 TBSP of cocoa powder
1/2 tsp of baking powder
1 TBSP of ground ginger
1/4 tsp of ground cloves
2 tsp of ground cinnamon
1/2 tsp of salt
2 TBSP of instant espresso powder
2 TBSP of hot water
2 cups of powdered sugar
Go:
Preheat your oven to 350, and get two cookie sheets ready. You won't need it for a few minutes, but things are going to go fast from here on out.

In a stand mixer (i.e. KitchenAid), beat the butter and sugar until soft and fluffy, about three to five minutes.

Add the molasses, egg, and almond extract, then beat to combine, about two minutes.

While that's beating on up and smelling like a dream, combine the flour, almond flour, spices, salt, and baking powder in a bowl and mix. You're thinking "this is way too many spices!" I'm thinking "dude, what did you think makes gingerbread taste so good?"

Add the dry ingredients to the wet in two batches, mixing evenly until just combined.

Okay. What you have now is an unusual dough. It's unusual because it's a bit sticky (that's the molasses). So here's what you do. Get some flour out. Thoroughly dust a Silpat mat like this one or just a plain old piece of parchment paper with that flour, then dump your dough in the middle of it. Divide the dough in half(ish), then shape both halves into discs. Pop those babies in the freezer for 15 minutes.

While you're waiting for the cookies to chill so that you can roll them out and cut them, make the icing: dump the espresso powder into a medium-sized bowl, then add the water.

Whisk until the espresso has dissolved, then add the powdered sugar and whisk to combine. Your icing should be the consistency of queso or a thick soup: not too stiff, but not too soupy. Set that bowl aside.

Okay, grab those cookies out of the freezer, and use a rolling pin to roll out half the dough at a time. I usually aim for 1/8 inch thick, and I NEVER get there. All of my cookies are thick in different ways, and they're all perfect. Once you've got them rolled out, cut them into whatever shape you desire (highly recommend snowflakes), and then pop them on the cookie sheets.

Bake for 10 minutes, being careful not to burn the edges. When they're done, pop them on a cooling rack and let cool completely.

While the cookies are cooling, pour the icing into a reusable piping bag with no tip. Cut a tiny, tiny hole at the bottom, and use the piping bag to pipe gorgeous holiday designs on your TOTALLY cool cookies.

Voila. Enjoy.
COOL. Done. How easy was that? Hit me up if you have more questions. Not to brag, but really. This is my jam.
PST: This post contains Amazon affiliate links. Thanks for trusting me with ideas for your presents! If you decide to purchase any of the recommended gifts, I'll benefit from that.