Honey Peach Tart and You and I Eat the Same
As I walked to work this morning IN THE SNOW and watched a worker wrestle with what seemed like 100 feet of wiring to attach a neon blue snowflake to a streetlight, it hit me that I'm really, really behind in my holiday preparation this year. Normally by this time, I have most of my gifts figured out, plane tickets booked, and a list of recipes to try that's rapidly approaching a mile long.
This year, not so much. Maybe it's because I've been so wonderfully busy. Maybe it's because it's snowing on November 9, which is giving me pre-holiday anxiety even earlier. Maybe it's because I'm losing my touch, and I need to just accept a new baseline. But, whatever it is, I'm buckling down on baking and list-making and avoiding unintentional rhymes the whole time. Wait. Crap.
As I think just about everyone knows at this point, I detest pumpkin pie. The fact that it shows up at not only one but two holiday tables in the months of November and December is deeply upsetting to me. Instead, you should try this light, aromatic honey peach (or pear or apple) tart. Sure, it's great for summer, but throw a dash of cinnamon in, and who's to say it doesn't belong on the harvest table? Nobody, that's who. Nobody puts pie in a corner, guys.
If you're looking to get the cook (or baker or foodie or just good eater) in your life a book about food this year, I'd recommend going straight to the source of everything cool, sustainable, delicious, and exciting happening in the food world right now and checking out the first book from MAD Symposium that's all about how food brings us together. It's amazing. I can't wait for the second. Everyone on my list should probably expect to get a copy if I can't get a good list of other things to buy them in the next few days. Just kidding. Kind of.
That's all for now, but check back periodically for more holiday recipes or gift recommendations. Or just to see how the volume of my hair is doing. That's usually a good indicator of the stress I'm under. Gulp.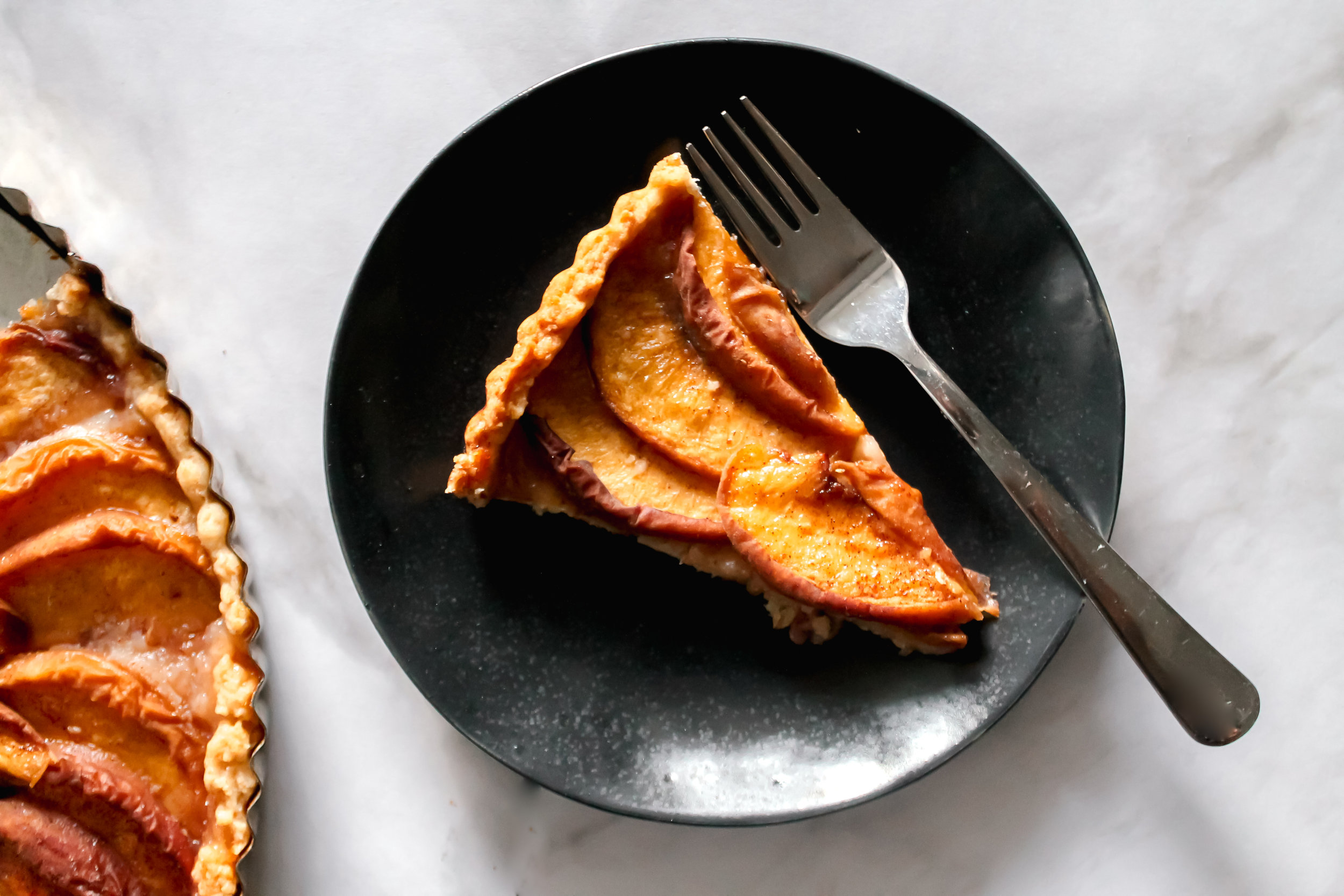 Or apple. Or pear. Or plum.
Okay, I know it's in bad taste to post a recipe that I made with peaches after peach season is WAY over. I mean, it snowed today, kids. But hear me out: this pie tastes absolutely life changing even if you make it with pears! Or apples! Or probably just out of season peaches from who knows where. I'm actually about to make it again tonight. So. Yeah. This recipe is loosely adapted from the one found in Alison Roman's Dining In. I love her.
Servings: 10-12
Time: 2 hours, including chilling and baking
Grab:
1 heaping cup of all-purpose flour
3/4 cup plus 1 TBSP of sugar, divided
1/2 tsp of salt
1/2 cup (aka 1 stick) plus 1 TBSP of unsalted butter, chilled
1 TBSP of vodka, fresh from the freezer
3-4 medium peaches, cored, cut in half, and sliced thinly (or pears or apples or plums)
1 TBSP of grated fresh ginger
1/4 cup of cornstarch
1 TBSP of lime zest
1/2 cup of honey
Go:
Make dat crust: mix the flour, one TBSP of sugar, and salt together. If you have a food processor, you can do this by pulsing it in the food processor once or twice. I love this fact.

If you're using your hands, cut the butter up into one inch slices, then cut those slices in quarters. Put the butter in the dry ingredients, and use your hands to create a dough that feels like butter and flour had a baby. Sometimes you read about how you'll end up with "pea sized pieces of butter," but I think they usually look more like a smashed pea. If you're using a food processor, just add the butter to the dry ingredients and pulse until it comes together.

Add the vodka a bit at a time, and use your fingers or the food processor to blend in evenly. Fun fact: this makes objectively better pie crust because it's colder than any water can get without becoming ice.

Turn the dough out onto a piece of wax paper, parchment paper, or plastic wrap and shape into a circle. Cover, then refrigerate for 30 minutes to an hour while you prepare your fruits.

Prepare the fruits! In a large bowl, combine the fruit slices, remaining 3/4 cup of sugar, ginger, cornstarch, lime zest, and honey. Mix well, then set aside for no more than 30 minutes.

Roll dat crust: first, preheat your oven to 350. Then, using a rolling pin, roll out the dough until the crust is about an eighth of an inch thick. I have never once measured this. I just happen to know what Mary Berry thinks is appropriate.

When the crust is nice and beautiful, put it in a tart pan or pie tin (your call, but I prefer the tart pan).

Lay the fruit slices in a spiral fan-type shape on top of the crust. If you prefer the throw them all in and forget it method, you go.

Bake for 60-75 minutes, or until fruit is bubbling and crust is golden brown. Serve with ice cream. Yummmm.
Plot: This book is the first in a series called MAD Dispatches from an organization called, uh, MAD Symposium. MAD is all about sustainable change in the restaurant and food industries. This book is all about how food is a commonality throughout all cultures. And it's brilliant.
Thoughts: This book is in the form of essays, starting with an introduction essay from NOMA chef René Redzepi, the co-founder of MAD. They range in topic from Chinese food in the United States and how we all wrap meat in flatbreads, and they are all fascinating.
The essays all begin with a hypothesis and set out to prove that hypothesis (spoiler alert: they all do!). The essays vary in form from interview transcript to lists of weird things humans eat to riveting essays based on a LOT of research, and they're all equally compelling. My favorite essay of the bunch was, in fact, not technically an essay but one of the interview transcripts. The transcript focused on three women who cook in La Cocina, a food hall in San Francisco, and it is beautiful, heart-wrenching, and totally uplifting all at once. Reading the whole book is worth it for this essay alone.
Verdict: I love food, and I love using food to connect people, so I loved this book. Check it ouuuuut.
PST. This page contains Amazon affiliate links. Thanks for supporting my unhealthy online shopping habits!