Wings for Two and I'll Be Gone in the Dark
The time has finally come for me to post my long-delayed review of what has become one of my favorite books of the year, I'll Be Gone in the Dark. First, I was going to post it with the espresso brownies. Theme: what keeps you up at night. But then we started watching The Haunting of Hill House and between that show and this book, I wasn't sleeping at all. So I started reading The Immortal Life of Henrietta Lacks, and put this book aside for a few days. A few days turned into a few weeks, I got too many requests not to post the brownie recipe solo, and here we are, pairing this FINALLY completed book with a recipe for chicken wings.
These chicken wings, by the way, are not a bad consolation prize as far as recipes go. Between them (made with some delightful massaman curry from my friends at Savory Spice) and the vegetarian buffalo chickpea dip recipe that's going out to newsletter subscribers tomorrow and will be live to all you non-subscribers next week, you've got the start of a party.
If we can return to I'll Be Gone in the Dark for a moment, though, I just want to emphasize that it didn't take me so long to read this book because it's bad. Rather, the opposite. This book rocked my world. It was happy, sad, terrifying, thrilling, and absolutely addictive. I could barely bring myself to put it down, even while it was turning me into an insomniac. It's more than just true crime, which is exactly what everyone says about it, but it is! I really, really think that everyone should read it, and not just because I want people to talk about it with. I want you to read it because I think you'll love it. And because you'll want somebody to discuss with too. Fair, I think.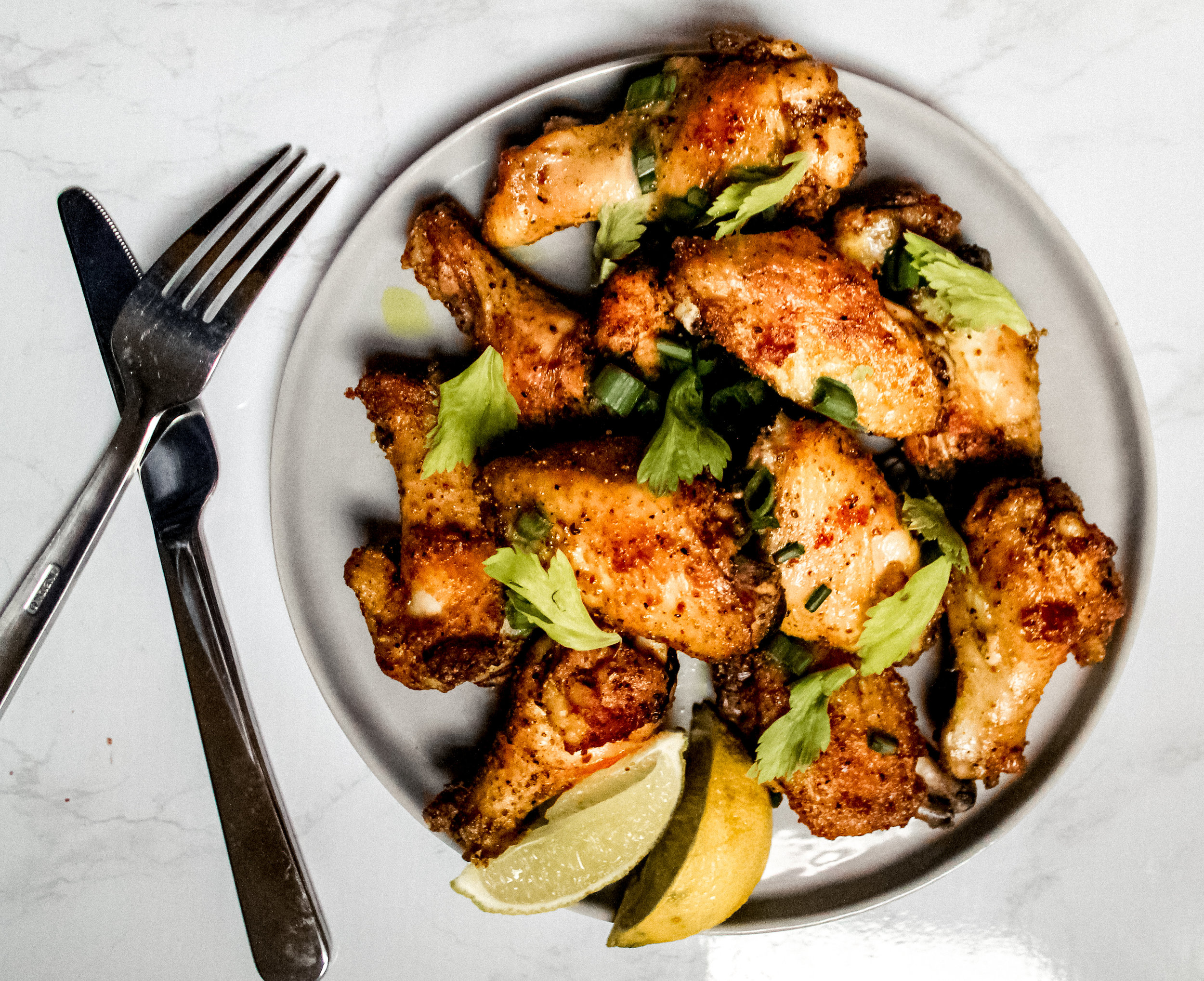 In this case, two is a party.
Wings for Two
I am a vegetarian. Sure, sometimes I cheat, and sometimes I don't care as much as I could that you cooked that whatever using chicken broth, but I'm a vegetarian, and I'm proud of it. That being said, I sometimes get phantom cravings. I mean, I know I'm not going to eat chicken wings, no matter how enticing they look. But I want them around. I need them at my table. So I make wings for two (inspired by from Bon Appétit), invite some friends over, and satisfy my phantom craving for good. Easy peasy. Best of all, this recipe doubles, triples, etc. easily for a crowd.
Makes: 2 as a main, 4 as a side
Prep time:
Cook time:
Ingredients:
1 lb of chicken wings, cut already because who are you if you have the time / desire to cut chicken wings
4 TBSP of canola oil
2 TBSP of Massaman Curry blend from Savory Spice (who so generously gave me a pack to play with!)
1 TBSP of salt
1 TBSP of black pepper
2 green onions
1 lime
Instructions:
Preheat the oven to 425, and line a baking sheet with tin foil. Trust me.
Put the wings in a large bowl, then add the canola oil and toss to coat. Try not to get too grossed out. No? Just me? Cool. Set aside.
In a small bowl, combine the curry blend, salt, and pepper. Stir to mix evenly. Waft to smell. Yummmm.
Add the spices to the chicken wings, and toss again to evenly coat again. Blech. I mean, I love raw chicken!
Dump the wings onto the baking sheet, and spread evenly. Bake for 30-40 minutes, or until crispy. Halfway through, use those tongs and flip 'em.
At the end of that 30-40 minute stretch when you're drooling because of how good this smells, turn on the broiler. After two minutes, flip those wings again.
Wait two more minutes, then, finally, you're done.
Chop the scallions on top of the wings, then squeeze lime over them. CONSUME.
Plot: For years in the '70s and '80s, a man wrecked havoc in California, leaving a string of murders and rapes in his wake. The case, just recently solved after the publication of this book, is the subject of author Michelle McNamara's final obsessive quest.
Thoughts: I have so many feelings about this book, which has taken me weeks to finish reading, because it made me feel more things than I ever guessed a true crime book would. The author, Michelle McNamara, was the wife of comedian Patton Oswald, so when she tragically died at a young age (before finishing this book), the whole world heard about her and the obsessive study of unsolved crimes to which she dedicated so much of her time and incredible skill.
This book, in many ways, is much more than a book about an unsolved crime. It's an ode to McNamara's passion, a living record of her intelligence, writing chops, and, in a weird kind of way, a love letter to the community of people, including cops, data scientists, and her family, who supported the work she did in any capacity.
But, all that being said, it's still a gristly, terrifying read that kept me up for more nights than I'd like to admit. As well-written as it is (and it's VERY well-written), it's horrifying, hard to read, and disturbing. There's definitely a trigger warning here, and if you're someone that applies to, maybe think about skipping this one.
Verdict: So good. SO terrifying. So worth it. Buy it here.
Pst. This article contains Amazon affiliate links. If you purchase this book, I'll get some dollars.