Granola Bars and Harry Potter and the Sorcerer's Stone
Note: This recipe was re-written with the help of the Eat Your Words food campers at 826CHI. Enjoy!
We are not living in the age of Jane Austen and seven-course dinners on Wednesday. We know that. We are ok with that. In fact, we are great with that. Because what we are living with here is a set of modern classics that mean just as much to us: Harry Potter and granola bars. I'm not going to say much more about these things because I think they speak for themselves. Go forth and enjoy some modern classics.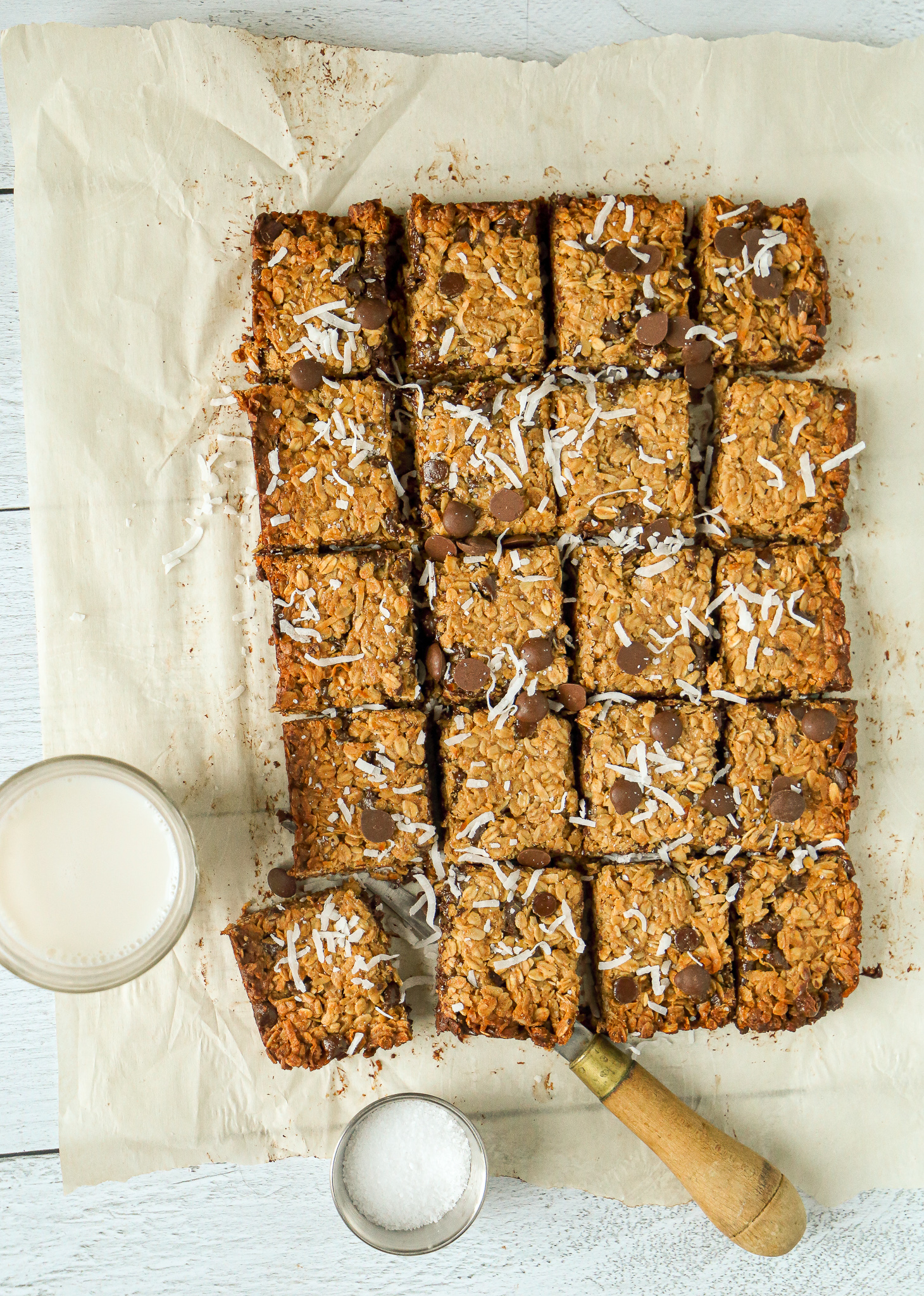 An easy snack. Or dessert. Or breakfast.
Granola Bars
By
Page & Plate
, January 28, 2018
Chocolate, coconut and peanut butter cookie bars made with oatmeal hidden inside are perfect for breakfast, a snack before a hike, or as dessert with optional ice cream.
Makes: 16 bars
Prep time:
Cook time:
Ingredients:
2 cups of oatmeal
1/2 cup of brown sugar
1/2 cup of honey
1/2 cup of creamy peanut butter
3/4 cup of shredded coconut (you can sub in any of your favorite trail-mix type ingredients)
3/4 cup of chocolate chips (same here, peeps)
Instructions:
Preheat the oven to 350°F. Grease an 8x8" pan.
In a large bowl, mix the oatmeal and brown sugar. When evenly combined, add the honey and peanut butter. Mix until all of the oatmeal is evenly coated.
Add the shredded coconut and chocolate chips. Mix until evenly combined.
Dump the granola bar dough into the greased pan, then use the bottom of a measuring cup to press into the pan evenly, spreading into the corners. The bars should be about 3/4" thick.
Bake for 12-15 minutes, until golden brown on the edges and slighly puffed in the middle.
When cool, cut into 16 squares.
Harry Potter and the Sorcerer's Stone
Plot: Honestly, if you don't know the plot to Harry Potter by now, you are an embarrassment to the world.
Thoughts: This is obviously not the first time that I read Harry Potter. It is also obviously not the last time that I will read Harry Potter. But you already knew that.
I'm currently reading Harry Potter with my ten-year-old cousin, who is reading it for the first time. She lives in Philadelphia, and I live in Chicago, and we get on Skype every few weekends and read a chapter together. And let me tell you, if you're trying to rediscover the magic of Harry Potter, that's how to do it. Seeing her fall in love with the characters, the classes, and everyday Hogwarts life makes me remember how cool it was to enter that world for the first time.
So far, the highlights include her renaming Dudley "Dugley because he's ugly," a Hermione action figure who now joins us every time we read, and my nostalgic sighs every other paragraph.
Verdict: I wouldn't be reading this series for the 20th time if I didn't think it was worth it.