Pumpkin Maple Spice Cake and In Defense of Food
I'm going to keep it short and simple this week. I'm thankful that I got to spend my Thanksgiving with the people I love doing what I love (cooking and baking, not least of all this pumpkin maple spice cake), and I'm thankful that I was able to unplug, slow down, and relax, even while reading the slightly depressing In Defense of Food. I'm also thankful that my uncle eventually told me where he hilariously hid the kale salad I brought to dinner and that now I can listen to instrumental Christmas music at work without hiding my true self.
Also that we're over pumpkin. Because we are, right?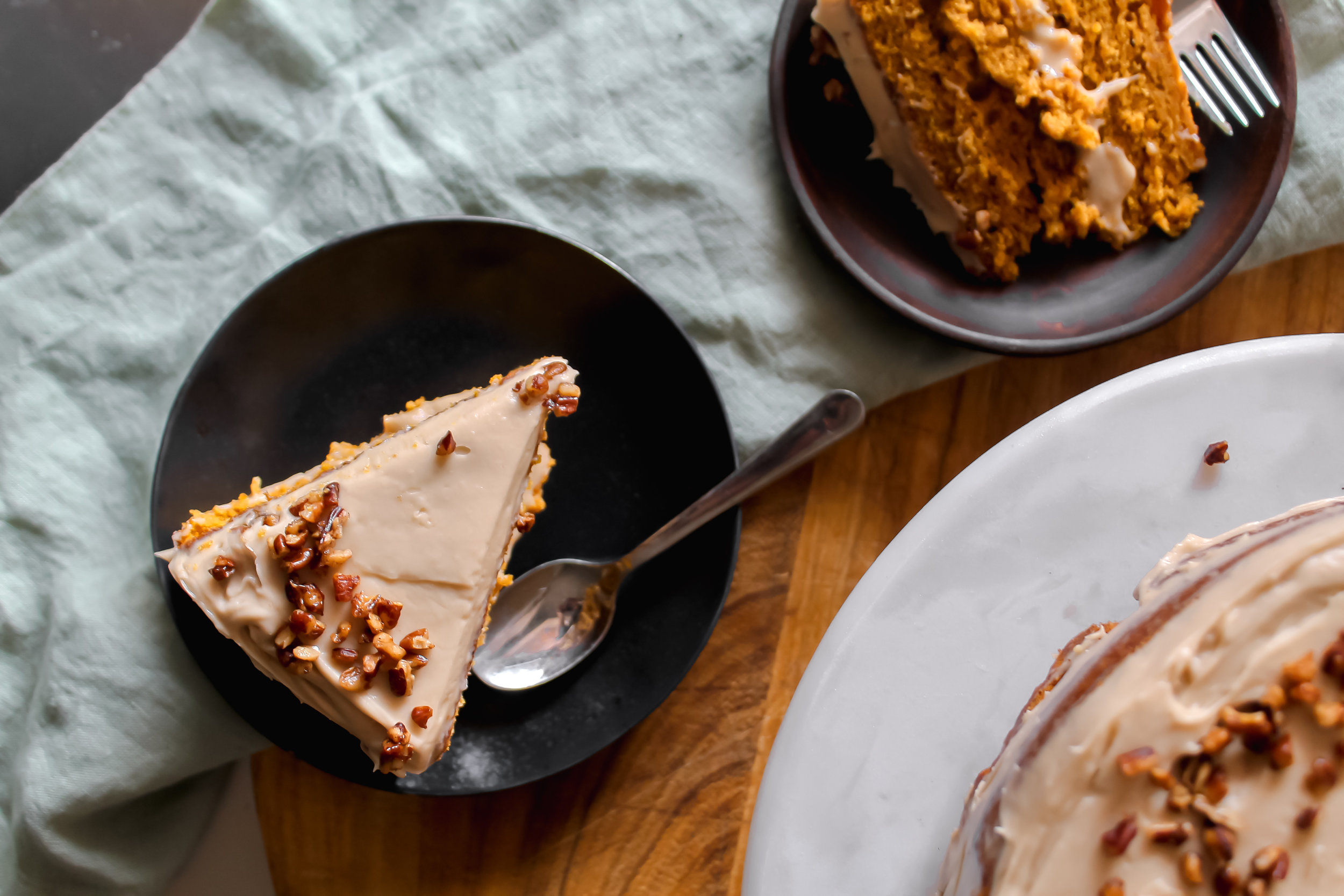 One of the best cakes I've ever made.
Pumpkin Maple Spice Cake
By
Page & Plate
, November 27, 2018
Thanksgiving in our family comes with pumpkin pie. Like, one for each person. So it kind of sucks that I am one of the few but brave people on this earth who does not enjoy pumpkin pie. This year, I put my foot down, turned my back on tradition, and I made a cake. It was still pumpkin flavored! It had pumpkin spice in it. It had maple frosting. And it was the star of the desserts course. Originally billed as a bundt cake by the New York Times, I changed that part of the recipe when I realized I didn't have a bundt cake pan. And then I threw in some maple frosting, because no one wants a layer cake with glaze.
Makes: 12-15 servings
Prep time:
Cook time:
Ingredients:
3 cups of flour
2 tsp of baking powder
1 tsp of baking soda
2 tsp. of cinnamon
1/2 tsp. of ground allspice
1/2 tsp. of ground cloves
1/4 tsp. of ginger
2 cups of light brown sugar
1 1/2 cups of unsalted butter, divided and softened
1/2 cup of olive oil
2 large eggs
15 ounces of pumpkin puree
1/2 cup of sour cream or full-fat Greek yogurt
2 tsp of maple syrup
1 tsp of maple extract
4-5 cups of powdered sugar
Instructions:
Preheat the oven to 350, and grease two nine inch cake pans.
Combine the dry ingredients in a medium bowl.
In a stand mixer fitted with a beater attachment or a hand mixer, cream the sugar, butter, and olive oil until light and fluffy.
Add the eggs, one at a time, and beat after each egg for 20 seconds.
Add the pumpkin and the sour cream or yogurt, and mix to incorporate.
Fold the dry ingredients in by hand.
Split the batter between the two pans.
Bake for 20-30 minutes or until a toothpick inserted comes out clean. Set aside to cool.
Meanwhile, make the icing. In a stand mixer fitted with a beater attachment or a hand mixer, beat the butter and maple syrup / extract together until the butter is light and fluffy.
Add the powdered sugar and continue beating, ensuring that the icing stays fluffy.
Assemble the cake: ut a dab of icing on the serving plate. On top, put one of the cakes. Spread an even layer of icing on top of the cake. Stack the second cake on top. Spread another even layer of icing on top of the second cake. On the sides of the cake, spread a thin layer of icing.
Top with whatever you prefer (I used pecans roasted in butter with cinnamon and sugar).
Plot: The year is 2008. People are getting fatter, sicker, and lazier. One writer sets out to defend the one thing that could save us all from this fate: food. Or, more simply, Michael Pollan embarks on a scientific reason-driven journey to determine just how far humans have strayed from food and how to return to a place of health.
Thoughts: I love everything this book is about. I love that it has lettuce on the cover, I love that it preaches against overly processed foods, and I love that it pushes us back into the kitchen to consider how we nourish ourselves. The takeaway from this book is, ultimately, what many of us already know: our bodies crave a varied and balanced diet of real food, not processed junk.
I struggled to fully take in what I was reading in some parts of this book simply because it's hard to internalize hard data while you're waiting to catch a flight in the middle of an airport on the day before Thanksgiving. Even when I was home, it was difficult for me to absorb. Pollan gets very, very technical, which is to his credit, but he needed to incorporate more of the passion with which he ends the book earlier to drive the point home.
And what an end. If you can't sit through the numbers, flip to the last few chapters and read from there. Laying out the rules of how to eat, Pollan's ability to distill an actionable message from all of that data shines, and leaves you determined to change the way you eat.
Verdict: If you're ready for a proper health scare that makes you reconsider how you eat, by all means, check this book out. If you're not, put it back on the shelf and go back to your Twinkies. I, however, love Michael Pollan andthink you should read every word he's ever written, so do it.
Pst! This post contains Amazon affiliate links. Thanks for supporting Page & Plate!