Pizza and The Tenth of December
Once upon a time, I used to think that pizza was bad for you, and I refused to eat it except for the crust. Then, one day, my fairy godmother of Internet browsing sent me stumbling onto a picture of beautiful, thin crust pizza that takes less than an hour to make and actually isn't that bad for you. And I was really, really happy. Because I had pizza. Once a week. At least. Not kidding.
But then, I started to get a little bit bored with regular pizza. I wonder if maybe there wasn't another dish out there, something less normal, something a little more exotic, that I should be making instead. And then I went to the Lincoln Park Farmers' Market and had a pizza from Our House Pizza. And I died a little bit and went to pizza heaven. Then I came back to earth and made it a mission to recreate that pizza and figure out what made it so good.
I'll save you the trouble that I went to and tell you the answer: what makes that pizza so good is how extraordinary an ordinary pizza has become. We've all had pizza (I hope). But have we had pizza with squash, corn, and an egg creating a beautiful mess on charred mozzarella? Nope. It's reminiscent of a familiar food while being different, exciting, and memorable. And it's perfect. So you should go make it. And while you're at it, check out Tenth of December, which is full of ordinary things made magical.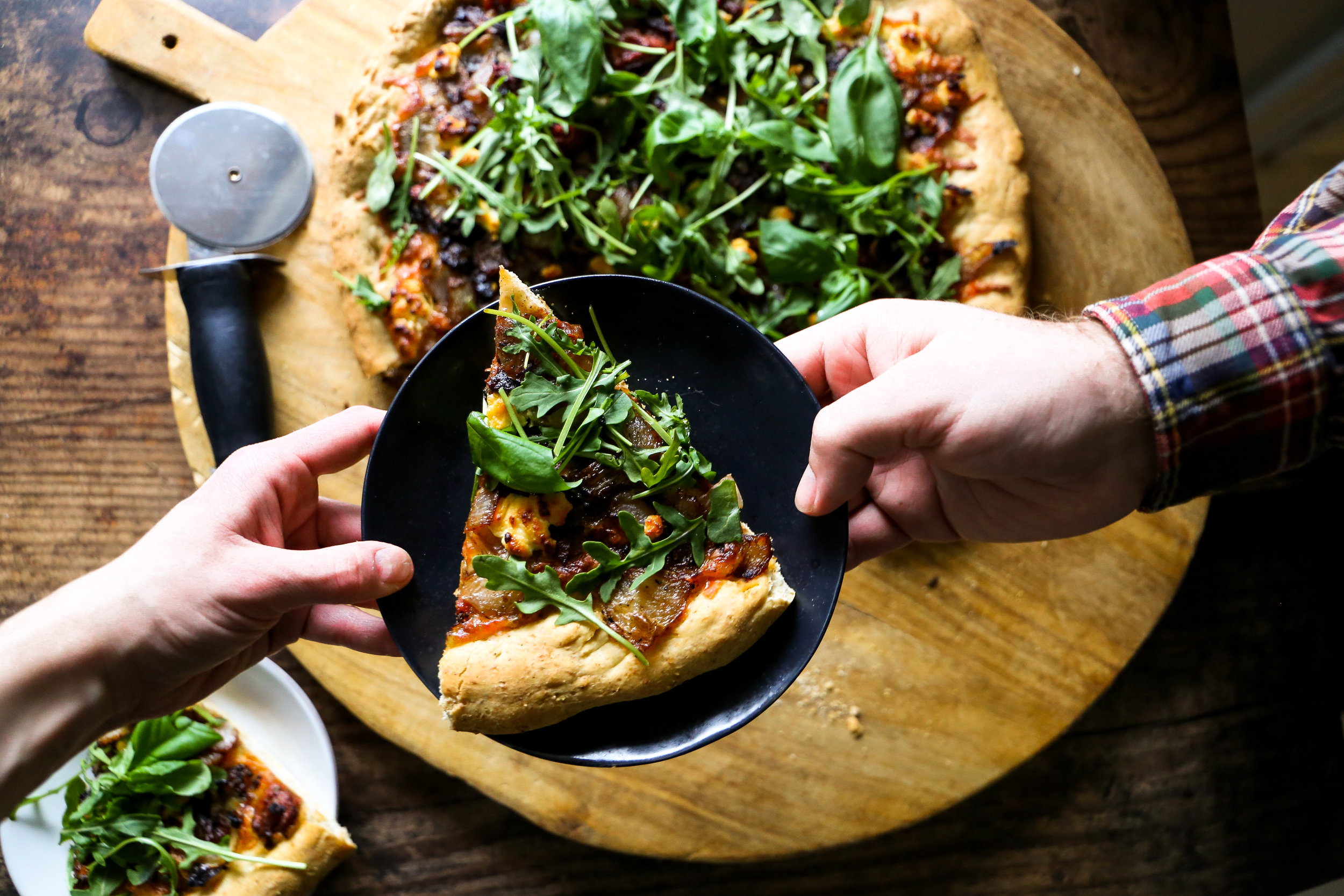 For a long time, I thought that making pizza was an endeavor, and one that only got you fattening, oily food to boot. How wrong I was. Equipped with a riff on a New York Times dough recipe, a few vegetables, and some cheese, anyone with a half hour can make a (mostly) pizza dinner. First, let's make the dough, and then we can talk about the game of choose your own adventure that is topping your pizza.
Dough:
2 3/4 cups of flour
1 packet of yeast
1 tsp of salt
1/4 cup of olive oil
1 cup of warm water
Dough you go:
In a bowl, combine the flour, yeast, and salt. Give it a quick stir.

Add the oil, stir, then add the water, and stir to combine.

Cover the bowl with a towel, cling wrap, or something similar and put in a warm place for 15 minutes to an hour. I prefer keeping it shorter to get a thinner crust.

To cook, preheat the oven to broil with your pizza stone in it. (Word to the wise: cast iron pans make great pizza stones.) As Mary Berry says, soggy bottoms are a baking sin.

Once the oven is preheated, pull the pan out. It will be hot, which shouldn't be a surprise. I hope.

Take half of the dough, and spread it thinly on the stone, using flour or cornmeal to make sure it doesn't stick.

Top the pizza and bake, usually for 10-12 minutes depending on your toppings.
The rest of the pizza can be anything your heart desires (and I do mean anything). I haven't really encountered a pizza I didn't like yet, but here are two of my favorite variations.
Classic Tomato
2 zucchini, sliced thinly
1 onion, cut into rings
1-2 cloves of garlic, minced
Italian seasoning to taste
2 tomatoes, sliced thinly
2 cups of shredded mozzarella cheese
Preheat the oven to broil.

Saute the zucchini, onion, and garlic in olive oil until they're pretty close to being done. The onions should be translucent, not browning. Season, and adjust if necessary. Remember that the dough already has salt in it (and if you're me, shake some more in anyway).

Glug some extra olive oil on the dough, then spread on the cooked vegetables.

Tomato slices come next.

Cheese tops it off.

Bake at a high broil for 10 minutes or until cheese is crispy and brown.
Squash and Egg
1 log of fresh mozzarella, sliced
1 onion, chopped
1-2 cloves of garlic, minced
1/2 of a butternut squash, shaved using a vegetable peeler
1 cup of corn, fresh or canned
2 handfuls of fresh spinach
1 egg
Cheese goes first on this pizza.

Layer on the vegetables (except the spinach), making sure that they're evenly spread.

Finish the pizza with a glug or two of olive oil.

Broil for seven or eight minutes, then pull it out.

Spread the spinach over the pizza, then crack an egg on top of it.

Broil until the egg is cooked.
Plot: In a series of short stories, George Saunders tells beautiful stories about weird things and strange people. Made up of award winning stories from the last two decades, the collection itself went on to win additional awards and lavish praise.
Thoughts: These stories are simple but powerful. The characters range from children to elders who are nearing death, and most deal with confronting the ugly realities of life and death. While not a picker-upper, Tenth of December isn't quite morbid; it manages to play with and discuss morality with a whimsical, light feel.
What fascinated me most about the book was how starkly the stories differed from one another while feeling like they existed in the same world. I've read Saunders before (both Pastoralia and Lincoln in the Bardo), and there's just something about the worlds and scenes in those worlds he creates that stick with you. Months after reading, I'll get a déjà vu-type feeling only to realize that the feeling is stemming from a tiny detail in one of Saunders's works.
Saunders's ability to build stories from moments, feelings, and instances from readers' lives is what sets him apart and allows him to write such simple yet such gut-wrenching stories, and it shines in this collection just as in his other works.
Verdict: If you're a fan of Saunders and his ability to push readers to unexpected places, this is a must read. If you don't like feeling uncomfortable while you're reading, maybe skip this one. Go read The Boys in the Boat instead.